'This is a crisis'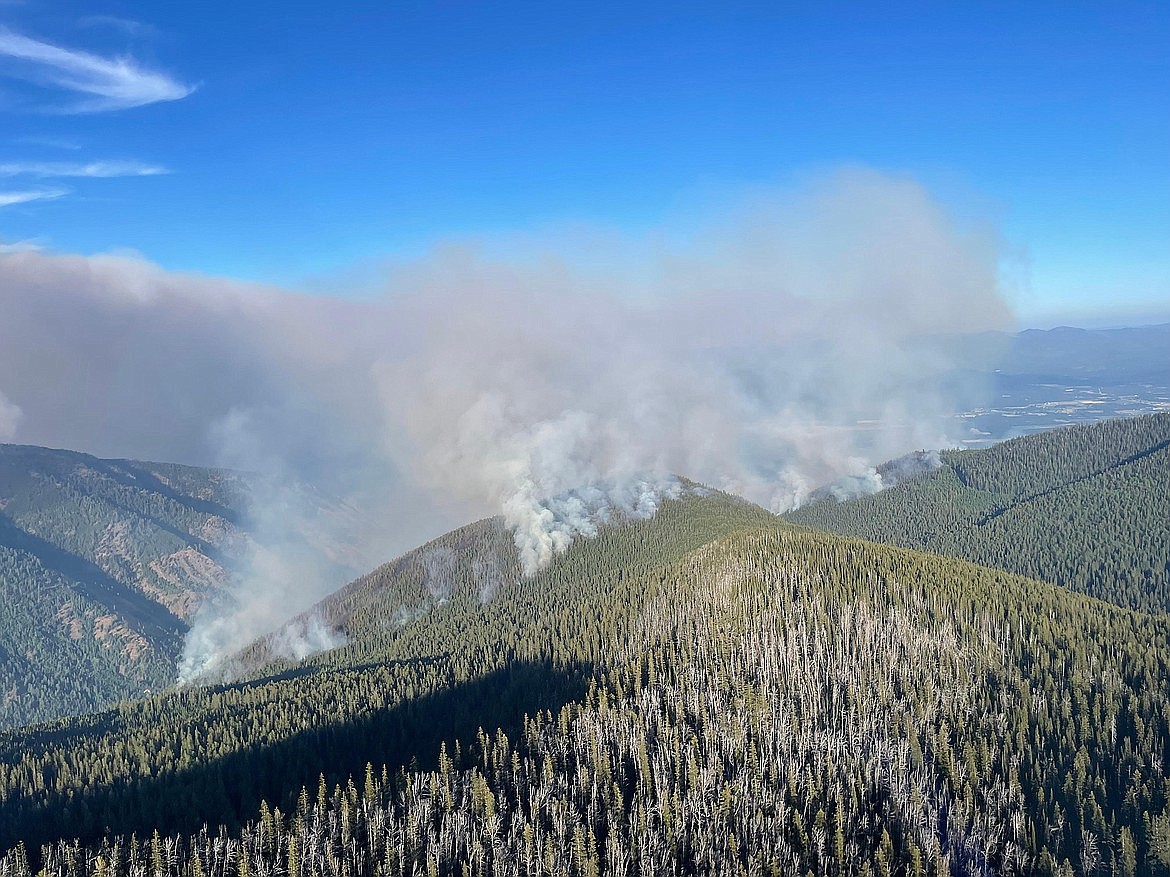 An aerial view of the Scotch Creek Fire last year. The fire was among those combined into the Kootenai River Complex.
Photo courtesy U.S. Forest Service
by
BILL BULEY
Hagadone News Network
|
January 20, 2023 1:00 AM
COEUR d'ALENE - U.S. Agriculture Secretary Tom Vilsack says it's not a question of if western forests will burn, "but a matter of where and when."
"The need to invest more and to move quickly is apparent," he said during a press conference on Wednesday. "This is a crisis."
Vilsack announced expanded efforts to reduce wildfire risk across the western U.S.
He said more than $490 million will be spent to reduce wildfire danger on 11 key landscapes across the western United States, including Idaho. Funds will also be used to restore national forests, including the restoration of "resilient old-growth forest conditions," and clear forest debris.
"You're going to see a lot of activities in these areas that you haven't seen before," Vilsack said during a conference call.
In Idaho, forest health investments across 1.8 million acres of the Nez Perce-Clearwater National Forests target lands entirely within the ceded territory of the Nez Perce Tribe.
"Adjacent to the Nez Perce Reservation and other rural communities, the landscape continues to provide cultural and natural resources, including food, water, timber and recreation," a press release said.
The project area includes watersheds of the Clearwater, Salmon, and Snake rivers, as well as Idaho County — the state's largest county and 85-percent federally owned.
"Forests in this landscape are critical for the local timber industry, which also depends on roads and other infrastructure at risk from wildfire," the report said.
Forest Service Northern Regional Forester Leanne Marten said they are looking forward to working with the Nez Perce Tribe and others.
"We look forward to enhancing ongoing efforts to reduce wildfire risks in our Idaho communities," Marten said.
Last year, about 937 wildfires burned around 375,000 acres of federally managed land in Idaho.
Wildfires burned more than 20,000 acres in 2022 in the Kootenai River Complex.
The Bureau of Land Management is responsible for protecting about 11 million acres of range and forest land in central and southern Idaho and employs nearly 500 people.

Each year, the team responds to an average of 330 fires that burn about 270,000 acres of public and private lands.
According to the U.S. Forest Service, an average of about 7,500 wildfires burn an average of 1.5 million acres on National Forests and grasslands. More than half were caused by humans.
Other western states with identified landscapes marked for wildfire reduction efforts are much of Southern California, Arizona, Oregon, Utah, Washington and Nevada, totaling nearly 25 million acres.
The Forest Service announced their original 10 landscape project areas last year as part of the agency's strategy to protect communities, critical infrastructure and forest resources from catastrophic wildfire.
That included 800,000 acres in the Kootenai River Complex reaches into Idaho and Montana.
Combined with these initial landscape investments, the additional efforts unveiled Wednesday represent a total USDA investment of $930 million across 45 million acres.
Vilsack said the federal investment in reducing wildfires needs to continue.
"Lives are potentially at risk," he said.
Recent Headlines
---