Big pins but overall loss for Sandpoint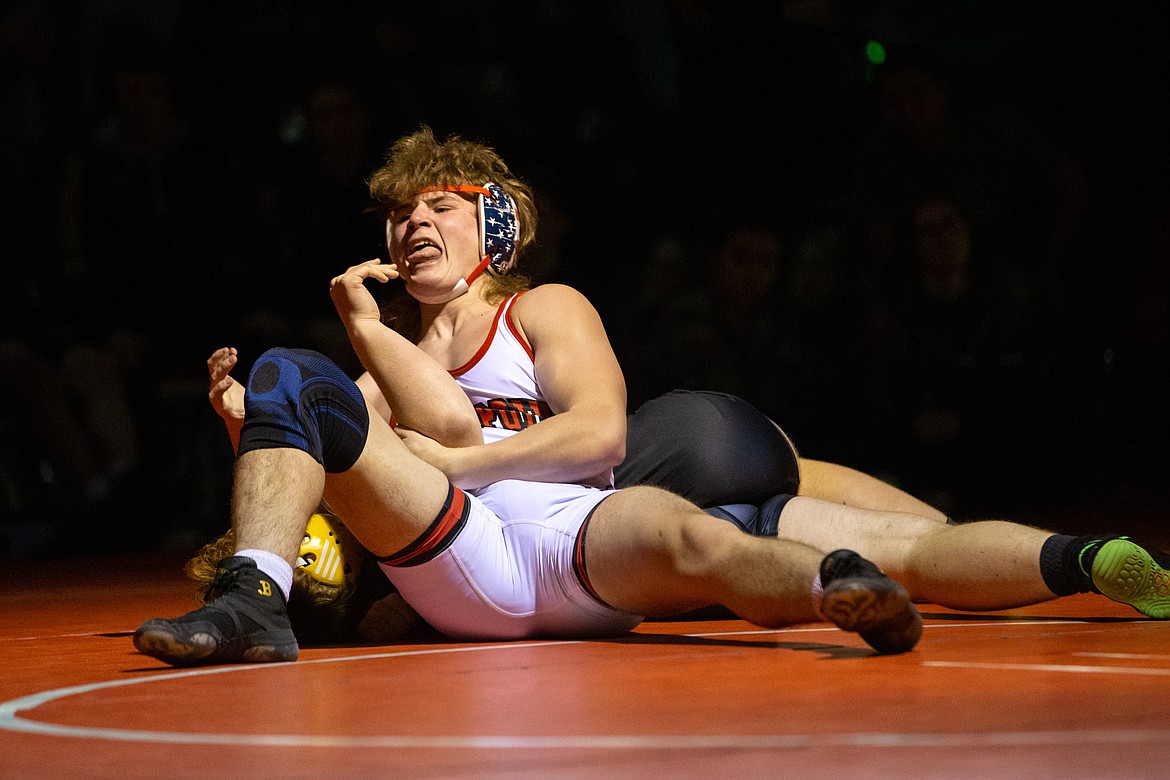 Calvin Hines wags his tongue at the fans as he pins his opponent in Friday's Battle for the Paddle against Lakeland.
(Photo courtesy JASON DUCHOW PHOTOGRAPHY)
by
SAMMY BERRYMAN
Sports Reporter
|
January 21, 2023 1:00 AM
Sandpoint prepped for the decibel competition as the mats were rolled out for the wrestling portion of Friday night's Battle of the Paddle against Lakeland.
The Bulldogs got a pair of pins from Jorden Tyler (195) and Calvin Hinds (220).
"Calvin had to go way up to wrestle at 220," head coach Doug Fry said. "He had to give up about 20 pounds to wrestle him and he pinned him."
Dakota Rief (160) had a huge match for the Bulldogs.
"He's a guy that stepped up and got a win which he's going to remember for the rest of his life," Fry said.
Freshman Jeremiah Palmer (182) was awarded winner by decision.
"He came out there and did great," Fry said.
Ashlei Hawkins (126) won his match by major technical and Andrew Duke (106) lost his match by decision.
"It was a tough match for Andrew because it was against a guy he's been looking at all year," Fry said. " I'm glad it happened now if it had to happen because now he has time to prep and get it together."
Aiden Roark wrestled at 113 which was up a weight class from his normal standing but lost to Lakeland's Duke Williamson.
There were a few points Sandpoint lost to weight class forfeit and the Hawks took the team win, 52-30 over the Bulldogs.
On the spirit side of things, the decorations were judged, Sandpoint won the boat race competition, and both teams showcased their dance team's performances.
Sandpoint heads to Thompson Falls today for its next match.
98: Caleb Adams (LAKE) over (SAND) (For.) 106: Jaren Knopp (LAKE) over Andrew Duke (SAND) (MD 13-2) 113: Duke Williamson (LAKE) over Aidan Rork (SAND) (Fall 0:42) 120: Matt Williams (LAKE) over Emma Garman (SAND) (Fall 1:11) 126: Ashlei Hawkins (SAND) over Justin Baxter (LAKE) (MD 11-3) 132: Kaleb Hammer (LAKE) over Zach Beers (SAND) (Fall 0:21) 138: John Meredith (LAKE) over (SAND) (For.) 145: Christian Troumbley-Karkoski (SAND) over Thayer Sabatke (LAKE) (TF 21-6 5:59) 152: Owen Rose (LAKE) over Lucas Johansen (SAND) (Fall 1:06) 160: Dakota Rief (SAND) over Peyton Sardinha (LAKE) (Fall 5:00) 170: Dylan Scott (LAKE) over Glenn Paddack (SAND) (Fall 1:15) 182: Jeramiah Palmer (SAND) over Bradley Grubham (LAKE) (Dec 11-7) 195: Jorden Tyler (SAND) over Gage Oles (LAKE) (Fall 3:00) 220: Calvin Hinds (SAND) over Devon Howell (LAKE) (Fall 3:26) 285: Preston Jeffs (LAKE) over Gavin Walters (SAND) (Fall 2:25)
Recent Headlines
---