Juniper Ratah Callos, 15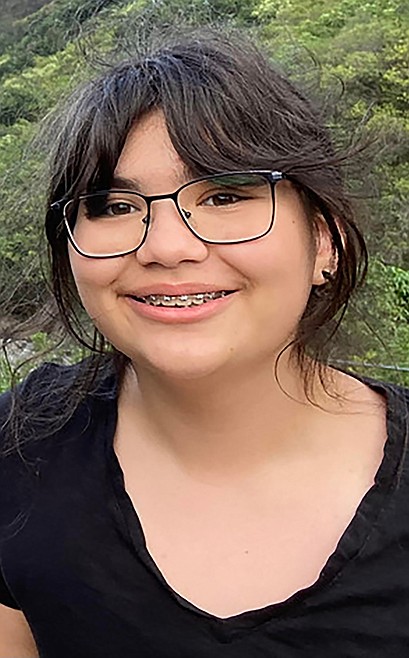 |
January 25, 2023 1:00 AM
Juniper Ratah Callos was born Oct. 26, 2007, in Vancouver, Wash., 22 months after her big sister.
Juniper was an "easy" baby, she was rarely fussy, was a good eater and learned to sign a few words quickly. When she was 1 month old, her family moved to North Idaho, settling in Priest River in February 2008. She grew up fast, walking and talking before her first birthday, wanting to participate in the world. The family moved from town to their home in the Peninsula Valley just before Juni turned 2. At 3 years old, she traveled to Thailand with her mom and sister to meet May's side of the family.
Juniper was very excited to start preschool and attended Ms. Nikki's school for two years before moving up to Priest River Elementary. She skipped the first grade and remained an outstanding student every year. She excelled at school, being an enthusiastic learner, and won many awards for not just scholastic achievement but for her citizenship as well.
She was a voracious reader, beginning with Calvin and Hobbes comics, and had completed the entire Harry Potter series by third grade. She spent a lot of time in both the school library and the public library. She was always very creative, she loved to draw, paint and write stories. Her art became more elaborate and detailed as she grew, taking inspiration from anime and manga, and learning skills with the help of her cousin Sami.
Juniper was always up for adventures. She was happy to go on hikes, ATV rides, road trips, boat rides and even goat rides. When she was 7, she fell off the goat and broke her arm, but was very excited to choose the colors for her cast. She had a great sense of humor and developed sharp wit. She loved to play cards at family functions and laugh along with the group.
Many in the community have come to know Juniper through her mom's Thai food business. Juni has been working with her mom since she was 5, and preferred to work in the front where she could meet the people. At 8 years old, she started taking karate classes with her dad, had achieved a brown belt and was preparing for her black belt test.
Juniper had the opportunity to travel on several occasions, both small and big trips. The family had many road trips, including all over Washington state to visit friends and family, Central Oregon, the Oregon coast and Montana hot springs. Her big trips included Thailand at 3, Hawaii at 7, 10, 13 and 14 and Thailand again at 15.
Juniper loved the water, learned to swim early and never wanted to get out of the water. She fell in love with the ocean at a young age, and it was one place she was always 100% happy. The last several years, she was enthusiastic about attending college in Hawaii, often discussing the subject and exploring its various possibilities, even considering plans to become an owner/captain of a sailing vessel.
Juniper was always interested in Japan and was hoping to spend a semester there as an exchange student. Although she had not yet decided on a career path, she was bright and inquisitive and excelled at everything she applied herself to. She was active with her school, participating in theater, student council and leadership. Juniper was a remarkable young woman, beautiful inside and out, who made a positive impression everywhere she went. Juni will be missed in ways that words cannot express.
Juniper is survived by her parents, Seth and May (Nuriyah) Callos; and her sister, Shongnang; grandparents Gary and Connie Callos, and Lynne Edmonds; Uncle Kevin and Auntie Alisa Callos; cousins Samantha and Zachary; and numerous uncles, aunts and cousins in Thailand. Although not related, Juni was especially close with family friends Danny, Goth and Zia Ahlefeld. She was predeceased by maternal grandparents Ali and Mah Yodniem.
In lieu of donations or flowers, please educate yourselves about suicide awareness and prevention, find a way to express yourselves creatively, and say a prayer for Juni whenever you are near the ocean.
A memorial service will be held Saturday, Jan. 28, at 2 p.m. at the Priest River Event Center.
Sherman Campbell Funeral and Cremation Services in Newport, Wash., is in charge of arrangements. Family and friends are welcome to visit their website at www.shermancampbell.com.
Recent Headlines
---