Jensen sworn in as newest District 1 judge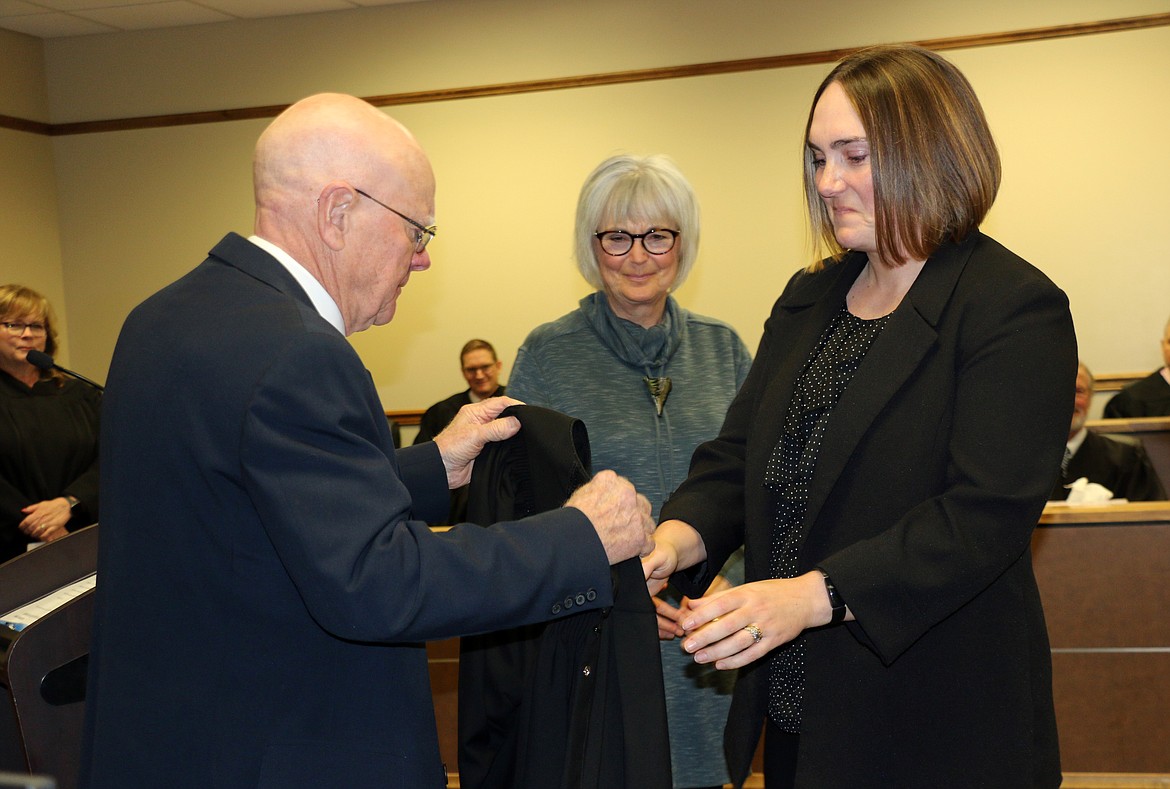 Susie Jensen, right, is helped put on her judicial robe by her parents, Terry and Lynn Jensen, during her investiture ceremony Thursday during which she was sworn in as the newest District 1 judge to serve Bonner and Boundary counties.
(Photo by CAROLINE LOBSINGER)
Many in the courtroom have known Susie Jensen for most of her life.
They've seen her grow up from a youth, often seen walking down the street with her nose in a book, to a standout on the soccer field at Sandpoint High School.
They've seen her charge down the slopes at Schweitzer and lead the Bulldogs soccer team as one of its captains. They watched her get ready for the prom and cheered her drive and academic success.
Thursday, they watched Jensen become the newest district judge to serve Bonner and Boundary counties. She is only the 14th jurist to become a district judge in Sandpoint in the past 132 years.
District judges from throughout the five northern counties came together to celebrate Jensen's formal swearing-in before a packed courtroom filled with friends, family and numerous country officials. While her parents, Terry and Lynn Jensen, husband, in-laws and aunt were in the courtroom, other family members attended via Zoom and joined in the ceremony.
"Susie's mom, Lynn, and I are in the same book club," First District Judge Barbara Buchanan said of her replacement. "And the women in our book club, they all know Susie, they all love Susie and they think it's just incredibly cool that she's going to have my job."
While many have teased Jensen about her love of reading — and cats — Buchanan said there is more to Jensen than that. She is an avid outdoorswoman, an expert skier, and loves to hike, paddleboard and kayak. In fact, Jensen and her husband, Nick Bandy, were in Mexico for a kayaking race and the governor's office had to make special arrangements so that Gov. Brad Little could call her to offer her the job, Buchanan said.
"Susie is an excellent lawyer. As Bonner County's public defender, she's tried the hardest cases and, usually, that's been in front of me," Buchanan said, turning her attention to Jensen's career. "She's tried child sexual abuse cases and she's tried murder cases. Susie is unfailingly professional and prepared. It's always an absolute pleasure to have her in a courtroom."
An excellent administrator, Jensen worked with county commissioners in both Bonner and Boundary counties to consolidate the offices when the northern county was left with no public defenders.
"I have no doubt that Susie will be a wonderful district judge," Buchanan said.
Picking up a 1933 edition of Black's Law Dictionary, Buchanan said the book was purchased by former District 1 Judge Dar Cogswell as a student at the University of Idaho Law School. After serving from 1967 to 1987, Cogswell gave it to Jim Michaud when he became a district judge. Michaud then gave the book to Steve Verby, who gave it to her, Buchanan said.
"It's my honor and my privilege to continue the tradition and to pass the book on to Bonner and Boundary counties' new district judge, Susie Jensen," Buchanan said.
Like Buchanan, Verby said he's known Jensen almost her entire life and had the pleasure of having her as an intern one summer. He recalled her time as a standout soccer player at both Sandpoint High School and Claremont McKenna College in Claremont, Calif., one of the top liberal arts colleges in the nation. After graduating with honors — and a double degree in psychology and government — Jensen took a year off to work as a firefighter for the U.S. Forest Service. She then attended the University of Idaho Law School on a full-ride scholarship.
Her first job after receiving her Juris Doctor degree and passing the bar, Jensen worked in private practice in Coeur d'Alene before eventually becoming the chief public defender for Bonner and Boundary counties, Verby said.
"Today, Susie Jensen will be given tremendous power," Verby said during Thursday's investiture ceremony. "Just like when a doctor performs an operation, her decisions can, and will, change people's lives forever. But with great power comes an ever-greater responsibility."
Her decisions will determine whether those who commit horrendous crimes spend the rest of their lives behind bars, who owns a piece of land, and "ensure that justice under our laws takes place," said Verby, one of two people asked by Jensen to speak at the ceremony. She will hear appeals from the magistrate courts and could be asked to fill on the Idaho Court of Appeals or even as a Justice of the Idaho Supreme Court.
"Having known Judge Jensen for almost her whole life, I predict she will be a great judge," Verby said, adding that the newly sworn-in judge has more than just the "book larnin'" to be a judge, she has the temperament and kindness needed to be a great one.
"She is quietly confident. She will be in control of the courtroom but will not be arrogant," he added. "The hallmark of an excellent judge is to treat everyone with whom the judge comes in contact with respect, regardless of whether that person is a defendant who has committed a heinous offense or is a litigant, juror, lawyer, witness or an employee.
"Susie Jensen treats everyone with respect and this part of her personality will not change. If there are disruptions in court, she will be the calming factor in the storm."
Verby said Jensen will listen carefully before ruling, based on what the law requires and not on what is perceived to be public opinion.
"She will carefully listen to what each side says before she calmly, courteously and deliberately makes decisions," the senior judge said. "Judge Jensen will lead with integrity, civility and humility.
Susie Jensen is compassionate, respectful, caring and thoughtful. Yet she is tough when she needs to be."
In closing, he said he believes Jensen will follow the principles set forth by Teddy Roosevelt when he said, "No man is above the law and no man is below it; nor do we ask any man's permission when we require him to obey it. Obedience to the law is demanded as a right; not asked as a favor.
"Jensen's background, temperament, demeanor and integrity all make her an excellent choice to be a First District judge," Verby said. "I am very confident she will serve the citizens of the State of Idaho and all who enter her courtroom with distinction."
Jensen said she was humbled by the kind words and by everyone who turned out to celebrate her investiture as First District Court judge.
"Thank you, Judge Verby and Judge Buchanan for your incredibly kind words, your support and guidance over the years is something that I will always treasure," she said after thanking everyone for coming to the ceremony. "And I'm honored and proud to be following in the footsteps. And as my dad said, it'll be very big footsteps to fill but I hope to live up to the legacy that you've created."
She thanked her family, husband and in-laws for their support as well as all of the judges who came to the ceremony and who reached out to welcome her.
"There are so many people here that have been an important part of my life. People have watched me grow up who have inspired me, giving me advice and support and encouraged me to try for everything that I ever hoped to do my life," she added, thanking them for coming to the investiture.
"I am who I am, and where I am, because of you," Jensen said, turning to look at her family and then her friends. "Thank you. Becoming a judge is something I've dreamed of since law school. I can think of no higher calling than serving the community. I'm so honored to be here today. And I promise to come in every day and try my hardest, to give it 110% as your newest district judge."
Jensen will begin her tenure on the bench on Feb. 1, succeeding Buchanan, who is stepping down after 28 years, the last 10 in district court, at the end of the month.
Jensen will be chambered in Sandpoint and preside over cases filed in Bonner County at the district court level. Jensen, who previously served as Bonner County's chief public defender, was appointed by Gov. Little to the post on Nov. 30, 2022.
The former public defender was recommended for the post by the Idaho Judicial Council.
Recent Headlines
---