Worried about your taxes? Tax-Aide can help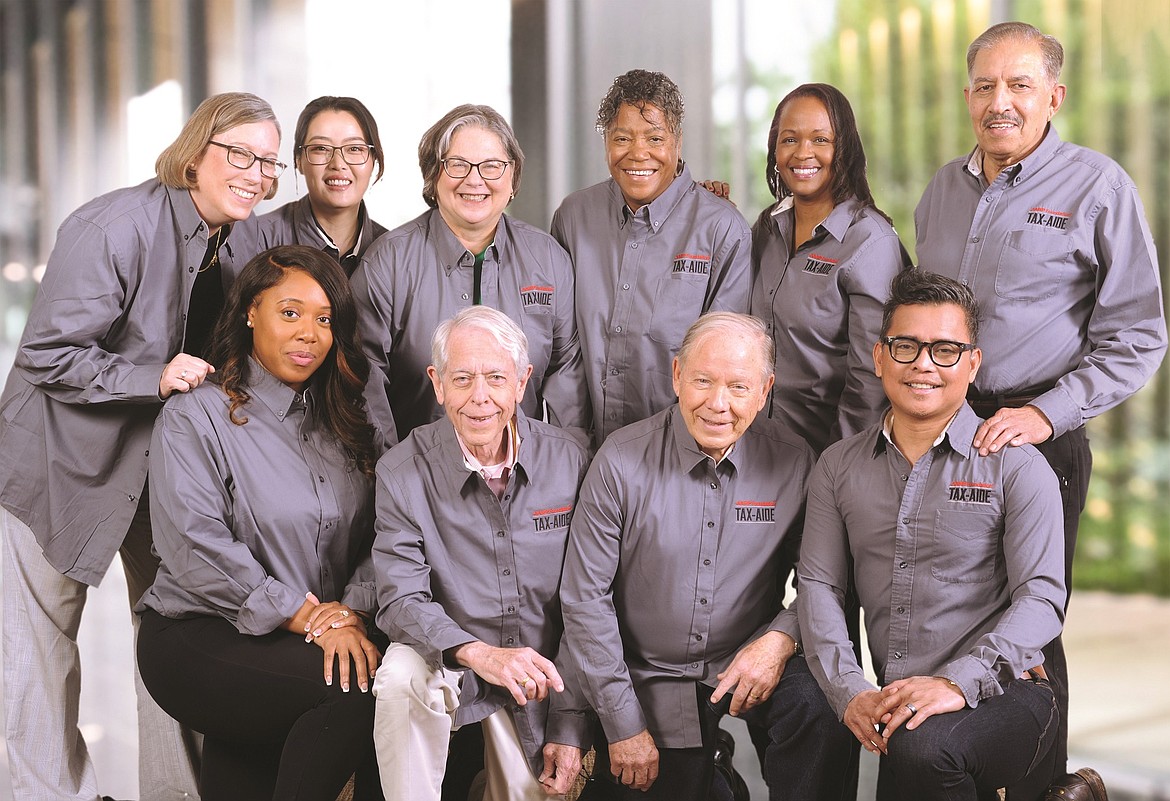 AARP Foundation Tax-Aide volunteers pose for a photo provided by the organization. The program offers free tax preparation and assistance to anyone, especially those 50 and older, who can't afford a tax preparation service.
(Photo courtesy AARP FOUNDATION)
Worried about doing your taxes?
You're not alone.
Many of those who come to Tax-Aide assistance program for help in preparing their income taxes have the same fear, longtime program volunteer Robert Felton.
Felton, one of the people in charge of the program in Bonner County, said they often hear from those they help how grateful they are for the program.
"If you really look at the process, it really isn't all that difficult," he said. "But people are just petrified. I think they're afraid of the IRS, I think they're afraid of the numbers. They're afraid of the forms. Even now with it, you know, so much of it being online … people are very, very hesitant about it."
Beginning in early February and continuing until the end of tax season, AARP Foundation is providing free tax preparation assistance through its Tax-Aide program.
Tax-Aide offers free tax preparation and assistance to anyone, especially those 50 and older, who can't afford a tax preparation service. Since its inception, the program has helped more than 68 million taxpayers.
AARP Foundation Tax-Aide has grown since its inaugural team of just four volunteers in 1968. The program now involves 35,000 volunteers and serves over 2.5 million taxpayers annually at nearly 5,000 sites nationwide.
Felton got involved in the AARP program, held in partnership with the IRS and tax software companies, when someone walked into the church office where he worked at the time. A paid tax preparer for 10 years at a previous job, Felton said he was interested in his affinity for numbers and his desire to help others.
"People are so appreciative," Felton said. "It's really amazing. It doesn't matter how long it takes, how long they wait, or how complicated it gets or not. People just really, really appreciate us doing it."
Felton encouraged those interested in getting help with their taxes to pick up a copy of the Tax-Aide intake booklet at the library in advance if possible. That will give them a head start on gathering the information they need to get their taxes done.
Because the program is offered on a first-come, first-served basis, Felton said there can be a big demand for assistance — especially when the program kicks off in February.
"I just want people to understand there is a limit to what we can do," he said. "It might make more sense to wait a little longer versus trying to come in right away. But, whenever people come, we are going to do our best to serve them."
While it is likely too late for this year, due to the number of tests and requirements needed to be certified, Felton said volunteers are always needed. To become a Tax-Aide volunteer, those interested can go online to bit.ly/3Jj1hQ5 to sign up. Volunteers will then be contacted in the fall when training sessions are held, typically in January right before tax season.
Training includes classroom work, typically about 40 hours, and several tests from tax preparation to ethics. Ensuring volunteers are properly trained and have what they need to prepare the tax returns is something the AARP, IRS, and software companies take very seriously, Felton said.
But, he added, for those who love to help others and are interested, there is no better program of which to be a part.
In the greater Bonner County area, program volunteers will be at two locations — in Sandpoint and in Newport, Wash.
In Sandpoint, they will be at the Sandpoint Library every Monday and Wednesday, beginning Feb. 6 and continuing until April 12, to assist with tax returns. Volunteers will be at the library from 9 a.m. to 3 p.m.
In Newport, volunteers will be at the Newport Hospitality Senior Center, 215 N. Washington Ave., Newport, Wash., on Fridays. They will be at the site from 10 a.m.-3 p.m.
Returns will be taken on a first-come, first-served and sign-up sheets will be at both locations on the days of service.
For a return to be prepared, officials said residents must fill out the intake booklet prior to AARP assisting them in preparing their returns. Those seeking assistance may pick up the booklet at any time during library hours at the Sandpoint Library Information Desk or on the days of service.
When going to the library to meet with Tax-Aide volunteers, residents should bring along all tax documents for this tax year as well as a photo ID and Social Security card for all persons on the return. Residents also should bring along their 2021 tax return, if possible.
Tax-Aide has several options for providing taxpayer assistance. These options vary by location and are subject to change. For additional information including what to bring to a Tax-Aide site and additional locations visit the AARP Idaho website states.aarp.org/idaho
Information: phone, 208-651-9140; or online, aarpfoundation.org
Recent Headlines
---