Sandpoint Trailblazers get ready to kick off 'summer' season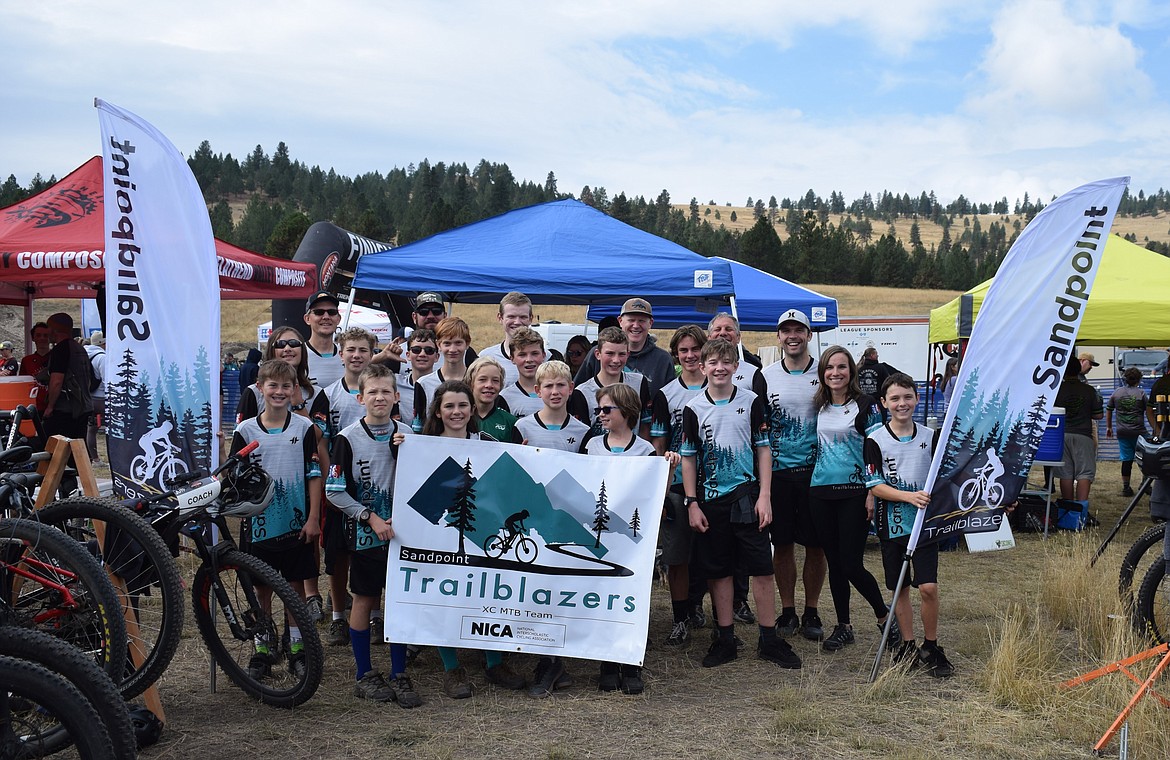 The Sandpoint Trailblazers pose for a photo at an event hosted by the Montana Interscholastic Cycling League last year.
(Courtesy Photo)
by
MAX OSWALD
Sports Reporter
|
June 1, 2023 1:00 AM
SANDPOINT — The Sandpoint Trailblazers — a youth cross-country mountain biking team — are gearing up for the 2023 riding season. Team coaches and organizers held an informational meeting at the Matchwood Brewing Company on Wednesday for interested parents and riders from sixth to 12th grade.
"The team has been doubling in size every year and I think it is a good means to get kids out and enjoy the great outdoors in Sandpoint," assistant coach Frank Roberts said. The team had eight riders in its first year, 25 in its second year, and had about 30 new, interested athletes at Wednesday's informational meeting.
The Sandpoint Trailblazers were founded in 2019 thanks to Alec Thaete, a local mountain bike racing enthusiast. Unfortunately, due to the COVID-19 pandemic, the team did not have its first season until 2021 when it joined the Montana Cycling League, which exists under the National Interscholastic Cycling Association. Mike Martz, another interested biker who wanted to help create a youth team in Sandpoint, was instrumental in helping the team join the MCL. Martz is now head coach of the Trailblazers.
Official practices start in early July and are held two to three times per week. Riders of all experience levels are welcome. The club will attend four races in Montana in September and October: Sept. 2-3 Crosscut Mountain, Bozeman, Mont.; Sept. 16 Herron Hustle, Kalispell, Mont.; Sept. 30 Copper Kings Clash, Butte, Mont.; Oct. 7-8 Lolo Landing, Lolo, Mont.
Besides racing, the team hosts additional outings and events for fun at different riding locations in North Idaho. Racing is not a requirement to be a part of the Trailblazers.
"We encourage the races because they are so fun, but ultimately, it's really about connecting with each other — connecting with a group of people who just love to bike," assistant coach Chandra Martz said.
The team is hosting a "ride with the team" event Friday, June 2 at the Pine Street Woods at 5 p.m. for those who are interested in getting a feel for the program.
In addition, the team is looking for local sponsors to help support athletes who may not be able to afford mountain biking gear.
Those interested in learning more should visit https://www.sandpointnicamtb.com/about-us. To register, email your athletes full name to sandpointnicamtb@gmail.com.
Recent Headlines
---