LPOSD honors Ponderay Police officer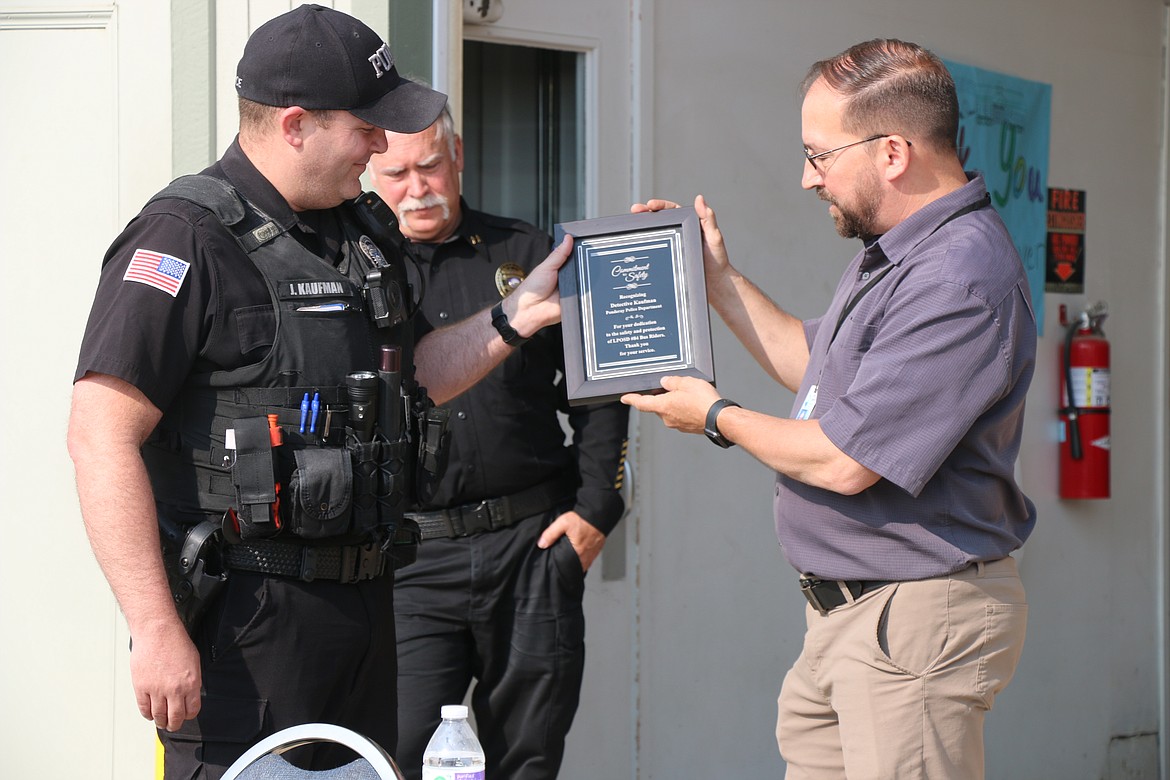 Ponderay Police Detective Joseph Kaufman, left, is presented an award for his efforts to end stop-arm violations in the community by Lake Pend Oreille School District transportation director James Koehler as Ponderay Police Chief Jimmy Cornelius listens in the background.
(Photo by CAROLINE LOBSINGER)
by
CAROLINE LOBSINGER
Staff Writer
|
June 3, 2023 1:00 AM
PONDERAY — A Ponderay Police detective has been recognized for his role in helping keep the community's students safe by enforcing stop-arm laws in the county.
The honor, presented at a Lake Pend Oreille School District transportation meeting in mid-May, caught Det. Joseph Kaufman by surprise. He thought he was just there to report on the issue.
Stop arm violations — drivers who either don't see or ignore the warning lights advising that students are either entering or exiting a school bus — are a frequent problem, James Koehler, Lake Pend Oreille School District transportation director, said.
The subject comes up each month at the department's safety meetings about the importance of reporting them. Emphasizing the very real dangers of the violations, Koehler noted the recent death of a Wisconsin student who was struck and killed by a driver who allegedly ignored the stopped school bus.
As of mid-May, Koehler said the district had 34 reports of stop-arm violations by other drivers, with likely many more going unreported. Of those reports, 13 resulted in citations — Kaufman was responsible for 11 of that number.
"That's 90% and that's because he took the initiative," Koehler said. "He was on a night shift a couple years ago and saw the information we're repeating but he didn't really know what the problem was [but he] went out there and started observing."
It wasn't long before Kaufman saw just what LPOSD district officials were warning about.
"Our driver started calling in [about a possible violation] and said, 'Hey, I got to stop arm violation on Kootenai Cutoff Road but I don't even have to call the police because the officer's right there."
That dedication to the community's students prompted LPOSD officials to formally recognize Kaufman for his dedication to the safety and protection of the district's students.
Kaufman said inattention is behind most of the stop-arm violations, with most of the drivers admitting to being distracted by something going on in their personal life or were on their way home, exhausted from a long day at work.
"When I told them the reason for the stop, most of them were very apologetic," he told the LPOSD bus drivers and staff gathered for the surprise ceremony in mid-May.
However, a few of the drivers failed to even note the bus or argued that it wasn't an official bus stop and he shouldn't be allowed to pull them over, Kaufman said of some of the drivers.
Ponderay Police Chief Jimmy Cornelius said Kaufman exemplifies his officers and their dedication to the community. Reading from a commendation written by Ponderay Sgt. Jeremy Deal, Cornelius praised the detective for his outstanding dedication to school bus safety and the children being transported through the city.
"Detective Kaufman took it upon himself to make school bus safety a priority during the 2022-23 school year," Cornelius read from Deal's commendation. "He would commonly be located near school bus stops in the morning and evening during his work shifts. This high visibility enforcement and public education led to a great reduction in school bus driver reports being filed for investigation and enforcement action."
Deal and Cornelius said the detective's actions put into practice the Ponderay Police Department's mission to contribute to the community and make it a safe place to live, work, play and visit.
"Detective Kauffman consistently provides high-quality law enforcement and investigations," Cornelius read. "He is focused on community policing by solving problems of mutual concern. Detective Kaufman is a dedicated professional who is compassionate and knowledgeable in all his interactions. Detective Kaufman is an example of what it means to be a Ponderay police officer."
LPOSD Superintendent Dr. Becky Meyer told Kaufman that the district is appreciative of his effort to protect the district's students, commending him for his efforts.
"[Driving a school bus] is like the hardest job in the district," Meyer said at the event. "If you think about it, they … are driving a full classroom over a full classroom of kids, be responsible for them and follow the roads and then have people passing them."
The district is grateful that Kaufman took the initiative to call attention to the problem — and to work to end it, Meyer said.
"We're so grateful to him for keeping our most valuable resource safe," Meyer said. "Our students are the future of our entire community and he is protecting them and keeping them safe."
Recent Headlines
---