Sandpoint Sharks have strong showing at Tri-City Invitational
Five athletes from the Sandpoint Sharks swim team braved high temperatures at the 2023 Tri-City Invitational on June 3 and 4 in Pasco, Wash.
The invitational brought in over 800 swimmers from Oregon, Washington and Idaho. Due to such a large number of competitors, times were fast and the competition was tough. All five of the swimmers that represented Sandpoint had strong swims. First-year head coach Emily Renzini said it was clear that her athletes have been listening at practice. Watching her athletes do well at the meet has made her even more excited about her new position.
"I fell in love with coaching while watching Lou Foust take what he learned in practice and perform it in the meet," Renzini said.
Foust won the 50 freestyle in 29.32 seconds and the 100 freestyle in 1:04.79. He won both events by less than one second.
"It was really exciting to watch," Renzini said.
Another Shark who stood out this past weekend was Mia Driggs. Driggs has been working on expanding her swimming portfolio and dropped her times significantly in her freestyle events.
"Mia is not only a gifted breaststroker, but a fast freestyler," Renzini said.
Driggs finished with a time of 31.48 seconds in the 50 freestyle and 1:12.90 in the 100 freestyle.
Terra Converse also showed her versatility in the pool at the invitational with a strong and fast 50 breaststroke. Converse finished with a new personal record of 49.85 seconds; she dropped her time by over six seconds.
New to long course swimming and 50-meter pools, sisters Constance and Savannah Ferris proved they were up for the challenge.
"Constance is 9 years old. Long course meets can be intimidating for anyone – but especially if it's your first meet. She finished all of her events strong with a bright smile – that's what this is all about."
Ferris also showed her athleticism by finishing the weekend strong with a 50 fly. After losing her goggles on the dive, she pushed through the entire event with pure determination.
"The butterfly is always going to be a hard swim," Renzini said. "Swimming the entire 50 meters blind takes a lot of grit. Savannah proved she has what it takes – she's got a swimmer's heart."
The Sandpoint Sharks are now training for the Spokane Summer Solstice meet hosted by the Spokane Waves Aquatic Team at Witter Pool on June 23-25. Over 20 Sandpoint Sharks are signed up and ready to race.
Renzini said she feels very fortunate to coach a team that takes her feedback and applies it to the pool almost instantaneously.
"Our team is only getting stronger from here," she said.
If you have a swimmer that is interested in being on the Sandpoint Sharks Swim team, the next try-out sessions are June 13 and June 15 at 9 a.m. at the Litehouse YMCA. For more information about the team, follow the team on Facebook at Sandpoint Sharks Swim or contact coach Emily Renzini at erenzini@ymcainw.org.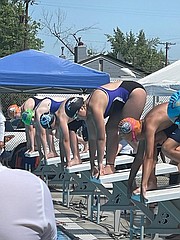 Recent Headlines
---