NIC board adopts 2024 budget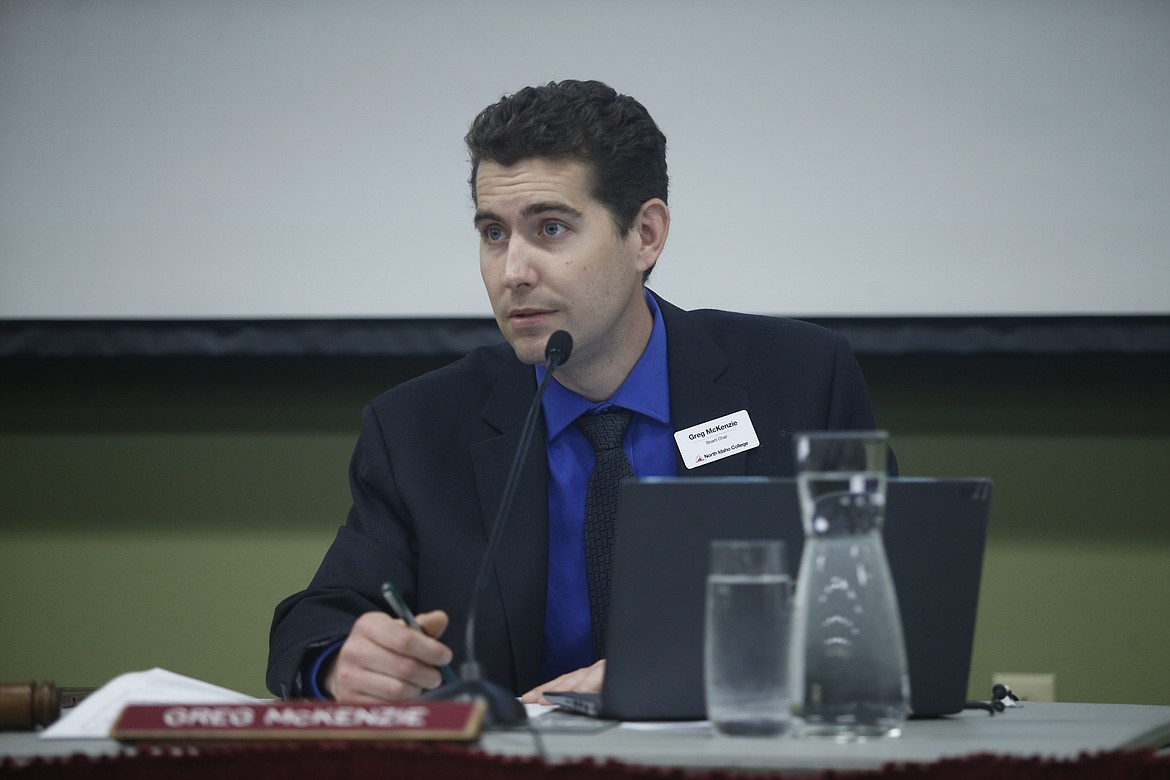 NIC Trustee Greg McKenzie led the Wednesday night board meeting.
KAYE THORNBRUGH/Press
by
KAYE THORNBRUGH
Hagadone News Network
|
June 10, 2023 1:00 AM
COEUR d'ALENE — North Idaho College trustees voted Wednesday night to adopt the proposed budget for fiscal year 2024 but are leaving open the possibility of amending it further.
The $54 million budget doesn't include a property tax hike, nor does it include an increase in tuition. About $2.4 million, which includes some funds from the state, will provide the equivalent of an 8% compensation increase for full-time and part-time employees.
Sarah Garcia, NIC's vice president of finance and business, answered questions about funds provided by the college to the NIC Foundation, an independent nonprofit founded in 1977 to encourage private support for NIC.
Though the foundation is a separate legal entity, it provides benefits exclusively to the college, so its fiscal audit is included in NIC's audit as a component unit. The dollar value of transactions between the two entities must be disclosed. Expenses are tracked and the foundation fully reimburses NIC on a monthly basis.
Some college employees receive partial funding from the foundation because the roles those employees perform are a value to both institutions. They are the director of development/executive director of the foundation, the data and resource coordinator, the alumni relations and development coordinator and an administrative assistant.
"The taxpayers of Kootenai County do not pay NIC Foundation salaries," Garcia said.
Between October 2022 and June 2023, the foundation has provided nearly $1.2 million in scholarships to NIC students.
NIC President Nick Swayne recommended Wednesday that NIC transfer athletic teams to the National Junior College Athletic Association and Scenic West Athletic Conference with a goal of completing the transition by the fall semester of 2024.
In December, trustees cast a split vote directing Greg South, then the college's interim president, to explore the possibility of switching conferences.
Earlier this year, the NJCAA reportedly rejected proposals from NIC seeking to move some of the college's sports into the Scenic West Conference, citing concerns about the show cause sanction issued by NIC's accreditor.
The board directed Swayne to gather more information about possible change to the college's athletics conferences, to be presented at another meeting in August or later.
The board put off a decision on new legal counsel for the college, which has been in question since the May meeting when interim college attorney Art Macomber walked out after announcing he believes "laws are being broken" by college personnel. Macomber's resignation is effective Aug. 15.
Trustees Brad Corkill and Tarie Zimmerman voted Wednesday to hire the services of Spokane-based firm Stevens Clay, while Todd Banducci and Mike Wagonner opposed the hiring. Board chair Greg McKenzie declined to break the tie, so the motion failed.
Attorneys at Stevens Clay have served as general counsel for Eastern Washington University, as well as for the Community Colleges of Spokane and Bend Community College. The firm has served as general counsel and litigation counsel to roughly 100 school districts throughout the region. The firm's lead attorney charges $275 per hour, $50 less than Macomber.
"They have substantial experience representing colleges and institutions, not individuals, which I think is a really important aspect," Swayne said. "The focus of their firm is education law."
One of the applicants to be NIC's legal counsel, Sandpoint-based attorney D. Colton Boyles, was in the audience Wednesday night.
Zimmerman said she has "grave concerns" about hiring Boyles. She pointed to the case of former Idaho Lt. Gov. Janice McGeachin, who Boyles represented when the Idaho Press Club successfully sued her for improperly denying public records requests.
"Colton Boyles was repeatedly admonished for filing frivolous claims, even rising to the level of the judge stating that such claims were so frivolous he could sanction Boyles under Idaho Rules of Civil Procedure Rule 11 and award attorney's fees to the opposing party," Zimmerman said. "Sanctions under Rule 11 are reserved for extreme cases of attorney misconduct."
McKenzie tried to stop Zimmerman from speaking, shouting over her and repeatedly banging a gavel.
"Let her speak," multiple people called from the audience.
"No," McKenzie said, still gaveling.
Boyles does not appear to have any background in education law.
"I looked at his resume," Corkill said. "He doesn't have any experience. None. None at all."
The board is also still considering Boise-based firm Holland and Hart, which reportedly has numerous attorneys with expertise in different areas. Rates for the firm's services range from $255 per hour to $765 per hour, depending on which attorney does the work.
McKenzie said he is most concerned with attorneys who have experience with "institutions with expensive insurance situations," because NIC's insurance costs have greatly increased.
Though the board typically does not meet in July, McKenzie indicated that trustees may convene for a special meeting sometime between June and August.
Recent Headlines
---