Tears and smiles abundant at LPOHS graduation ceremony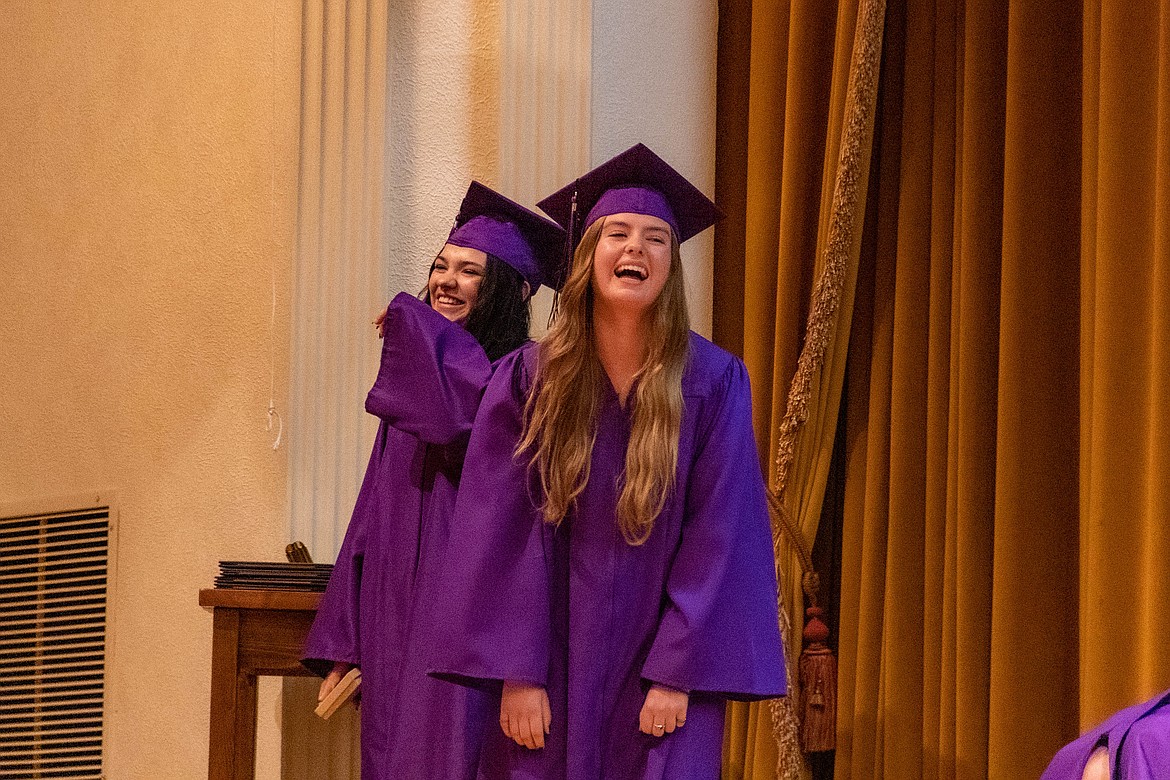 Two graduates laugh as a staff member talks about the meaning behind their graduation gifts.
Photo by LAUREN REICHENBACH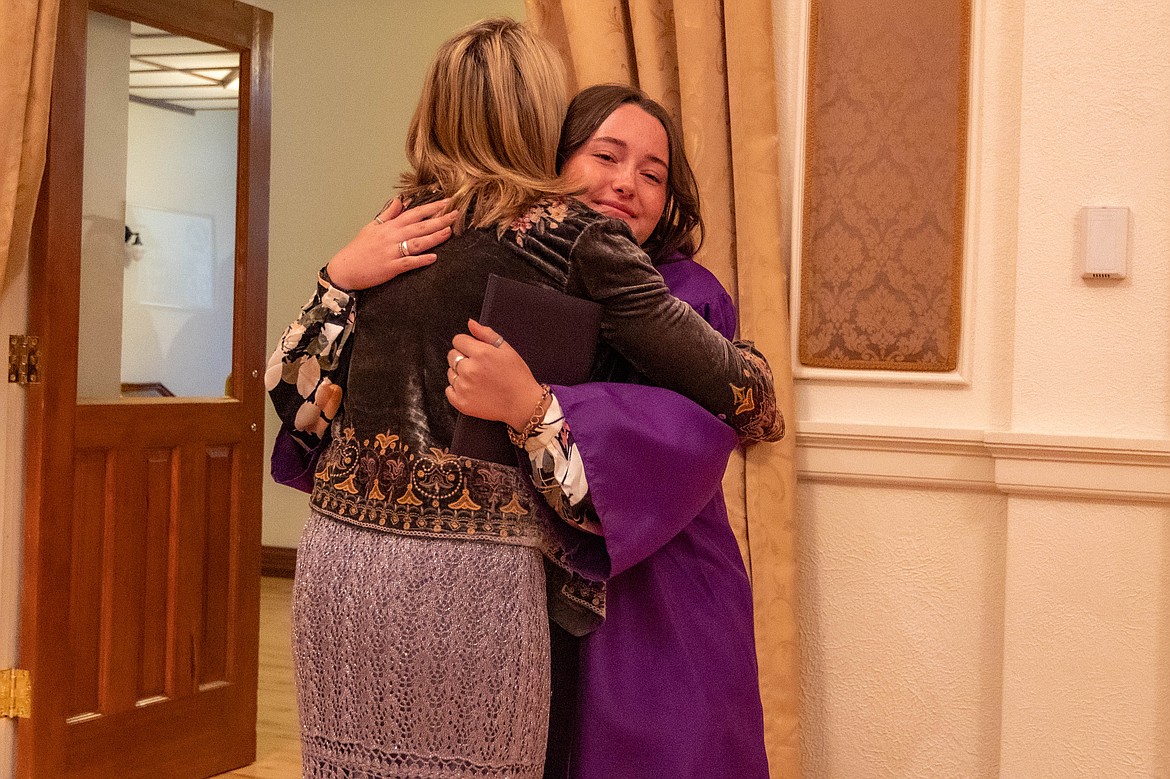 Tallulah Stafford hugs science teacher Brenda Woodward after giving her her graduation cap.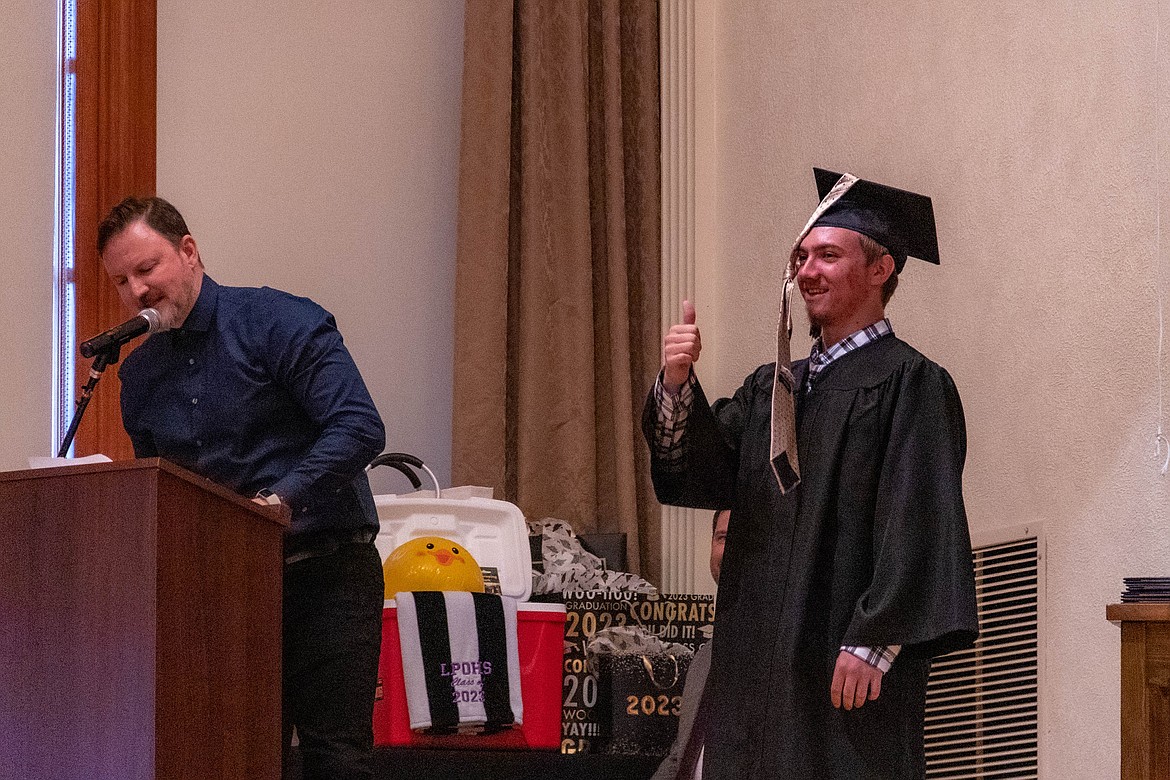 This grad received a tie, a tool kit and a book of dad jokes as he was deemed the "dad" of the Class of 2023 at LPOHS.
Previous
Next
by
LAUREN REICHENBACH
Staff Writer
|
June 10, 2023 1:00 AM
"We are the future, and we are going to make ours great," student speaker and graduate Jason Rohenbach said, a sentiment that seemed to hang happily in the air throughout Lake Pend Oreille High School's graduation Thursday.
Both tears and smiles were abundant during the two-and-a-half-hour ceremony that focused heavily on each graduate and the challenges they overcame to reach this milestone. A tradition at LPOHS, each student was recognized by a staff member and was given a personal gift to help them remember their years at LPO. This personal touch left hardly a dry eye in the room. Funny gifts, sentimental gifts and gifts about inside jokes were shared during the procession which highlighted each student's path to graduation.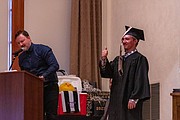 "I am so lucky to have gotten the chance to meet and learn from so many smart and amazing people," student speaker and grad Tallulah Stafford said. "One person helped me in ways I can't explain. But if I was to try, I would say she was the first teacher to push me harder than I was ever pushed. It wasn't so I would fall. It was so that I could see over the wall that I put up for myself. And when I did, I saw what could be and not what was."
That science teacher, Brenda Woodward, was the one honored with talking about Stafford and gifting her a graduation present in recognition of her plans to pursue a science-related degree. The subject is one Stafford struggled with her entire high school career Woodward said. The gift she decided to give the senior was a book titled "Women in Science: 50 Fearless Pioneers Who Changed the World."
"I'm hoping that in a few years, they will make a new book with 51 women," Woodward said. "And I hope to see Tallulah's name in it."
After the ceremony ended, Stafford found Woodward and offered her her graduation cap.
"I want you to keep this so you can throw it in the air when you attend my college graduation," Stafford told her.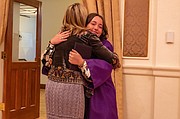 Like many at LPOHS, Stafford's path to graduation was not an easy one and she said she often found herself on the verge of giving up completely.
"In my past, I have regrets and sad memories, like far too many kids my age," she said. "But what keeps me going is knowing there's so much more ahead."
Stafford said school staff encouraged her to keep trying, keep fighting for a better future. As she stood in front of her fellow graduates, staff and friends and family, she said she felt like she was "living in a fairy tale," as her graduation was a day she never thought she would see.
"This is no finish line the way I imagined," Stafford said. "Walls are meant to be broken, dreams made reality and finish lines crossed many times."
While the 24 graduates will go separate ways after graduation, some to college, some straight to the work force and some into the military, both students and staff said they have no doubts each grad will accomplish great things.
"I can't wait to see what dreams and passions everyone follows," Stafford said in her final remarks. "So to everyone: Through the good and the bad, good luck, good riddance and thank you."
Recent Headlines
---