Palmer named Distinguished Young Woman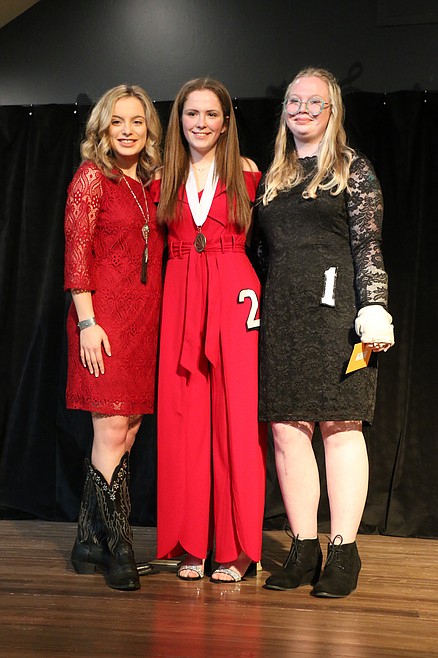 Aurla Palmer, center, was named Distinguished Young Woman of Sandpoint for 2023. Merrell Cunningham, right, was named first runner-up. At left is host Maddie Gunter.
(Photo by CAROLINE LOBSINGER)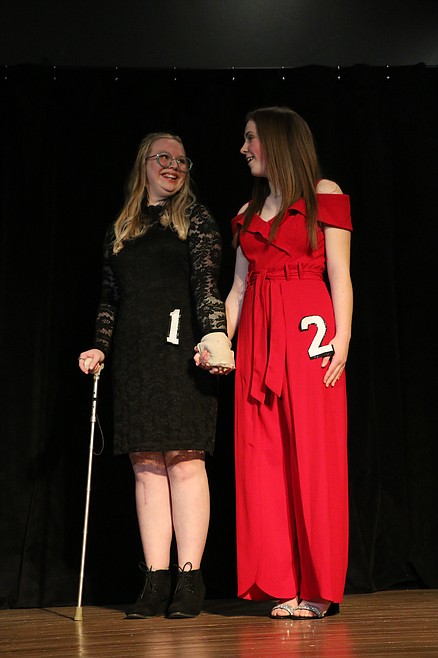 Merrell Cunningham, left, and Aurla Palmer, right, react as Palmer is announced as Sandpoint's Distinguished Young Woman for 2023.
Previous
Next
Sandpoint has a new Distinguished Young Woman — Aurla Palmer.
Palmer, a Sandpoint High School junior who hopes to become a nurse, was selected as the community's Distinguished Young Woman following an intimate ceremony held in the Music Conservatory of Sandpoint's Carnegie Hall,
Selected as first runner-up was Merrell Cunningham, a junior at Forrest M. Bird Charter School.
Palmer receives a $4,200 scholarship and will represent the community at the state program at Idaho Falls in early October. Cunningham receives a $3,200 scholarship for being selected first runner-up.
Palmer overcame a microphone glitch during her original monologue about 10 Girls Who changed the world and made a difference by using their talents to help others. That was when she knew she wanted to be a nurse.
In her self-expression speech, Palmer spoke on the importance of mentors and how being there for others can mean all the difference in someone's life.
Palmer plans to attend Utah State where she plans to receive her degree in nursing or education. Palmer is involved in Bonner County 4-H as well as softball, wrestling, Business Professionals of America, and Future Health Professionals.
Cunningham, who deals with a chronic illness, read one of more than 100 poems she has written for her talent. The Forrest Bird Charter School junior read her original poem, "Sorry … Not Sorry … For My Life of Pain".
In her self-expression speech, Cunningham spoke on chronic illness awareness, encouraging the audience to be understanding and to realize that it affects every aspect of a person's life.
Cunningham plans to attend either the University of Mobile or the University of West Florida, where she plans to major in theater. She enjoys swimming, reading, and writing as well as theater, poetry, singing, and true crime.
The program featured a letter from Camille Neuder, who served as the Distinguished Young Woman of Idaho in 2021 after being named to represent the local program.
Neuder, who is in Madrid, Spain, as part of an exchange program through the Colorado School of Mines, was represented by her parents.
"The Distinguished Young Woman program is a life-changing opportunity to empower and launch strong females into a successful future," Neuder wrote in the letter. "I greatly attribute my time in the DYW program for helping me reach academic success, and grow into the woman I am today and I'm grateful for each minute that I was blessed to be part of something so special."
Neuder wrote the young woman selected to represent the community has an incredible and special journey ahead of her.
"Although there may be only one representative, both are winners and both are remarkable Distinguished Young Women," she wrote. "Continue to shine as your unstoppable best self and remember that your best self is a self that is true to you."
Like Neuder, Maddie Gunter, who served as the program's host, said the DYW program has been life-changing and has helped make her the best version of herself. From her introduction to Distinguished Young Women as a 6-year-old as a "Little Miss," Gunter told those gathered the program taught her confidence, that it was OK to make mistakes, and gave her the knowledge that only she could define her limits.
"I learned how to be confident in myself and my abilities in all aspects of life," Gunter said. "More importantly, I was able to understand who I am and who I want to become."
Thanks to the lessons and skills she gained through the Distinguished Young Women program, Gunter said she won the title of Miss Sandpoint Rodeo in 2022.
Distinguished Young Women is part of a national scholarship program that positively impacts the lives of young women by providing a transformative experience that promotes and rewards scholarship, leadership, and talent.
Each Distinguished Young Women program evaluates participants in five categories, scholastics, 25% of the overall score; interview, 25%; talent, 20%; fitness, 15%; and self-expression, 15%.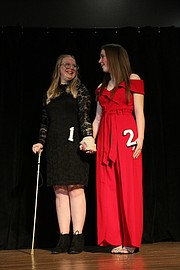 Recent Headlines
---