FBCS principal announces retirement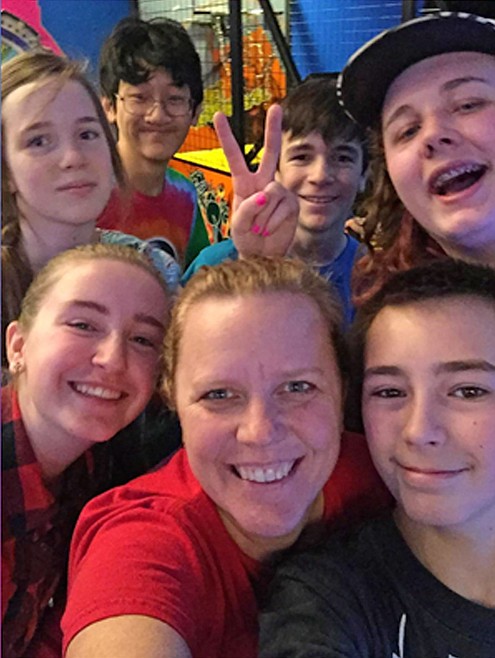 Jennifer Greve, pictured in the center, has fun with Forrest Bird Charter School students. Greve announced Friday that she will retire at the end of the school year.
(Photo courtesy FORREST M. BIRD CHARTER SCHOOLS)
After 21 years at Forrest M. Bird Charter School, principal Jennifer Greve said it's time for a change.
Friday, Greve announced her retirement, which will take effect at the end of the school year.
"I have worked with youth for 30 years," Greve said. "It has been a great career and I love FBCS but it is time for me to try something new."
Greve has been on the school's staff from the first day it opened as Sandpoint Charter School in 2001. Originally the school secretary, she became a teacher and then a school administrator. Coworkers said Greve has been instrumental in FBCS's success.
"Jennifer has been one of the most caring principals I have ever worked for," FBCS teacher Sarah Evans said. "She works hard to make all teachers and students feel seen as the individuals that they are."
Kenda Russell, FBCS director of special education, said she became involved with the school as a parent and quickly appreciated her love for the Forrest Bird and its students.
"Jennifer's enthusiasm made me want to become a teacher," Evans said. "She will be sorely missed but we are happy for her in her retirement."
Greve said she has mixed emotions about retirement. However, she added that it is time for her to step aside for a new generation of educators.
"The teachers at FBCS are an amazing team," she added. "They are ready to take on the leadership roles that will ensure the school's success for the next 20 years."
As for what she will do next? Greve doesn't hesitate — she plans to spend time with her family.
"I am looking forward to spending more time with my husband and being available for our college-bound daughter," Greve said. "Beyond that? I am going to explore my other interests in conflict resolution and leadership development and see where they take me."
Recent Headlines
---