Trio of Bulldogs named to 4A all-IEL team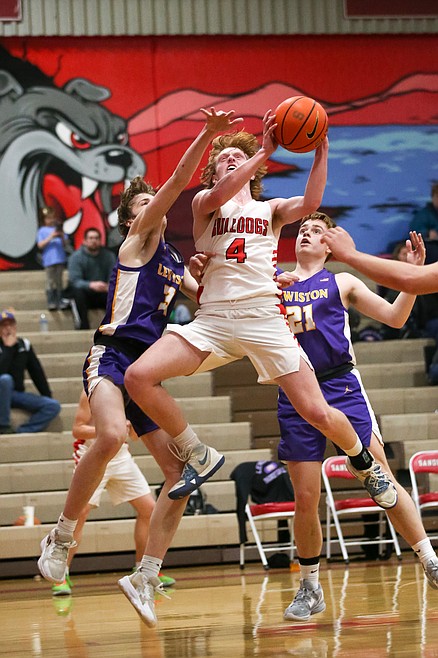 Rusty Lee goes up for a basket during a game against Lewiston. The senior was among three Bulldogs named to the All-Inland Empire League team.
(Photo courtesy JASON DUCHOW PHOTOGRAPHY)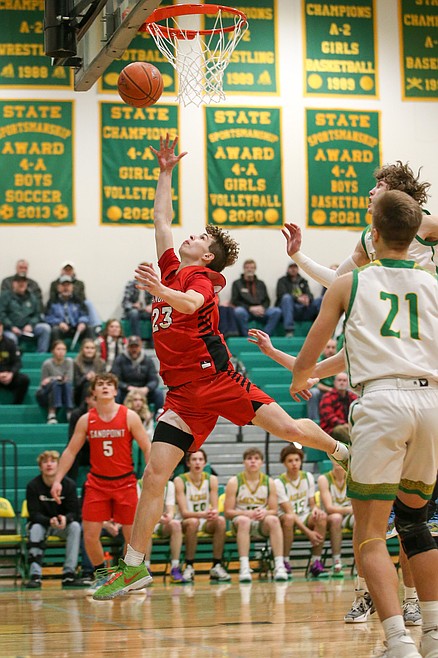 Parker Childs puts up a shot in a game earlier this season. The Sandpoint junior was one of three Bulldogs named to the all-Inland Empire League team.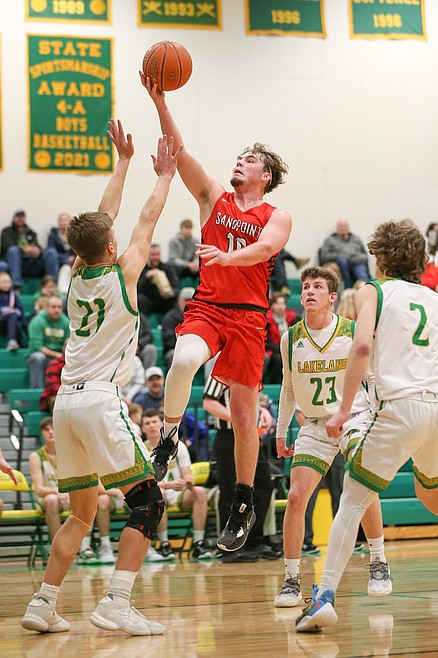 Arie VanDenBerg goes up for a layup earlier this season. The Sandpoint senior was among three players for the Bulldogs to be named to the all-Inland Empire League team.
Previous
Next
by
CAROLINE LOBSINGER
Staff Writer
|
March 10, 2023 1:00 AM
A trio of Sandpoint boys basketball players earned a spot on the All-Inland Empire League team for the 2022-'23 basketball season as voted on by the league's coaches.
Three Bulldogs were named to the team: seniors Rusty Lee and Arie VanDenBerg, and junior Parker Childs.
Also selected for the All-IEL 4A basketball team were senior Nick Nowell of Lakeland, and seniors Caleb Skinner and Dylan Rehder of Moscow. Lakeland's Scotty Hocking was named Player of the Year and the school's coach, Tony Hanna, was named coach of the year.
All three Bulldogs were instrumental for Sandpoint and played a key role in helping the team secure its first league title in more than a decade, Sandpoint coach Brian Childs said.
Rusty Lee, who was selected all-league for the second consecutive year, led the Bulldogs in almost every statistical category, Childs said.
"He really was kind of our catalyst on both ends of the floor in kind of what we wanted to do so I thought it was really well-earned," the Sandpoint coach said.
What makes the honor even more impressive is that Lee is "at the top of every team's scouting report" and is often a target for the other teams' defense.
"To be able to kind of put together a year like this, you know, I think is a testament to his work ethic and his character," said Childs.
Senior Arie VanDenBerg more than earned his selection to the all-league team, Childs said.
"I was really, really happy that the other coaches who voted kind of recognized what Arie does for us," he added. "Arie does a lot of things for us that do not appear on the stat sheet, a lot of little things that add up."
From defense to leadership to an ability to grab the 50/50 balls, VanDenBerg was key to the Bulldogs' success, Childs said.
"He would either give us an extra possession play or create those momentum plays like taking a charge," he said. "He also scored pretty well in our league games but it's nice when the other coaches appreciate the other things that the kids can do besides just score. I was really happy to see him be rewarded for that."
Also named to the all-league team was Parker Childs, who was the Bulldogs' leading scorer in league games.
"It kind of seems when he shot the ball well, it typically opened things up for the other guys because they have to pay so much attention to him," the Sandpoint coach said of his son.
Parker Childs also was one of the Bulldogs' leading scorers as a sophomore.
"He didn't sneak up on anybody this year," Brian Childs said. "They really planned for him and I thought he did a nice job."
While playing with a broken hand for the last part of the seasons, the Sandpoint coach said Parker Childs never faltered in his efforts and continued to play hard for the Bulldogs.
"He gave us what he had and was certainly big for us in league games," Brian Childs said.
While the season may not have ended the way the Bulldogs wanted, Brian Childs said that Sandpoint made great strides in the boys basketball program this season. Those include winning the league title to being the top seed in the tournament, Childs said.
"It didn't end up with us reaching that ultimate goal of getting to the state basketball tournament but, at the same time, we're trying to build this thing," the Sandpoint coach said. "And I think this group of kids here this year have helped build the foundation."
Through their leadership and willingness to put the work in, Childs said members of the team put boys basketball on the cusp of something great.
"It takes kids willing to come in and work like these kids did every day to help get us there," he added. "I think we're in pretty good shape for the future."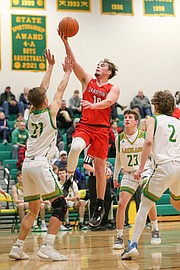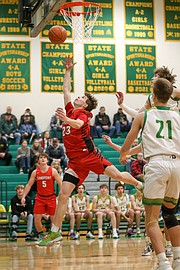 Recent Headlines
---