From prelims to finals, Sharks stay strong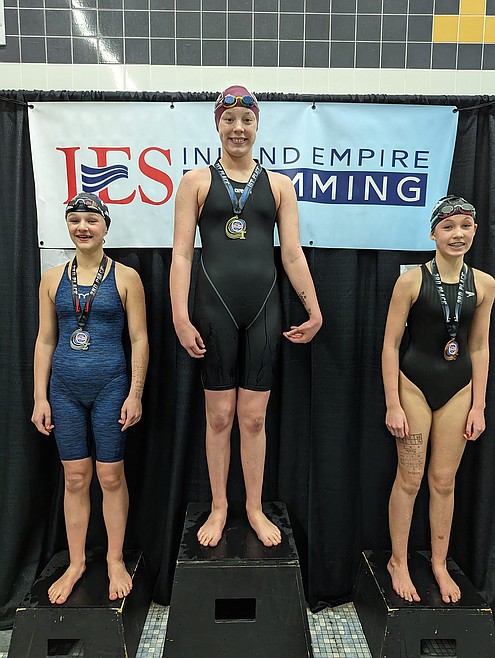 Myelle Jensen, far left, is pictured on the podium at the Inland Empire Short Course Championships at the University of Idaho this past weekend.
(Photo courtesy MEGGIE FOUST)
For a competitive swimmer, life is broken up into two seasons – short course (winter meets held inside in a pool that is 25 yards long) and long course (summer meets in outdoor pools that are 50 meters long). This past weekend, the 2023 short course season wrapped up at the Inland Empire Short Course Championships at the University of Idaho.
To participate in this meet, swimmers must qualify by meeting difficult time standards in each event. This year, the Sandpoint Sharks had seven swimmers represent the team: Mia Driggs, Caleb Norling, Ryleigh Bamer, Myelle Jensen, McCoy Jensen, Lou Foust, and Ava DeLeeuw.
"These championship weekends are hard on our athletes," Head Coach Sara Zwink said. "Each event has a prelim and a final – if you make the top eight, you will be swimming the event twice. Swimming in the morning and in the evening is exhausting."
Swimmer Myelle Jensen proved to be up to the task with seven strong prelim/final swims over the weekend.
"Myelle is the Swimmer of the Meet for Champs," Zwink said. "She had an awesome attitude the entire weekend. She dropped time in every event that she swam and broke a pool record in the 100 back with a time of 1:05.17 for a second-place finish."
Jensen also placed second overall in the 100 freestyle (1:00.39) and in the 100 individual medley (1:07.98).
Additional top performances of the weekend include Lou Foust in the 500 freestyle (5:41.24) and the 200 freestyle (2:05.89). McCoy Jensen took home some hardware with a third-place finish in the 50 freestyle (24.16) and in the 100 freestyle (53.15).
Caleb Norling ended his high school short course career with an exciting 100 freestyle race ending in a personal best of 48.45.
"Caleb ended up getting second, just mere hundredths of a second behind the first-place swimmer," Zwink said. "He gave it his all and it was really a matter of who snuck in the wall touch first. It was a great way to end the championship meet."
The end of one season brings the beginning of another. Sandpoint sharks will now begin their training for the long course season with meets beginning in May.
Information: facebook.com/SandpointSharksSwim
Recent Headlines
---