Pennsylvania to Idaho — A new sports reporter joins the Daily Bee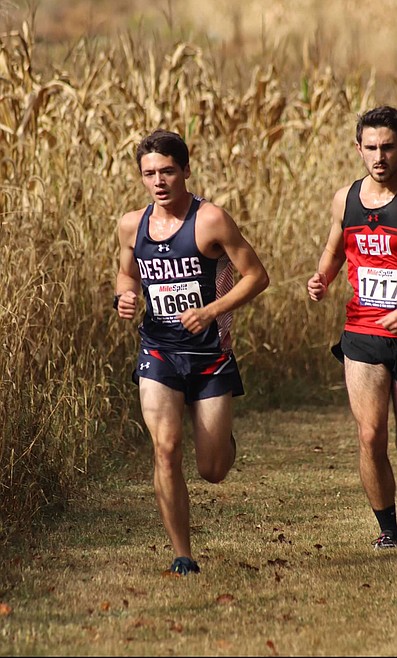 Max Oswald competing at the DeSales University Invitational.
(Photo courtesy PATRICK JACOBY)
by
MAX OSWALD Sports Reporter
|
March 15, 2023 1:00 AM
Hello, I am Max Oswald, the newest sports reporter at the Bonner County Daily Bee.
It was a long drive across the country, but I made it to Idaho in one piece. I am originally from Schuylkill County, Pa., which is only about 40 hours away from Sandpoint. I previously worked as a play-by-play and color commentator for the DeSales University Sports Network, as the sports media editor at the DeSales Messenger, and, most recently, was the executive assistant to a U.S. Senate candidate in Pennsylvania. I have had a passion for sports since a very young age, and I am glad I am bringing that passion to Bonner County.
I grew up in the small town of Orwigsburg, Pa., where I had resided all of my life up until this point. I attended Blue Mountain High School, where I participated in cross country and track and field, a sport that I ended up falling in love with. I went on to attend and run for DeSales University (with other brief stints at Susquehanna University and Elizabethtown College) and graduated with a bachelor's degree in sport communication with a minor in sport management.
I was not always the greatest runner, but started to excel rapidly in college. Within three years, I dropped my 5,000-meter time from 18:40 to 15:39. Regardless of times, I started getting recognized in the local newspaper, and I remember just how great it made me feel. I want to be able to give that feeling to every athlete in Bonner County, no matter how big or small their accomplishments are. As an athlete myself, I know how many hours of work are put in on a daily basis, and that hard work deserves to be recognized.
I am looking forward to immersing myself into the Sandpoint area/Bonner County community. It is my goal to cover as much of the Bulldogs, Spartans and Wampus Cats as I can. I want to work with every athlete, parent, coach, administrator and the community to ensure the best stories are published.
For information and potential leads regarding Bonner County sports and athletes, please contact me at moswald@bonnercountydailybee.com.
Recent Headlines
---