Competitions help students test drive autobody skills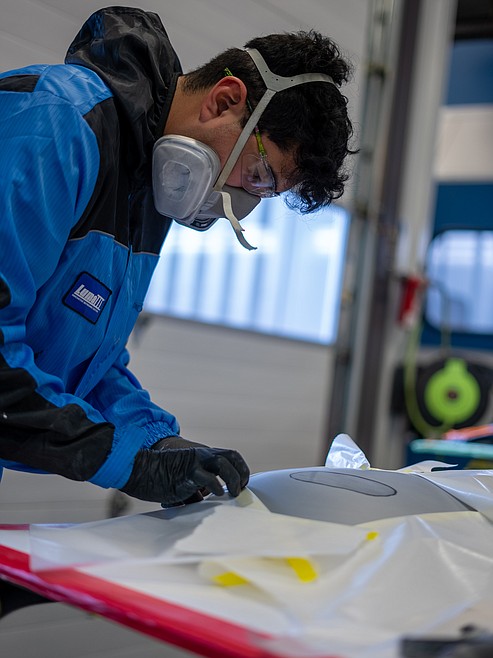 NIC student Isaac Carder of Hayden works on his auto refinishing entry in North Idaho College's auto collision repair competition Friday, March 10 at NIC's Parker Technical Education Center in Rathdrum.
(Photo courtesy GERRY McCRAY/NORTH IDAHO COLLEGE)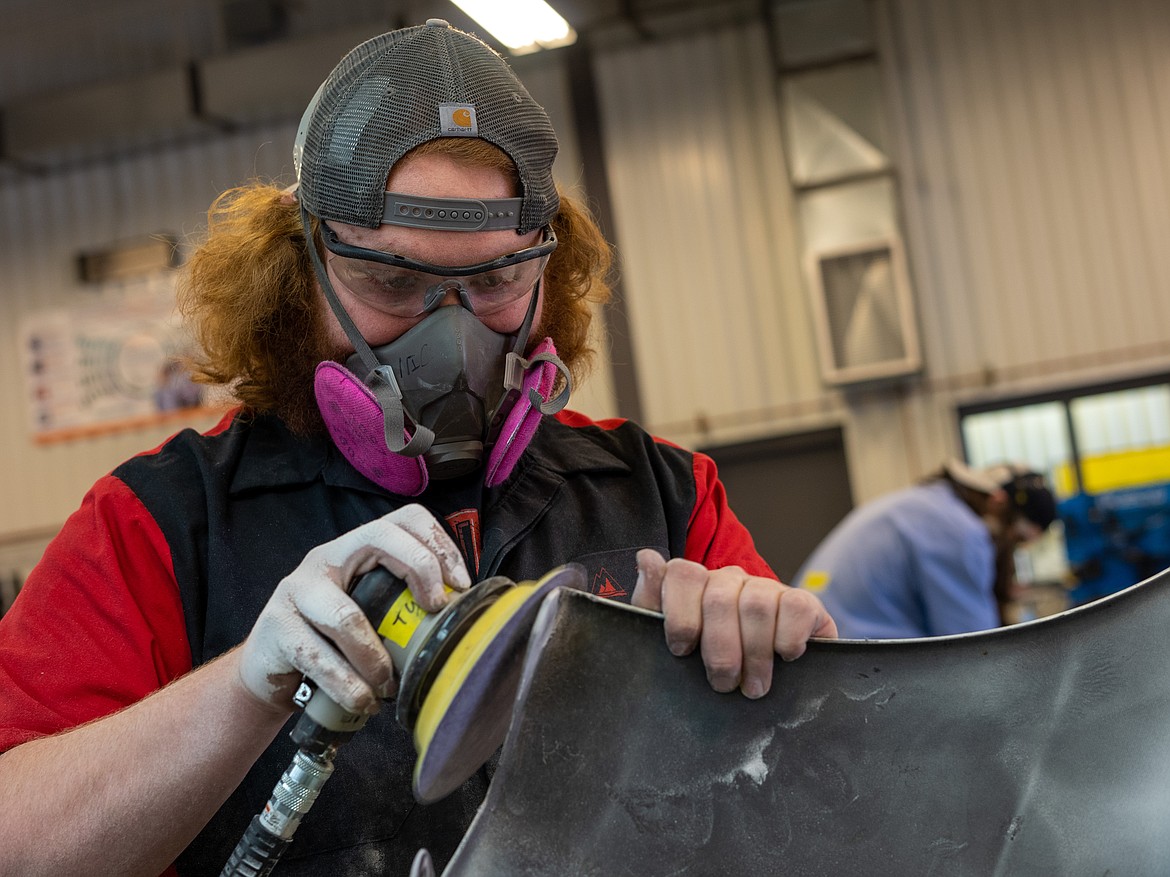 NIC student Tyler Brown works on his autobody repair entry in North Idaho College's auto collision repair competition Friday, March 10 at NIC's Parker Technical Education Center in Rathdrum.
Previous
Next
by
GERRY McCRAY / North Idaho College
|
March 16, 2023 1:00 AM
A scratch, a scrape, a dent or the horrific — and often day-ruining — sound of a vehicle colliding with a stationary object that came out of nowhere. To some, this sounds like a nightmare, but to more than 50 high school and college students participating in North Idaho College's auto collision repair competitions, these are what they hope to make a career of repairing.
NIC hosted auto collision repair competitions for students Friday, March 10 at NIC's Parker Technical Education Center in Rathdrum.
The competition featured students from NIC, Lewis-Clark State College and Spokane Community College, as well as high school students from Wenatchee High School, Kootenai Technical Education Campus and NEWTech Skill Center in Spokane. Students competed in collision repair and automotive refinishing challenges that consisted of repairing dents, plastic repair, spot repair and plastic priming, as well as a written test.
"It's good to have these events so the students can compare their skills against others their age," NEWTech Skill Center Instructor Don Belcher said. "It takes them a little bit out of their comfort zone, too. All of a sudden, they're down here and have to make all the decisions on their own. It's what makes this such a good event."
NIC Autobody and Paint Technology Associate Professor Cal DeHaas said the event is used as an unofficial qualifier for the Idaho SkillsUSA competition on April 5 in Boise.
The NIC competition was sponsored by Auto Paint Plus, Wesco, 3M, PPG Paints, Crash Champions Collision Repair and CARSTAR Hayden. Sponsors donated products and equipment for use in the competition, as well as helped judge competitions.
"We look at this as an investment in our community," CARSTAR Hayden Owner Greg Solesbee said. "To me, it's a way to give back to this up-and-coming generation. If you look at where this industry is right now, we're struggling for technicians. If we can help create a more fun and positive environment for the kids, they'll be more likely to turn this into a career."
KTEC student Lila Nosler of Post Falls said the competition taught her valuable lessons about how to manage time and stress. She also said being around NIC's autobody and paint program has made deciding her career path an easy choice.
"After meeting with Cal (DeHaas) and being around the program for a few months, I definitely know where I want to go and what I want to do," Nosler said. "I want to go to NIC. They make it really fun. It's not your typical sit-down-and-write-in-a-book type school."
NIC student Isaac Carder of Hayden said that his classes have provided him with the tools to succeed in competitions and that he loves opportunities to showcase what he has learned.
"Competitions like this make me more dedicated; they make me want to try more," Carder said. "I work harder and I study harder because I really want to win and show what I know."
In autobody repair, LCSC student Dax Wareham placed first, with Tyler Brown and Elijah Nixon of NIC taking second and third. In the high school event, Kaden Drake, Zachary Bradley and Austin Chatterton, all from KTEC, took first, second and third respectively.
In auto refinishing, NIC students took the category with Caden Smidt in first place, Carder second and Jimmy Auten third. KTEC swept the high school competition with students Keaton Lee taking first, Isabella Miller placing second and Ethan Armstrong finishing third.
For information about the competition and about NIC's autobody and paint technology program, contact NIC Autobody and Paint Technology Associate Professor Cal DeHaas at 208-769-3440 or cal.dehaas@nic.edu.
---
Gerry McCray is a communications coordinator employed by North Idaho College.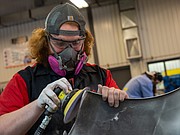 Recent Headlines
---