Avista seeking CF students to join student employee program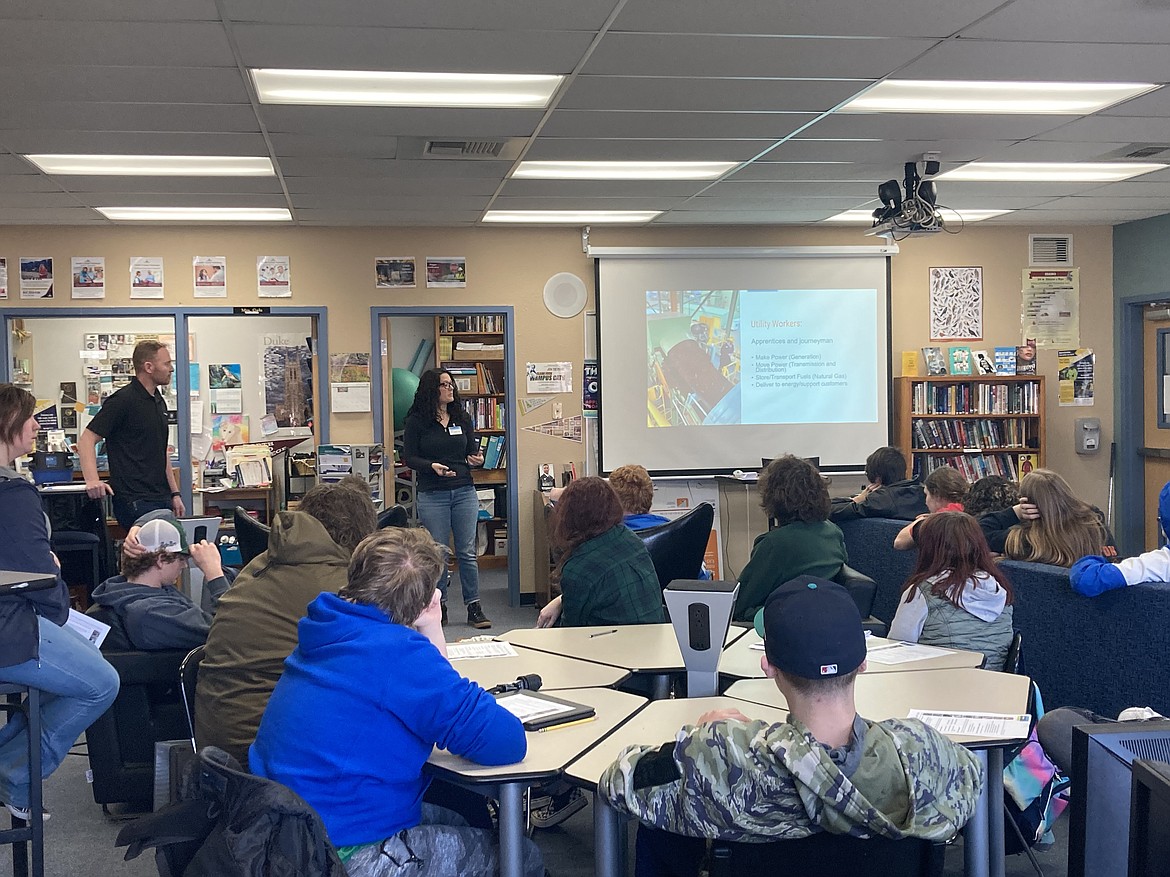 Lauren Huckaba, manager of Craft Student Development at Avista Utilities, giving a presentation to Clark Fork High School Students.
(Photo courtesy AMANDA HEILMAN)
by
MAX OSWALD
Sports Reporter
|
March 18, 2023 1:00 AM
CLARK FORK — Avista Utilities hopes Friday's presentation about the company's Craft Student Program creates a spark of interest among Clark Fork High School's junior class.
Clark Fork area students, including students who are homeschooled or attend alternative schooling in the district, are eligible and are encouraged to apply to the program. This is the first time that Avista Utilities has offered such an opportunity to rising senior students at Clark Fork.
According to information provided by Avista Utilities during the presentation, students that are selected will work a maximum of 20 hours per week on a flexible schedule that accommodates their classes and extracurricular activities. The student employee position is paid, runs for the entirety of the student's senior year, and earns high school curriculum credits. The student's work will include, but is not limited to, hands-on tasks at the facilities, work center-based assignments, learning more about a potential apprenticeship, and earning industry certifications. The job site location is at Cabinet Gorge Dam in Clark Fork.
"When you work at a place like Cabinet Gorge, there are so many individuals you will be able to meet that work in different positions within the industry. Students will be able to learn so many different things from so many different people," Chris Clemens, a plant manager for Avista, said.
Students will be invited to tour the facility (parents are welcome as well) before submitting their application into the program. Before applying, students must also have a discussion with their school sponsor and attend a brief job shadow. Other eligibility requirements include a satisfactory attendance record, 2.5 GPA or higher and the ability to maintain that GPA during their participation in the program, parental/guardian agreement to participate, and be 18 years of age by July 1, 2024.
Jackson Prettyman, a journeyman who started working with Avista Utilities at age 19, repeatedly mentioned how he loved his job and was genuinely excited to go to work day in and day out. His love of his job was echoed by other Avista Utilities staff who participated in the presentation. Principal Phil Kemink and the rest of the Clark Fork High School staff and administration are excited about this offering and believe it is an amazing opportunity for their rising seniors.
For students who are more interested in a skilled trade or apprenticeship rather than attending college, this certainly may be a life-altering experience.
Avista Utilities is an energy company involved in the production, transmission and distribution of energy as well as other energy-related businesses. Avista Utilities is an operating division of the Avista Corp. that provides electricity to nearly 406,000 customers and natural gas to about 372,000 customers across 30,000 square miles and four northwestern states.
Have more news in the Clark Fork area? Email me at moswald@bonnercountydailybee.com
Recent Headlines
---