Festival announces poster contest winners
SANDPOINT — Festival at Sandpoint officials couldn't pick.
They'd received so many submissions in the summer music series' first fine arts poster contest, they picked two. Tammy Zinke has been selected as the Festival at Sandpoint's 2023 fine arts poster artist and Maximillian Bazler was selected as the 2023 series lineup poster artist.
The Festival's poster artist tradition dates back to the organization's start in 1983. What started as advertisement and fundraiser has become a way to showcase the community's artists and celebrate their work.
In October 2022, the Festival at Sandpoint altered the selection process to an open competition and began accepting submissions for its first poster contest. Festival at Sandpoint executive director Ali Baranski said the organization was "overwhelmed" by the number of submissions, which were evaluated on creativity, quality, and how well the art embodied the spirit of the Festival community among others.
A self-taught acrylic artist, Zinke started her start in Sandpoint as an upholstery artist, opening Artisan 2 Upholstery 32 years ago. Having grown up on the Oregon coast, Zinke's realistic and impressionistic style paintings are often inspired by nature's beauty and that of the Pacific Northwest.
"I focus on the way the atmosphere enhances, moment by moment, the changing mood as light and shadow bring, right before her eyes, a vision of the next painting, another beautiful portrait of mother earth," Zinke said. "It all begins with kiln-dried wood and cotton canvas. I build all of my canvases from scratch, so they are sturdy and tight."
The winning art piece entitled "Harmonies in Nature" will be revealed on July 11, following the Festival's sponsor appreciation event.
"'Harmonies in Nature'] was inspired by the outdoor setting of the Festival at Sandpoint and William Shakespeare's quote, 'The Earth has music for those who listen,'" Zinke said. "I strove to combine the musical spirit of nature with the musical spirit of the instruments played by humans. The Festival brings young and old the inspiration of music combined with the love of nature."
Zinke's donation of the original piece follows tradition, which serves as a fundraiser for the non-profit organization. The original art is auctioned, with bidding beginning on July 11 and concluding at the Grand Finale performance on Aug. 6.
Zinke can be found painting in her studio, T Zinke Art Studio, at 31827 Highway 200 in Kootenai, Tuesday through Saturday. An online art portfolio can be found at tzinkeartstudio.com.
In addition to the fine arts poster art contest winner, The Festival selected a series lineup poster artist for the first time. Selected was Maximillian Bazler, a college student pursuing a degree in graphic and web design from North Idaho College.
Bazler's passion for graphic design began at a young age, as he found he could combine his love for creativity with critical thinking.
"At the age of 12, I started playing around with making photo edits on our family computer, and I have been hooked ever since," Bazler said.
Bazler enjoys spending his free time running, paddleboarding, or hiking outdoors, and he often draws inspiration for his designs from the nature of Coeur d'Alene and its surrounding area.
"As an artist and nature enthusiast, I have always been drawn to the natural beauty of Sandpoint and the surrounding area," Bazler offered as contributing to the inspiration behind his submission. "The breathtaking scenery inspired me to create a poster that captures the essence of the area."
Bazler's graphic and web design portfolio can be found online at maxbazler.design.
To learn more about the Festival at Sandpoint's Poster Artist Contest or browse posters from throughout the Festival's 40-year history, go online to festivalatsandpoint.com/posters.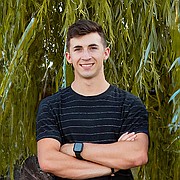 Recent Headlines
---