Space: The next frontier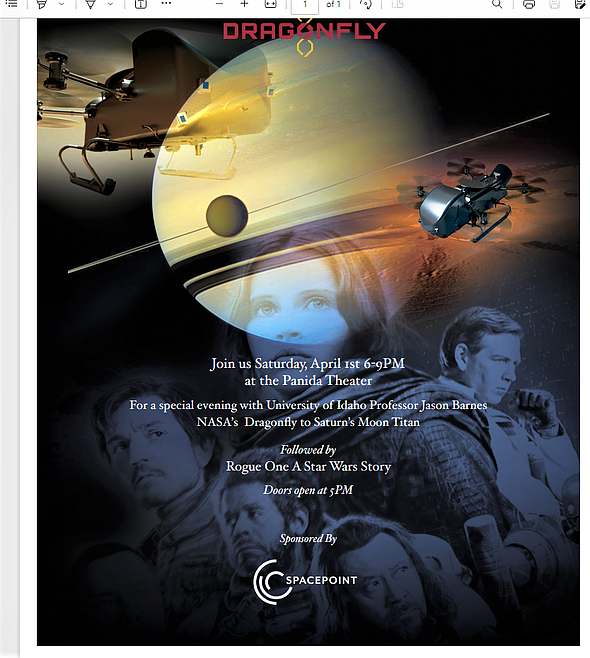 SANDPOINT - Space is without boundaries.
So is the space industry, said Kyle Averill, founder of Spacepoint.
Most people just don't know it.
"It seems to me the space industry has kind of been a victim of its own success," the Sandpoint man said. "People aren't aware of how big that industry is now and how fast it's accelerating."
Today, the space is a half-trillion dollar industry and expected to grow to a trillion by 2040, Averill said.
"Which is probably a little understated," he said.
Private spending in the space industry makes up 80% of the total amount, Averill said. He estimated there are 10,000 companies and organizations involved in the space industry.
Go back just a few decades and government was the only game in town. Then, the U.S. had the Apollo program and the Soviet Union had Sputnik.
"It's clearly being taken over by the private sector," Averill said.
Spacepoint is a science and technology nonprofit focused on raising awareness, education, experience, participation and leadership in the rapidly growing space industry.
It will carry out part of its missing from 6 to 9 p.m. April 1 at the Panida Theater in Sandpoint.
It will include a presentation on "Dragonfly: A NASA story," from the University of Idaho's Jason Barnes, professor of astronomy and planetary science.
Dragonfly is the first quadcopter spacecraft. In 2027, it is scheduled to begin a 746-million-mile trip to Titan, Saturn's largest moon, to search for signs of past life and the potential for future human habitation.
It is expected to arrive in 2034.
Spacepoint's sci-fi series includes four annual events coinciding with spring and fall equinox, and summer and winter solstice.
The April 1 event will also include a showing of "Rogue One: A Star Wars Story."
There is a reason for linking reality with fiction.
"Our intent with this series is to elevate community education and awareness of the tremendous opportunity in the Space industry while having a fun night out with family, friends and colleagues," according to a flyer.
Averill works in global information technology and has a background in military special operations.
He said space-related work will continue to expand.
"It's really not for people in white lab coats anymore. It's really for everyone," Averill said. "If you simply point yourself toward the space industry, you're always going to have a career. You have a job for life."
Opportunity is endless because space is likely infinite.
"Imagine what the universe is," he said. "We're one planet in one solar system."
Averill believes space travel is a future certainty. People will explore in spacecraft as they once set sail to explore Earth centuries ago.
He said that one day, men and women will wonder "how did these people ever take these tiny rockets and go to Mars?"
"We're a the cusp of it," he said.
Averill said it may sound crazy, but the human population will eventually move beyond earth and find homes far, far away.
"It's just a question of when," he said.
For tickets to Spacepoint's April 1 showing: www.panida.org
Recent Headlines
---