Plunging for pledges at 78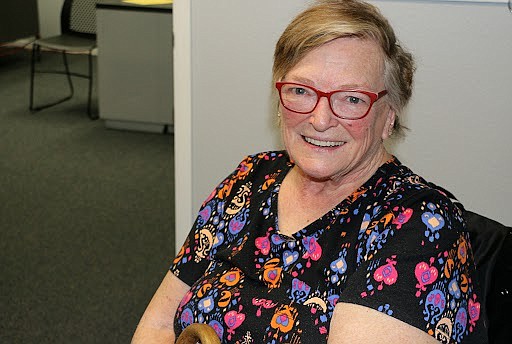 Mary E. Allison poses for a photo ahead of her polar plunge on Saturday.
(Photo by CAROLINE LOBSINGER)
DOVER — A Washington woman is taking a polar plunge into the Pend Oreille River to raise money for local animals in need.
Saturday, Mary E. Allison, 78, of Kennewick, Wash., will make her sixth jump into freezing waters to raise money for a local animal group, an event that she launched just this week.
Allison came up with the idea after a $20 purchase at the thrift store Monday while visiting friends in the area. Allison said it was just a few days ago when finishing the thrift shopping trip that the total came to $20.01. Recounting the moment Allison said she was asked to round up the total to raise funds for the society, a question she usually says "yes" to. However, this time Allison said she decline for a reason she did not yet know.
"I don't know, for some reason. 99 cents seemed like a lot of money. It's crazy." Allison said. "So it bugged me all day long and all night [that I said no] I didn't go to sleep until 5 a.m. the next morning. I just couldn't I just felt so guilty, I've never done that before. But there's a purpose for everything. Right?"
Laying awake Allison said she felt God was telling her that she "didn't give cents, so she can give dollars." But how she then asked herself.
"I'm going like I don't know anybody here. I don't know the city. I don't know the streets. I don't know the buildings. I know nothing about this place. How am I going to give dollars when I didn't even give 99 cents? And it came to me. I'll take up donations which I've done before," Allison said
A polar plunge fundraising event made sense. After all, Allison had done it five times before. Her first jump at 70 into the Columbia River was a benefit for the Special Olympics. Although the initial worries of possible dangers scared her, Allison said she enjoyed the experience so much that it became an annual tradition for her to jump.
"The last time was on my 75th birthday. The Tri-City Herald did a piece, the radio station came, and TV. They all made kind of production out of it and was nice." Allison said
After having the idea to replicate what she had done in the past Allison said she reached out to friends for pledges. With many mailing her checks, or her collecting the pledges when she returns to Washington state Allison said she has raised more than $700 in 24 hours.
Organized with the help of Selkirk Fire Chief Gavin Gilcrease, Allison said the plan is to jump at Dover Bay at 5 p.m. on Saturday. The money raised will go to support the shelter's no-kill program, Allison said, which she herself supports.
While the purpose of the event is to raise funds Allison said she hopes those who hear her story something deeper from it. She said would like to see others gain a sense of positivity from her story in times of sadness and remember to be generous and kind.
"To be generous and kind is very important to me," she said. "I've had both my hips replaced, both my knees replaced. I had a pulmonary embolism. I've had kidney stones. … but I feel as long as my mind and my soul and my faith are good. I have it all."
Recent Headlines
---