Ledges Fire near Laclede still uncontained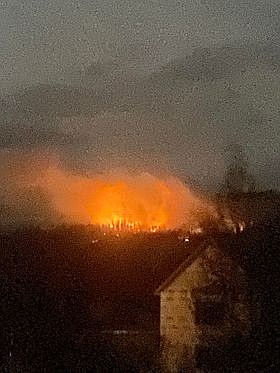 The Ledges Fire, located just outside of Laclede.
(Courtesy photo)
Crews from the Idaho Department of Lands and Selkirk Fire, Rescue and EMS are battling the Ledges Fire, approximately 1.5 miles east of Highway 2, just south of the Pend Oreille Wildlife Management Area.
The 20-acre fire started at approximately 8:30 p.m. May 2 and was uncontained and uncontrolled as of press time. Five engines and 18 crew members are currently assigned to the fire. The cause is under investigation.
Anyone living near the fire is instructed to not fly drones. Should the need to use fire aircraft arise, those aircraft will be grounded if unauthorized drones are in the air, putting resources and the lives of firefighting personnel at risk.
Recent Headlines
---