Bonner County making jury duty process easier for residents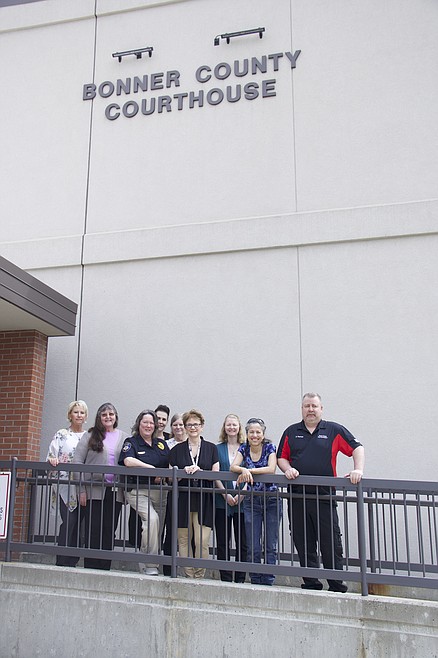 A few courthouse staff members pose outside their building to announce the new jury changes.
Photo by LAUREN REICHENBACH
Bonner County recently revamped its jury duty system with the changes aimed at making the system run better for both jurors and staff alike, jury commissioner David Thurman said in announcing the changes.
"We're really trying to make the process less intimidating," Thurman said. "In the past, it has been very difficult. We want people in Bonner County to not dread being called up for jury duty."
In previous years, letters were sent to each household summoning individuals for duty. This part of the process alone was a lengthy operation for courthouse staff as they had to fold each letter, stamp and seal envelopes by hand. Now, a postcard is sent instead, saving time for staff. This new method also saves hundreds of dollars, as postcards are cheaper to mail than letters, Thurman said.
In addition, questionnaires can now be filled out online rather than by hand, which streamlines the onboarding process. It once took courthouse employees almost an entire week to get all the questionnaires inputted into the computer system. However, with a few clicks of a button, that same process takes roughly 10 minutes today, Thurman said.
"This method has not only saved and continues to save taxpayer dollars in Bonner County, but also provides a faster means of keeping jurors informed of their status," he said. "After each questionnaire is processed, jurors will receive their qualification status electronically, or by mail if they wish, with their availability start date or selection for a specific jury trial date."
In January, jury services in Bonner County were modified once again to make serving even easier for jurors. Those who are summoned for duty now have the option to serve when it's more convenient for them rather than being given a rigid date that they must make it to.
"This gives people the opportunity to serve when it's more convenient for them rather than making them work around the court's schedule," Thurman said. "Rather than being assigned to an entire month of jury service and being required to report and serve multiple times during a month, jurors are now only required to be available and/or serve on one jury trial."
These changes may seem small, but Thurman said they've been instrumental in helping the entire process run smoothly. More changes are in the near future for the courthouse; changes that Thurman said should improve the system even more, making the entire process as easy and accessible as possible for jurors.
Recent Headlines
---