NIC hosting Mother's Day concert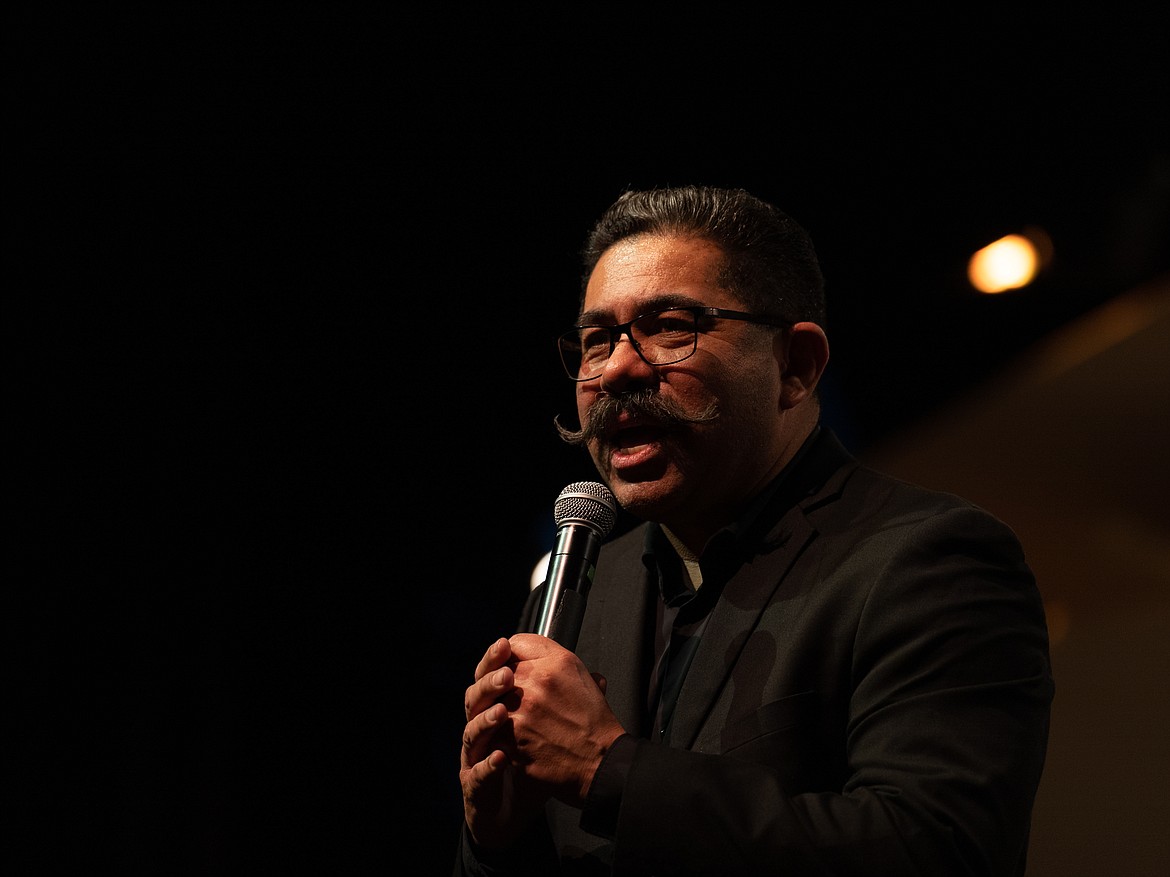 NIC Director of Choirs Max Mendez speaks onstage during NIC's Spring Celebrations concert on May 2 at Boswell Hall Schuler Performing Arts Center on NIC's Coeur d'Alene campus.
(Photo courtesy NORTH IDAHO COLLEGE)
North Idaho College's annual outdoor concert is back with the Mother's Day Concert in the Park at 2 p.m. Sunday, May 14, in the Coeur d'Alene City Park Band Shell.  
The concert is free and open to the public.  
The Mother's Day Concert in the Park will feature musical performances by the NIC Wind Symphony directed by NIC Director of Bands Bryan Hannaford and the NIC Cardinal Chorale directed by NIC Director of Choirs Max Mendez. 
"Pack a lunch, bring a chair and celebrate mom with an amazing soundtrack from stage and screen," Hannaford said.  
The Wind Symphony will perform Pierre LaPlante's 1991 composition "American Riversongs." The work is a tribute to an earlier time, when rivers and other waterways were the lifelines of a growing nation, Hannaford said.  
The piece features folk songs "Down the River," "Shenandoah," "The Glendy Burk" and a Creole bamboula tune.  
"Performing this music on the shore of Lake Coeur d'Alene will be stunning," Hannaford said. 
During the concert, the NIC Cardinal Chorale directed by Mendez will join the NIC Wind Symphony on two medleys by The Beatles. The groups will perform classics like "Hello, Goodbye," "Ticket to Ride," "Penny Lane," "Here Comes The Sun," "In My Life" and "Can't Buy Me Love".  
Along with the music of The Beatles, the NIC Wind Symphony will perform selections from the 1976 "King Kong" film score composed by John Barry.
Barry was a British composer and conductor of film music. He composed the scores for eleven of the James Bond films between 1963 and 1987, as well as arranged and performed the "James Bond Theme" for the first film in the series, 1962's "Dr. No."  
The afternoon also features a performance of "Largo al Factotum" composed by Giachino Rossini which premiered in 1821 in the opera "The Barber of Seville." Rossini's opera recounts the first of the three plays by French playwright Pierre Beaumarchais that revolve a character named Figaro, the barber of the title, performed in this concert by Mendez. 
The concert also features the NIC Wind Symphony performing traditional favorites like "Stars and Stripes Forever" by John Philip Sousa, "The U.S. Armed Forces Salute" and the 1910 composition "The Coeur d'Alene March" by Albert C. Sweet.  
For more information about joining NIC ensembles or about the concert, contact NIC Director of Bands Bryan Hannaford at (208) 769-3258 or bryan.hannaford@nic.edu; or NIC Director of Choirs Max Mendez at (208) 769-3275 or max.mendez@nic.edu 
Recent Headlines
---