Sandpoint tennis caps off spectacular season at 4A state tournament; Reseska finishes fourth
by
MAX OSWALD
Sports Reporter
|
May 22, 2023 2:30 PM
Neva Reseska led the Sandpoint tennis team with a fourth place finish in girls singles at the Idaho 4A state tennis tournament Friday, May 19 and Saturday, May 20 at Timberline High School.
"Neva had a great run at state, losing in the semis to the eventual state champ, Tatyana Larsen. She made it to the finals of the back draw and took home a fourth-place trophy," head coach Kent Anderson said.
Reseska picked up three victories Saturday. She defeated Emma Pierson of Canyon Ridge 6-2, 6-0 in the first round; Gabriela Huskinson of Bishop Kelly 6-2, 6-2 in round two; and her teammate, Maisie Brazill, in the consolation bracket 6-1, 6-1.
Brazill also had a great performance at the state championship for the Bulldogs. Brazill defeated Lexi Peterson of Skyview 6-3, 6-4 in round one. After losing in the second round, she picked up another victory in the consolation bracket over Hillcrest's Kylie Tran 6-1, 6-2.
"Both Maisie and Neva went deep into the tournament and played impressively. It was an incredibly strong showing," Anderson said.
Thanks to the 15 points scored by Reseska and Brazill, Sandpoint girls tennis finished fourth in the state.
In boys singles, Jacob Dawson defeated Keaton Adams of Hillcrest by default. In the second round, Dawson, who was battling an injury, was defeated by Wood River's Gus Sabina 6-0, 6-1. Anderson said that despite the setback, Dawson gained valuable experience competing in his first state tournament and that he has a bright future ahead of him.
In girls doubles, Sydney Webb and Aubrey Knowles dominated in the first round. The duo defeated Bryleigh Merritt and Hallie Ellis of Jerome 6-3, 7-5 before losing to eventual state champions Stella Emerson and Halle Hatten of Bishop Kelly in round two.
The pair will both return to the courts next year for Sandpoint and will look to make a deeper run in the 2024 state tournament.
In boys doubles, Evan Wiley and Aden Heitz had a tough draw in the opening round having to face Garin Beste and Chase Schwartz of Wood River, the 4A boys doubles state champions. Wiley and Heitz battled hard but fell short 6-1, 6-4. In the consolation bracket, the duo came back to win in three sets over Hillcrest's Carson Steffensen and Ethan Brock 4-6, 7-5, 10-7.
"Evan and Aden play with such emotion and enthusiasm. They will be missed next year," Anderson said.
Rounding out the day in mixed doubles was Fisher Dail and Hannah Fisher. Dail had been playing partners with Berkeley Cox all season, but she unfortunately suffered an injury at practice the day before round one. The duo lost both of their matches in the tournament, but surely gained some valuable experience.
"The two played steady and calm and they almost pulled out a win in the consolation match. These are the building blocks that'll make us stronger moving forward," Anderson said.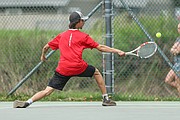 Recent Headlines
---