Donna Loie Williams-Fields, 88
Donna Loie Williams-Fields of Spokane, Wash., passed away May 23, 2023.
She was born in Sandpoint, Idaho, on April 19, 1935. She graduated from Sandpoint High School in 1953 and married Fredrick McNair Williams II.
Donna was a member of St. Joseph Catholic Church in Sandpoint for 60 years; she was active in Altar Society and Quilters Group. Donna worked as church secretary for over 20 years. Prior to that, she worked at Bonner General Health in food service and was food service supervisor at the Manor. She also worked as a bailiff at the Bonner County Courthouse.
Donna's volunteer work included Kootenai Better Community Club, Cub Scout den leader, Girl Scout leader and camp counselor and 4-H leader. She was also a Senior Companion and later delivered Meals-on-Wheels until she was 87 years old. Donna loved music, she performed and competed with Sweet Adeline groups for 20 years and sang in the Anything Goes quartet, even traveling to England and Ireland to perform. After moving to Spokane, she became part of Project Joy and sang with the Minstrels and Senior Serenaders.
The daughter of Charles E. Selle and Elenor Madoche Selle, she was preceded in death by her husbands; sisters Firle Redburn and Ronale Anson; and her son, Fredrick McNair Williams III. She is survived by Valerie Parker, Todd Williams, Maria Anderson, Kelly Williams and Max Williams. She had 12 grandchildren and four great-grandchildren.
Funeral arrangements will be held at 10 a.m. on June 1, 2023, at St. Joseph Catholic Church in Sandpoint, Idaho, followed by a graveside service at Pineview Cemetery.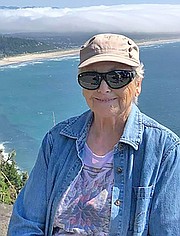 Recent Headlines
---