PORPA gearing up for 2023 season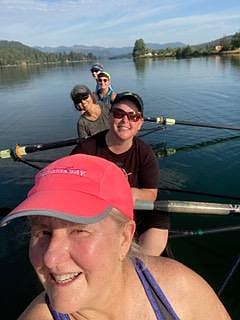 Rowers from PORPA pose for a photo while rowing on the Lake Pend Oreille.
(Courtesy Photo)
The Pend Oreille Rowing and Paddling Association, a club for rowing and other non-motorized water sports located in Priest River, is gearing up for its 2023 season.
The PORPA rowing season kicks off June 3-4 with a maintenance and team-building weekend. Members will gather to prepare and inspect boats and equipment and set up for the season at the "Mudhole."
Club officials said goals for the 2023 season include a new membership brunch to showcase club activities for existing and new rowers/paddlers. In addition, the club offers a free introduction to rowing and learn-to-row sessions to all new rowers throughout the summer. Those interested, should email Secretary@PORPA.org for more information.
For experienced rowers, PORPA will hold a rowing session every weekend. The club's fleet of singles, doubles and larger boats will afford everyone who shows up a seat. Weekdays will be open for teams and self-directed rowing for all.
Recently, the Long Bridge Swim Association, PORPA and the U.S. Army Corps of Engineers teamed up to provide free water safety lessons at the "Mudhole" during the month of August. Sessions will be a total of three hours over the span of up to two weeks, contingent on interest. PORPA has enlisted the expertise of a local experienced swim instructor and would appreciate more instructors, PORPA board member Shelia Thomas said. Interested parents/guardians can send their name, email, phone number and number and ages of kids to be put on an email list for updates. Registration for classes will open on the club's website at porpa.org in early June. Volunteers to assist with classes are needed. Please send contact information to water_safety@porpa.org.
PORPA, along with the U.S. Army Corps of Engineers, has continued to build relationships between motorized and non-motorized boating communities in the area, club officials said. Thanks to the two entities, a non-motorized launch area, separated from the motorized boat launch, was built at the "Mudhole" in 2021 and is used more and more every day. PORPA and other non-motorized watercraft enthusiasts currently use this space to safely and easily launch SUPs, canoes, kayaks, rowing shells and other non-motorized watercraft.
Recent Headlines
---