Booyah Bamboo made locally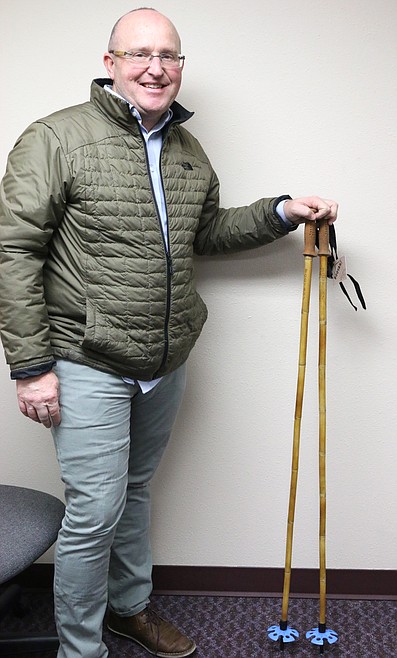 (Photo by MARY MALONE) Retro-style bamboo ski poles are made locally by David Rogers, founder of Booyah Bamboo.
by
Mary Malone Staff Writer
|
December 27, 2019 12:00 AM
SANDPOINT — After running Headwaters Bamboo and making bamboo fly fishing rods for 17 years, David Rogers wanted to do something that could be used in the winter as well.
Rogers has lived in the Sandpoint area for more than five years now and, with a family of avid skiers, decided to create retro-style bamboo ski poles.
"We spent all of last year testing a bunch of different products, different bamboo, and trying to find sources for some of the components," Rogers said.
The result is the locally-made Booyah Bamboo ski poles that are lightweight, strong and highly flexible.
Rogers said he ultimately went with Calcutta bamboo from India. The "interesting" thing, he said, is that it is almost solid, so it has a very small hollow chamber through the center. It is also harvested just once a year which, in fact, is happening right now and the Indian company will spend the next month cutting the bamboo to a specific length, straightening and heat treating it. This results in the occasional burn marks on the bamboo that gives each piece its own character and texture, he said.
Once it arrives, Rogers said he cuts it down a bit more, as it arrives a little bit long to allow flexibility in the height of the ski poles. Then he assembles the other parts to the poles, including the grip, strap, tip and basket. Most of those parts come from Slovenia, he said.
The Booyah Bamboo ski poles have been sold at all the area swap meets, Rogers said, so he is already seeing them on Schweitzer Mountain.
"We are getting really excited about it," Rogers said, adding that the business has "just barely" kicked off.
Once the ski season is over, Rogers said they are going to look at creating a trekking pole as well for the avid hikers, extending the pole business into the summer season.
The bamboo ski poles are $85 for a set with the standard parts, which includes a black basket. Different colored baskets are available for an extra $5, he said. The grips come in black or cork, and Rogers said he hopes to eventually have eco-friendly options for all of the parts, including hemp straps.
For information or to purchase ski poles, visit the Booyah Bamboo website at booyah.ski.
Mary Malone can be reached by email at mmalone@bonnercountydailybee.com and follow her on Twitter @MaryDailyBee.
Recent Headlines
---