BCH dedicated to caring for community's loved ones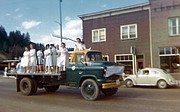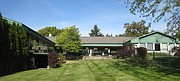 BONNERS FERRY — The skilled nursing staff at Boundary Community Hospital Extended Care Facility have provided top quality care for older adults and other individuals needing skilled nursing and/or ancillary services for over 50 years. Skilled nursing care is available on site 24 hours a day, and includes providing assistance with feeding, bathing, dressing, nursing care, mobility and rehabilitation services.
In 1955, the "Modern Community Hospital" building opened its doors on Kaniksu Street in Bonners Ferry, said Lauren Kuczka, marketing and community relations for Boundary Community Hospital. Now, known as the BCH Extended Care Facility, the Boundary County Nursing Home wing was added to the hospital in 1966 to provide long-term skilled nursing care for area residents.
"In fact, many people who helped in the 1950s during the building and furnishing of the new hospital building, were able to spend their last years in Bonners Ferry, enjoying more frequent visits from family and friends," Kuczka said.
Kuczka said BCH Extended Care Facility differs from other senior housing facilities because it is a licensed skilled nursing facility, certified for both Medicare and Medicaid. Dr. Gregory Botkin, M.D., the medical director of the facility supervises each patient's care and a licensed nurse is always on the premises. Other medical professionals, such as occupational or physical therapists, are also available, providing medical procedures and therapies on site that would not be possible in other housing situations.
An individual care plan is created on admission that encompasses the whole person as well as the family to include dining, sleep habits, and activities.
Residents and family members have praised the facility, saying they feel safe there and that family members are treated with respect, compassion and love. They also said the facility takes care of the whol person and the staff for being so caring and professional.
"Dr. Botkin is a wonderful geriatric doctor," said Connie Smith, whose mother was a resident. "He didn't just look at Mama as a patient or a resident, but as a person with a personality. He's been blessed with the gift of compassion and the ECF is blessed to have him.
"To each and every staff member, the resident becomes family, they're not a patient, they're someone's daughter, mother, grandmother — someone special and they treat them that way, with dignity, compassion, and a loving manner. They see our parents more than we do and became extended family for my mother. When I get old, please make sure that you find a place for me there. It's not a business, it's a home."
Botkin said what he brings to the hospital, to the team, and to the culture is a genuine affection and respect for patients, staff, and families.
"It's an opportunity to lead by modeling, encouraging, listening, and communication," he sai.d "This tills the soil and creates a fertile field where anything can grow. There's a depth of intelligence we gain when we listen to families, nurses, and to the certified nursing assistants."
The Extended Care Facility at Boundary Community Hospital has been recognized as a top tier facility for the excellence of care provided to residents and their families, Kuczka said.
Under director of nursing, Tami Corsi, RN the facility received consecutive deficiency-free surveys from the state of Idaho, multiple Gold L. Jean Schoonover Awards for Excellence in Caring and the US News and World Report recognizes the facility as one of the 2018-2019 Best Nursing Homes in the United States. BCH Extended Care Facility has one of the highest staffing to resident ratios in the State of Idaho. Quite an achievement for finding and retaining highly-qualified and passionate team members who live and thrive in northern Idaho.
In some parts of the country, nursing homes in rural areas are closing due to lack of funding. Bonners Ferry and Boundary County are lucky to have a skilled nursing facility available for their loved ones when it's needed.
Information: Patty Reed, RN, BCH ECF care manager, 208-267-3141, ext. 4220
Recent Headlines
---