School supply give away to help over 1,000 students in Bonner County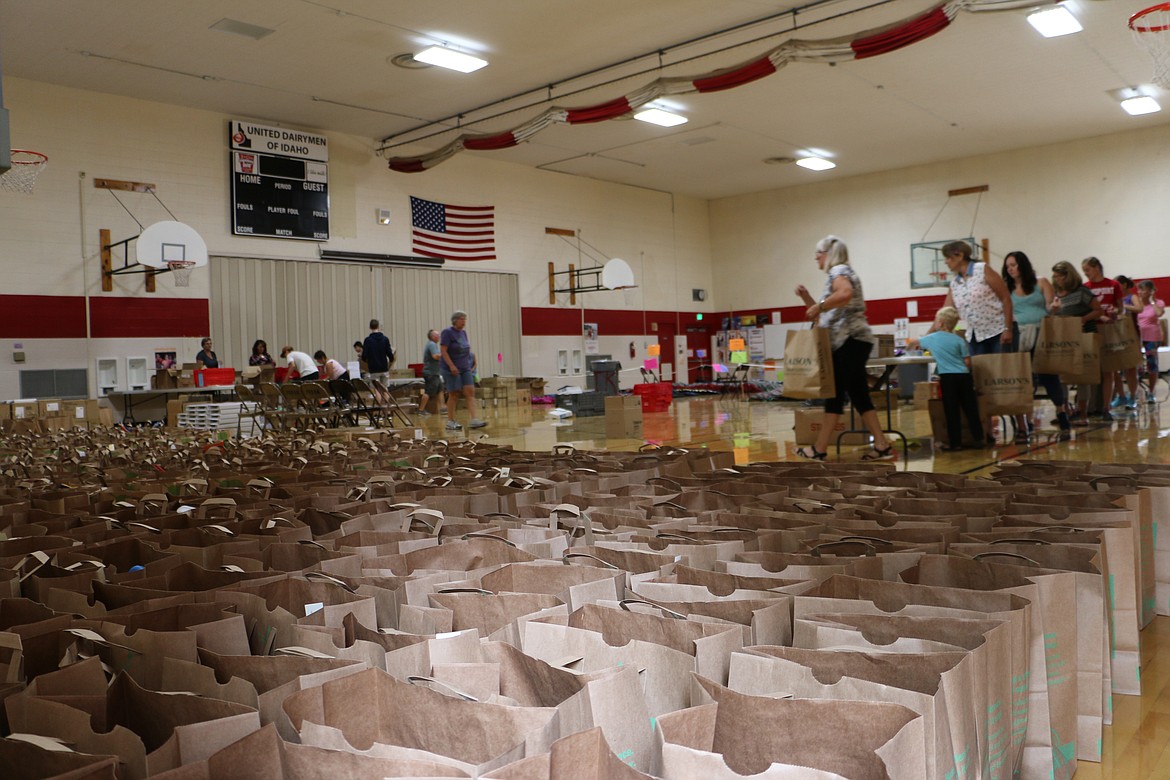 Angels Over Sandpoint is set to hold their 18th annual backpack giveaway program this September, despite the cancelation of Distribution Day due to COVID-19 health and safety protocol. Students will be able to pick up school supplies at their respective schools on the first day of school, whether or not the education model is fully remote, blended or in-person learning.
(File photo/BONNER COUNTY DAILY BEE)
by
ALY DE ANGELUS
Staff Writer
|
August 6, 2020 1:00 AM
SANDPOINT — COVID-19 may have altered lesson plans for teachers, but Angels Over Sandpoint is determined to provide school supplies for all Bonner County students.
The 18th annual Angels Over Sandpoint Back to School Program will take place on the first day of school, where students and parents can pick up their must-have school essentials from each participating school. Due to COVID-19 health and safety protocol, committee chair Robin Hansen's favorite part of the event, Distribution Day, will not be happening this year.
"It's the day the families and all of the students come into Farmin School to pick up their supplies and their backpacks, but due to COVID-19 we aren't able to do that this year," Hansen said. "We would have about at least a couple thousand people that would come through Farmin (Stidwell Elementary) School in about a two-hour period and that's just not feasible right now."
In order to protect the safety of community members, Hansen said school supplies are going to be shipped directly to the schools.
Angels Over Sandpoint's backpack giveaway program aims to serve around 1,100 students this year. The primary goal of this program is to help low-income families that are already participating in the free and reduced lunch program. Hansen said over 40 percent of the LPOSD population participates on a free and reduced lunch program.
"There are a lot more free and reduced lunch, but we just have to go with our budget and what we can afford," she said.
Only a few hundred backpacks were left over from last year, but there will be tons of notebooks, pencils, crayons, watercolors, binders, glue, erasers and more to give away to students.
"It's everything that is needed with the kids when they pick up their school supplies list," Hansen said. "We get those lists from the schools and we buy and distribute accordingly per grade … A high school student is going to have different supplies than a first grader."
Since 2002 the program has grown exponentially from serving 30 students to over 1,000 students per year.
Although the program has experienced a significant decrease in grant money this year, Hansen said the community's donations and support from school staff is what will allow the program to continually expand in the future.
"We couldn't do it without their help and we definitely couldn't do it without the grants they receive and the generous donations," she said.
Hansen has been a part of the program for 10 years and is continually inspired to help students feel at their best entering a new school year.
"I think we just really feel for any student that is starting school without his (or her) supplies because that is a big part of starting a new school year," Hansen said.
"It's two fold — we really want these students to have opportunities for their classmates to learn and succeed, but we also want them to feel confident and not left out on that first day of school when other students are showing up with new backpacks and supplies."
Registration will not be required for students to participate.
A GoFundMe page has been set up by the Angels Over Sandpoint to help with their expenses for the program. Donations can be accepted at https://www.angelsoversandpoint.org/support-us.
---