The whats, whys and the reasons for mask policy
Vacations are best enjoyed while unplugged. I spent last week in the great outdoors with limited access to digital technology. While a few days without 4G may sound good, I quickly realized that there is never an ideal time for a public relations specialist to go on vacation.
I prepared and scheduled all of my content before saying sayonara to my coworkers on Friday. When I returned, I found that much of the content I had queued up was no longer applicable – perhaps even tone deaf. Thankfully, my co-worker, Amanda, stepped in and handled everything beautifully. She had my back.
It turns out that our community did, too. When a brief demonstration took place at the Sandpoint Library last week, our community members showed where the majority stands. With phone calls, emails, messages, and even gifts, hundreds of people demonstrated their support of the library's face covering policy.
The official policy, passed by the East Bonner County Library District's board of trustees in May, states that face coverings are required in order to enter the library district's facilities. The policy continues: "If a patron is unable to use a face covering, materials will be made available through curbside delivery."
Some have questioned the legality of this policy since the library is a tax-funded, public entity. But, let me ask you, does it seem reasonable to you that a public library — operated by librarians who are professional researchers — would proceed with a policy that could be illegal without thoroughly researching it before implementing it?
The fact is, the East Bonner County Library District is well within their rights to draw up such a policy and enforce it. Idaho Code 33 2720 (b) states:
The board of trustees of each library district shall have the following powers and duties consistent with the laws of the state of Idaho: (b) To establish policies for the administration, operation and use of the library or libraries under its control.
As long as they do not conflict with Idaho state law, libraries can set policies that reflect the circumstances of their independent communities. In our local community, there has been a spike in COVID-19 cases. Reputable sources indicate that face coverings (among other protective measures) may reduce the spread of this infectious disease that has caused a worldwide pandemic. Out of concern for our staff, patrons, and community members, library officials instituted a legal policy requiring visitors to wear a face covering while inside their facilities.
Government organizations strongly encourage the use of face coverings in public, but have not mandated their use in our local area. They have many factors to weigh in making such a decision, including impact to the economy. Libraries also have many factors to weigh, including ensuring that their constituents have open access to library materials and services.
The pandemic is forcing every organization to find new ways of fulfilling their missions while protecting the health and safety of those they serve. The trustees and leadership at our local library district are very concerned with fulfilling our mission. Since the library buildings have been closed again, as of August 1st, they are even more concerned about this. Curbside materials pickup service and The Digital Library do not provide the same experience that patrons enjoyed prior to the pandemic. In fact, some people are not able to access digital materials or order items through the online catalog for curbside pickup. The pandemic has limited our ability to serve you, and that actually pains each of us, personally. We continually research and brainstorm collaboratively with library professionals in other areas to try to discover how to better serve our district.
Change is uncomfortable. It instills fear at times. This is a time when people look to their libraries more than ever. No wonder some people have developed strong feelings about any perceived restrictions on their freedom to use the library as they always have.
Libraries are institutions for intellectual freedom. In other words, they exist to create an equal playing field for obtaining information and ideas for all people. While the library is closed, you still have access to materials for discovery, connection, and lifelong learning. If you are unable to access online resources, we welcome a phone call to discuss how we can help you with what you need without the use of the internet. You can also use the library's free Wi-Fi from the parking lots at the Sandpoint and Clark Fork branch libraries. (password: librarypatron).
The library will reopen. When it does, face coverings will likely be required as the policy states. Library staff will continue to seek ways to serve you under less than ideal circumstances. We are grateful to our community for the overwhelming support of our staff and trustees. Admittedly, I feel a bit guilty for being out of touch last week. But, when I returned and saw how our community responded so much better than any public relations professional could, I knew everything would be OK. Still, I won't be taking another vacation anytime soon.
The Sandpoint and Clark Fork libraries are temporarily closed. Curbside materials pick up is available. For more information about the current status of the Sandpoint and Clark Fork Libraries and Bookmobile, visit ebonnerlibrary.org.
EVENTS: Check our website events calendar for our schedule of digital events at www.ebonnerlibrary.org.
StoryWalk — August titles: at Dover City Park enjoy "My Father Knows the Names of Things" by Jane Yolen, and "They All Saw A Cat" by Brendan Wenzel at McNearney Park in Ponderay. Titles are updated monthly and posted at facebook.com/BonnerStoryWalk.
Marcy Timblin is in charge of public relations, marketing & community development for the East Bonner County Library District. She can be reached at 208-208- 208-208-263-6930, ext. 1204.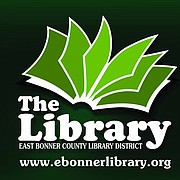 ---