N. Idaho CASA finds new office in Sandpoint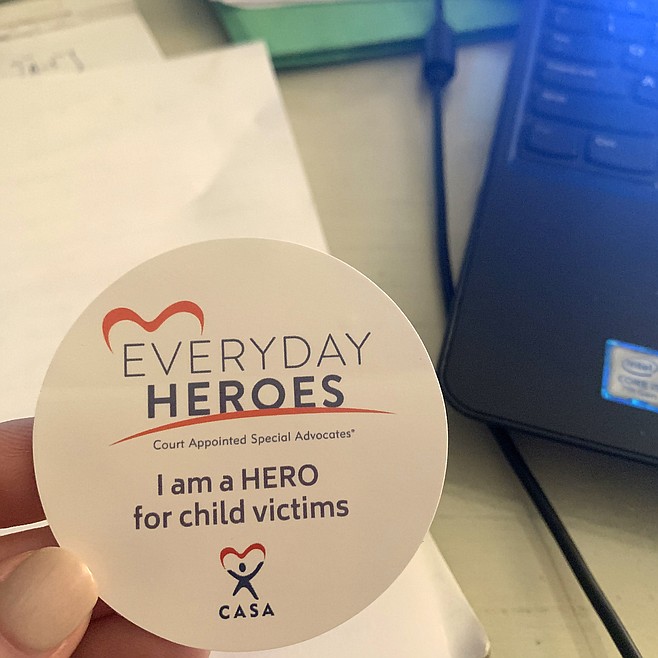 (Photo courtesy NORTH IDAHO CASA) A badge sharing the motto of the Court Appointed Special Advocate program: "Everyday Heroes."
by
CAROLINE LOBSINGER
Staff Writer
|
August 25, 2020 1:00 AM
Additional training room will help retain advocates serving child victims
SANDPOINT — North Idaho CASA has a new home in the community — and that officials said will help them help the community's youngest residents.
CASA — Court Appointed Special Advocates — supports trained advocates for over 450 child abuse and neglect victims in North Idaho. Advocates investigate child protection cases, represent the child's best interest in court and help find them a safe home with a forever family.
But the Sandpoint office has been tight quarters, a one-room space that had to do double duty. That is no longer the case as the organization announced a new home for the local CASA program.
Spearheaded by Bonner County CASA supervisor Jessie Sheldon, the move gives the local CASA office more space, a private office and a training room.
"We are thrilled to have expanded our space for our Sandpoint office," Sheldon said. "Instead of a one-room space, we now have doubled our square footage."
That space accommodates a reception area, a private office area where confidential files can be securely stored, a training room with AV set-up, water and coffee options, and a much larger kids closet, which allows CASA to provide needed supplies and new toys to foster kids in our community.
"We even have a kids-play area and look forward to being able to offer visiting space for the families we serve," Sheldon said.
Thirty-seven advocates served 98 kids from 66 families last year in Bonner and Boundary counties. Advocates donated 2,866 hours, saving the taxpayers in those counties roughly $186,290. North Idaho CASA is a 501(c)3.
Bonner County advocate trainer Rita Lefler is thrilled with the new space.
"Oh, how wonderful to have a CASA office that allows enough space to host our weekly CASA Support Group," she said. "Now, it's not 'Where are we meeting?' but 'See you at the CASA office!' "
In addition, the ability to have a Kids Closet in Sandpoint allows CASA advocates easy and quick access to supplies and gifts to better support the children served by CASA. CASA accepts new toys, books and clothes, as well as diapers and wipes to help with basic needs of foster families, officials said.
Rural training for Bonner and Boundary counties happens three times a year. Trainings are eight weeks long, including hands-on education on how volunteers will represent child victims in court. North Idaho CASA is proud to have the resources to serve every child victim in the 1st Judicial District.
"Finding suitable meeting space to conduct our new advocate training has always been a challenge. It's exciting to now have this training space available to us anytime we need it," said Carole Smith, co-trainer in Bonner County.
CASA officials said a special thank you to Sandpoint Property Management and Home Depot were in order, for giving the organization discounts on rent and building materials for the new office.
An open house to celebrate the move is planned for Thursday, Aug. 27, in the new office, 819 US. Highway 2, Suite 204. The open house will take place from 3-6 p.m.
Keith Kinnaird can be reached by email at kkinnaird@bonnercountydailybee.com and follow him on Twitter @KeithDailyBee.
---