Research sheds light on steelhead survival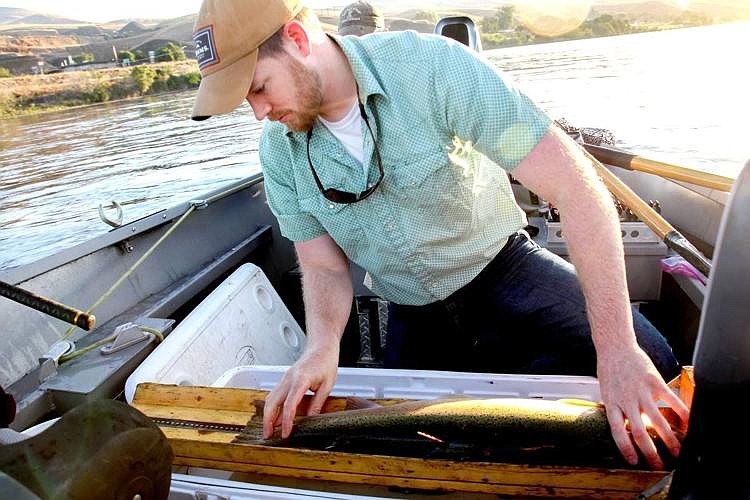 University of Idaho graduate student Will Lubenau collects data on a recently caught and tagged steelhead. The fish is part of study seeking to learn how many wild steelhead are encountered by Idaho anglers and how well those fish survive after being released.
PHOTO/Brett Bowersox
by
Eric Barker
|
August 25, 2020 1:00 AM
Cash tags should entice angler participation in study
Preliminary data from a wild steelhead study, if it holds, could make it easier for fisheries managers to balance protections for wild fish while also allowing anglers to target those raised in hatcheries.
The University of Idaho and Idaho Department of Fish and Game are partnering on the two-year effort aimed at measuring the degree to which wild fish are encountered by anglers and how those fish fare after they are released.
To do so, they are intercepting returning wild and hatchery steelhead at Lower Granite Dam and placing visible tags on them and also implanting them with tiny PIT tags, or passive integrated transponder tags.
Anglers are being asked to clip off the visible tags when they land a marked fish and return them to the agency or otherwise report the catch. Some of the tags are marked as carrying rewards of $100 to $200 and are designed to entice angler participation in the program.
PIT tag detectors, known as arrays, are positioned at the mouths of about 60 percent of the streams where wild steelhead spawn. Their presence allow researchers to determine how many of the fish in the study ultimately reach spawning grounds.
"Right now it does seem like our wild fish are being encountered at a slightly lower rate than hatchery fish, of course the second year will definitely help validate everything, and I still have a lot of data to go through at this point," said Will Lubenau, a UI graduate student leading the effort.
Idaho fisheries managers assume that wild fish and hatchery fish are encountered at the same rate by anglers. They use that rate, combined with information gleaned from angler interviews, to determine how many wild fish are incidentally harmed in the steelhead fishery.
Wild steelhead are protected as threatened under the Endangered Species Act and must be released by anglers who catch them. The state has a permit that allows a small number of wild fish to be incidentally harmed during fishing seasons for hatchery steelhead. But managers must track the harm to wild fish and shut down fishing if quotas are surpassed.
The study could make measuring wild steelhead impacts more precise. During the first year of the study, Idaho wild steelhead were encountered at a rate of about 35 percent compared to 40 to 45 percent for hatchery steelhead.
The study also showed that wild steelhead reported as caught survived slightly better than wild steelhead that were not reported as caught during the fall and spring fishing season. But the survival rates were close enough to each other to be considered statistically equal.
About 200 of the tagged fish were reported as being caught by anglers. Of those, 84 were detected at upstream PIT tag arrays, weirs or showed up at hatcheries. Another 46 of the 200 caught fish were detected at Snake River dams attempting to return to the ocean. In total, 65 percent of the caught fish were detected later. There were about 675 tagged fish that were not reported to have been caught. They were detected at a rate of 62 percent.
"The take-home point is there is no indication, at least based on this first year of data, that there is a major difference between fish that are caught and not caught in terms of survival," said UI fisheries professor Michael Quist.
The researchers don't know the fate of the fish that weren't detected after the fishery. Some may have returned to streams without PIT tag arrays and some may have perished.
The data indicated that 19 of the tagged steelhead were caught more than once and that 80 percent of those were detected post fishery, indicating they survived.
The study will continue this fall and in the spring and give researchers another batch of information. It also will help them determine if the closure of steelhead on the Clearwater River last fall skewed the data. Steelhead season was shuttered Sept. 29 because of low numbers of returning hatchery fish. The river reopened in January.
Lubenau said previous work by former UI graduate student Stacey Feeken indicates anglers encounter more wild steelhead in August and September, when fishing was still open last year.
Eric Barker may be contacted at ebarker@lmtribune.com or at 208-848-2273.
---