Panhandle set to receive COVID-19 vaccine doses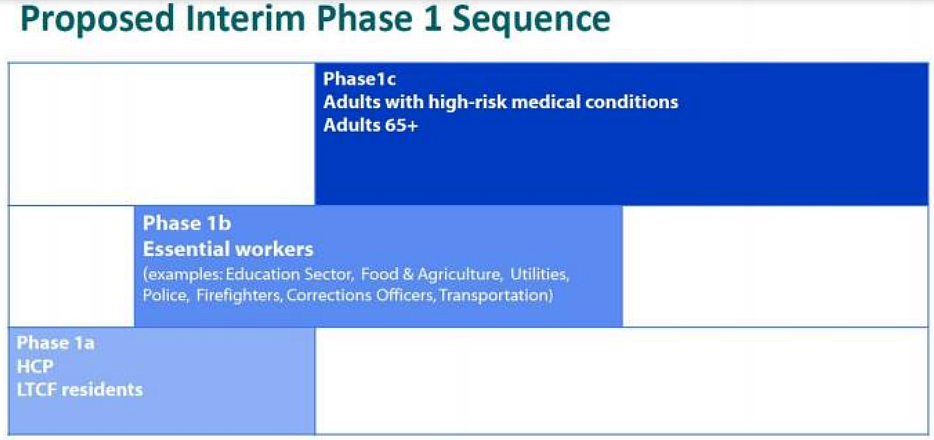 The proposed interim Phase 1 sequence proposed at IDHW's COVID-19 Vaccine Advisory Committee meeting on Dec. 4. While they wait on the FDA to approve pharmaceutical company Pfizer's vaccine, the CDC's Advisory Committee on Immunization Practices has only formally recommended Phase 1a.
Image by IDAHO DEPARTMENT OF HEALTH AND WELFARE
by
CHANSE WATSON
Hagadone News Network
|
December 7, 2020 4:06 PM
It won't be much at first, but at least it's something.
The Idaho Department of Health and Welfare announced in a Dec. 4 COVID-19 Vaccine Advisory Committee meeting that the state will be receiving 13,650 doses of a COVID-19 vaccine in the next couple of weeks. Of those 13,600 total doses, the Panhandle Health District (which includes the counties of Kootenai, Bonner, Boundary, Shoshone, and Benewah) is slated to receive 1,950 (0r 14.96%) of them.
As detailed by CVAC and the CDC's Advisory Committee on Immunization Practices, all of the state health districts will be responsible for distributing the vaccine based on certain criteria.
"ACIP's recommendation process includes an explicit and transparent evidence-based method for assessing a vaccine's safety and efficacy as well as consideration of other factors, including implementation," Idaho Health and Welfare explained.
In Phase 1a of the proposed rollout, healthcare workers, residents of long-term care facilities, and those working in long-term care facilities will be the first to have access to the vaccine. This will then be followed by Phase 1b, in which essential workers – such as first responders, educators, utility workers, and food & agriculture workers – are allowed access. The final Phase 1c opens the vaccine up to adults with high-risk medical conditions and people over the age of 65.
Larger amounts of the vaccine are expected to be obtained by the state in less than a month following this initial December release.
Emilee Kulin, CEO of long-term care facility Mountain Valley of Cascadia in Kellogg, has seen what the virus can do to an older population and is in favor of communities such as hers getting first crack at the vaccine.
"Everyone knows about the vulnerable population we serve, so it makes sense that health care providers – specifically long-term care – would be prioritized to limit the impact it would have on our population," she said.
According to Health and Welfare, Cascadia has been hit harder than any other retirement facility in North Idaho, with 84 confirmed COVID cases and 15 COVID related deaths.
Michael Neubauer, Administrator of Good Samaritan Society in Silverton,
echoed Kulin's belief that their at-risk residents need access to the vaccine as soon as possible.
"The priority status is necessary for a facility like ours because we are taking care of the most vulnerable adults in our nation," he said.
As of Dec. 7, the CDC reports that of the 281,252 total COVID related deaths in the nation, 72,642 (or 25.82%) have been nursing home residents.
Both Kulin and Neubauer stressed that the decision to get the vaccine will be left up to their residents and absolutely no forced inoculations will occur.
ACIP will consider vaccine-specific recommendations and additional populations for vaccine allocation beyond Phase 1a when a U.S. Food and Drug Administration authorized vaccine is available. The FDA could authorize pharmaceutical company Pfizer's vaccine as early as the end of this week.
PHD Public Information Officer Katherine Hoyer could not be reached for comment before press time.
For more information regarding the COVID-19 vaccine in Idaho, visit the Idaho COVID-19 vaccine website.
---