Priest River takes down Clark Fork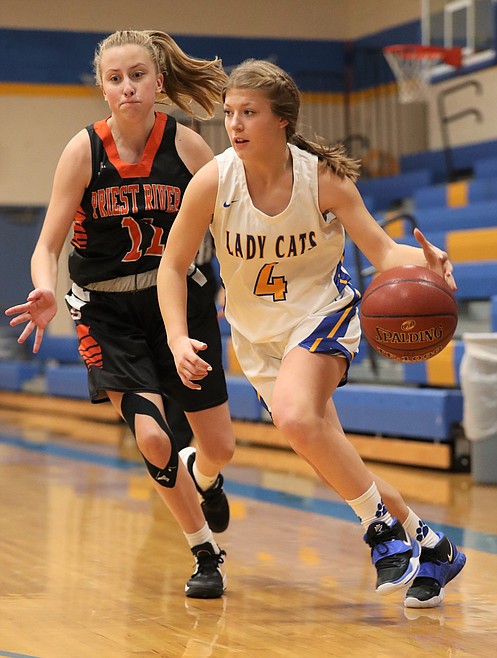 Freshman Eloise Shelton (right) drives toward the basket while Marley Burgess-Duquette from Priest River defends her during the first half of Friday's game.
(Photo by DYLAN GREENE)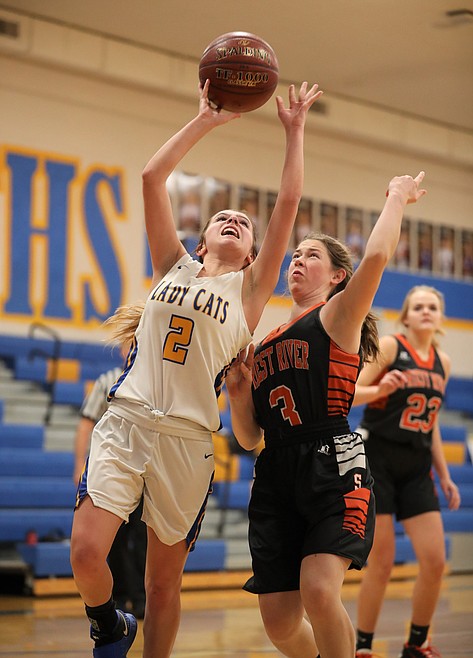 Clark Fork's Paige Valliere (left) attempts a shot while Priest River's Annika Rantala defends her on Friday.
(Photo by DYLAN GREENE)
Priest River senior Hannah Palfrey (right) fights to put up a shot over Clark Fork's Eloise Shelton.
(Photo by DYLAN GREENE)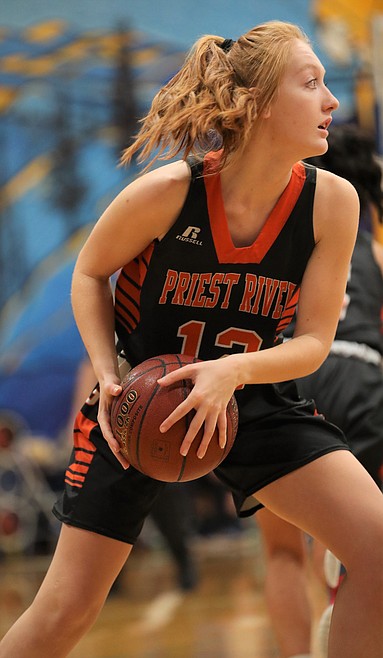 Senior Makia Fitzmorris grabs a defensive rebound for Priest River on Friday.
(Photo by DYLAN GREENE)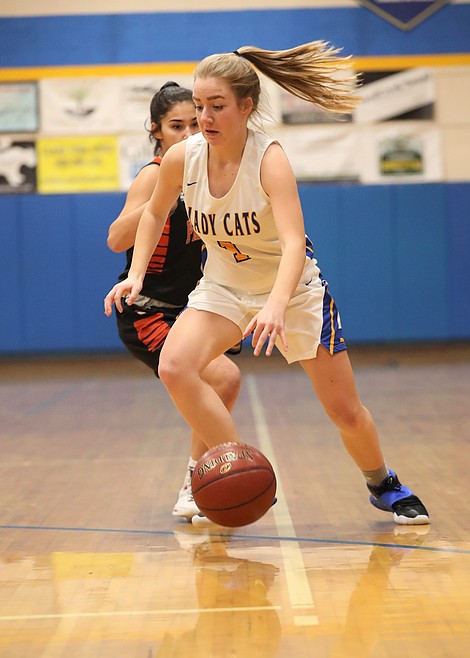 Katelyn Matteson drives toward the basket on Friday.
(Photo by DYLAN GREENE)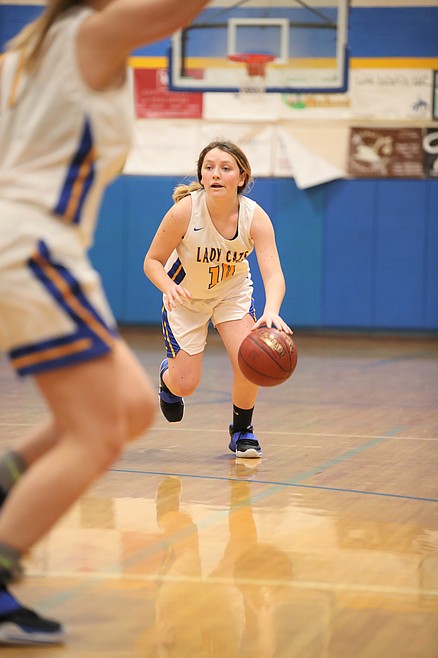 Freshman Lily Reuter looks for an open teammate on Friday.
(Photo by DYLAN GREENE)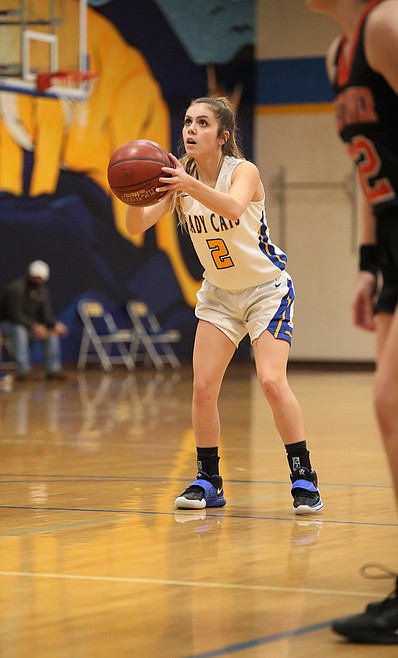 Sophomore Paige Valliere attempts a free throw on Friday.
(Photo by DYLAN GREENE)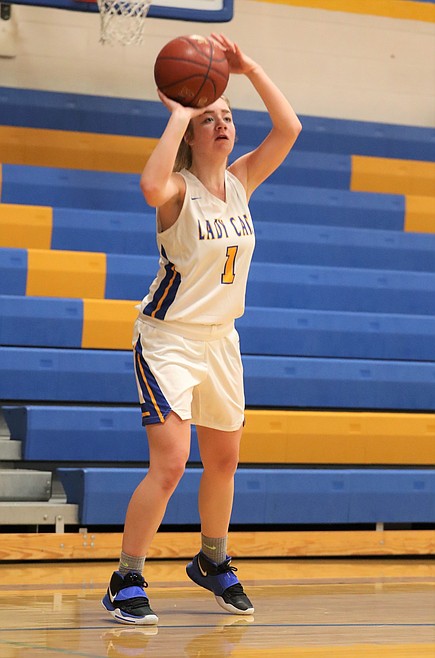 Junior Katelyn Matteson hits a 3-pointer in the closing seconds of Friday's game.
(Photo by DYLAN GREENE)
Previous
Next
by
DYLAN GREENE
Sports Editor
|
December 12, 2020 1:00 AM
CLARK FORK — A 14-1 first-quarter deficit doomed Clark Fork in a 33-26 loss to Priest River on Friday night.
Despite the early scoreline, the 1A Division II Lady Cats gave 3A Priest River everything they could handle and didn't let a 21-8 halftime deficit slow them down.
"I was impressed with the fact that they were willing to come out and fight back," Clark Fork head coach Jordan Adams said.
At the half, Adams said she told her team they were beating themselves and she challenged them to step it up, and the Lady Cats responded.
In the third quarter, both teams scored just 4 points, allowing the Spartans to take a comfortable 13-point lead into the final eight minutes.
But that cushy lead evaporated quickly when Kellie Mace hit a shot and Katelyn Matteson knocked down a pair of 3-pointers to make it 25-19.
Unfortunately, the Lady Cats couldn't get any closer as Samantha Pound, Makia Fitzmorris and Hannah Palfrey buried some key shots down the stretch to help Priest River secure the win.
"To [Jordan's] credit," Priest River head coach Gary Stewart said, "we kind of took it to them against their 1-3-1, and then they tightened up and we were like at a loss."
Clark Fork mounted a comeback without two of its starters, Paige Valliere and Eloise Shelton, who both fouled out.
Adams said she loved what she saw from her younger players.
"There's a lot of different places we need to work on," she said, "but it's not that they need to do better, it's that they need to keep practicing and get experience."
Clark Fork played at Mullan on Thursday in their North Star League opener and Adams said that quick turnaround with no rest impacted them early against Priest River.
"I could tell their minds weren't in it," Adams said about the first half.
Matteson led Clark Fork with 11 points, five steals and three rebounds. Valliere and Shelton each scored 5 points and Mace finished with 2 points and five rebounds.
Fitzmorris tallied 17 points and 14 rebounds for the Spartans and Palfrey had 8 points, seven rebounds, four assists and three steals. Allyson Barton added 6 points and five rebounds.
There were no fans in the stands, but it didn't seem like it with the noise coming from the Clark Fork bench.
"No matter who is over here, I swear we're the loudest bench," Adams said, "and we only have nine girls. That's awesome."
Clark Fork (1-2) hosts Lakeside at 5:30 p.m. Tuesday while Priest River (1-5) travels to Post Falls JV.
Priest River 14 7 4 8 — 33
Clark Fork 1 7 4 14 — 26
PRIEST RIVER — Rantala 0, Freitas 0, Pound 0, Burgess-Duquette 0, Fitzmorris 17, Thompson 0, Palfrey 8, Kingery 0, White 0, Barton 6.
CLARK FORK — Matteson 11, Valliere 5, Shelton 5, Reuter 2, Yancey 0, Hoffman 0, Mace 2, Fournier 1.
---