Book celebrates communities' early history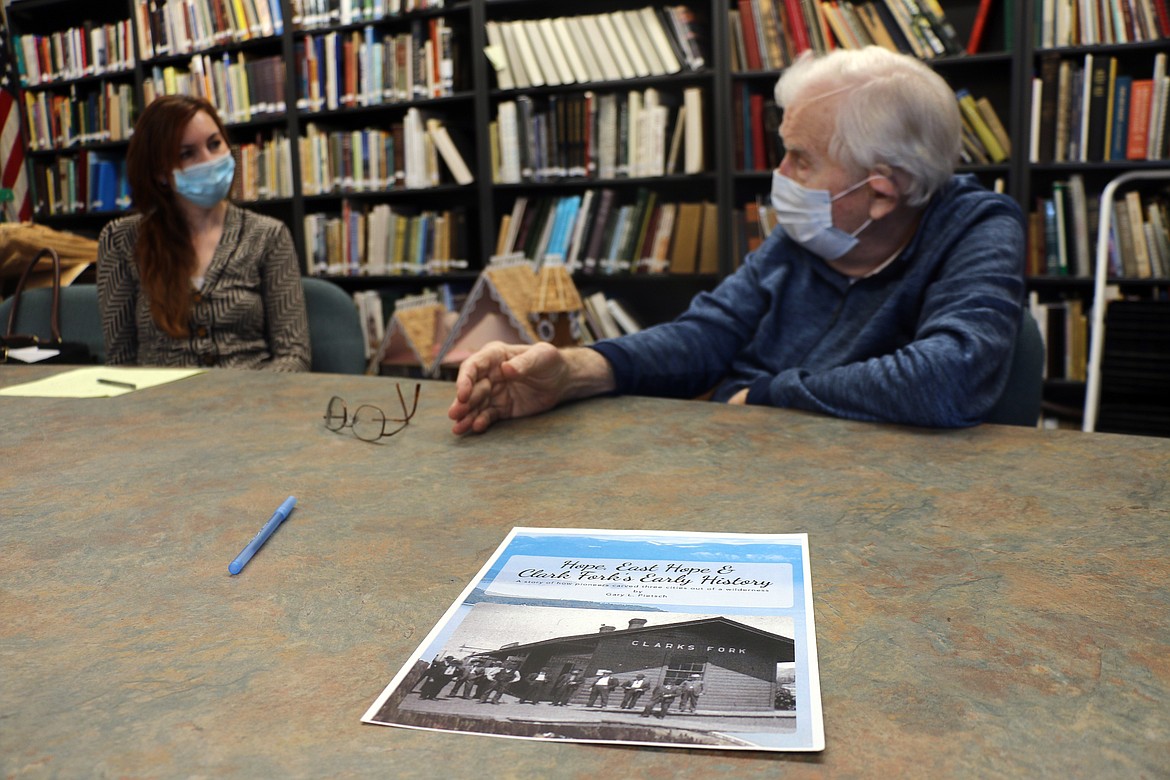 Heather Upton, Bonner County History Museum executive director, listens as local author and historian Gary Pietsch talks about his new book, "Hope, East Hope & Clark Fork's Early History". All proceeds from the sale of the book are being donated to the museum.
by
CAROLINE LOBSINGER
Staff Writer
|
December 15, 2020 1:00 AM
SANDPOINT — Some of Gary Pietsch's fondest memories are centered in the Hope, East Hope and Clark Fork areas.
His parents bought property on the Hope peninsula and built their retirement home there. His dad, an avid fisherman, moored his boat in the community and the family spent a lot of time there during the fishing season. His late wife, Carol, grew up in the community as well.
So when Heather Upton, Bonner County History Museum executive director, approached him to write a companion piece to his book on Sandpoint's early history, but this time focused on Hope, East Hope and Clark Fork, Pietsch agreed.
Armed with the memoirs of his wife's mother and aunt — and the histories and oral histories on file at the museum, the local author and historian got to work.
"I was able to fold into the story of how Hope developed, and some of the more personal stories of how a little town grows up into what it is today," Pietsch told the Daily Bee. "So that was the fun part of doing this."
Pietsch said he started the book with local pioneers Sam and Nina Owen and then spread out as he found other pioneers who homesteaded in the region. As he read their accounts, Pietsch knew he wanted to let those early residents tell their own story.
"What better way to tell the story of those three communities by letting the people that experienced it, actually tell it, rather than me try to put words in their mouths?" he said. "I let them speak with quotes and letters and things I stumbled across."
In researching the book, Pietsch said it became clear that life was hard back in the early days. White settlers moved into the region with the railroads which were building a connection to the Asian markets through the West Coast. Among those early settlers were Carol Pietsch's great-grandparents who worked with crews building the first highway between Sandpoint and the communities on the north part of the lake — once only accessible by foot, horseback or boat.
"Those folks here doing those things lived an extremely rough life," Pietsch said. "Things were really tough and they worked right through the winter and everything else. They were really strong, rough people."
To build a fire, meant gathering the wood first, either from trees blown down or ones you cut down yourself. Cooking your food, meant building a fire — most of the time over the open flame on a campsite. Many of the early railroad crews lived in tents year-round and worked throughout the winter.
"Back in those days, it was cold," he said. "Talk about cold now - it was 25 degrees this morning. Back then, it was 25 below and they were working, 40 below and they were working. Can you imagine how tough that is and trying to work and do the jobs that you were doing. They had to fight the elements as well."
Many of the crews brought their families with them, with everyone expected to contribute to the well-being of the household. "You lived off the land, you killed a deer or shot a rabbit or shot a duck or a goose and that was dinner," Pietsch said.
While elsewhere there were conflicts with Native American tribes, that didn't happen in the community, Pietsch said.
"I give the local tribes a hell of a lot of credit because they were peaceful," Pietsch said. "They accepted the changes that were going on, but this was their homeland and everybody else was an intruder but they welcomed them just the same. That's the remarkable thing about the transition that was going on there."
In nearby communities, Chinese workers hired by Northern Pacific to work on the railroad weren't accepted. That wasn't the case in Bonner County, Pietsch said. While most of the workers kept to themselves due to cultural, language and religious reasons, Pietsch shares a story in the book about how the Chinese workers invited the entire town of Hope to their Chinese New Year celebration.
While that was one of the good times, Pietsch said there is no getting around the fact that life was tough for the early white settlers.
"They were extraordinary people in their own right," he said. "They were strong, strong-willed, those that stayed, I think what attracted them, particularly those that had a farming background, thought the Clark Fork Valley was really something."
In addition to the early farmers, lumber soon became an attraction as forests covered the land from the waterline all the way to the mountaintops.
"When you think about it, was really, really tough," Pietsch said. "That they accomplished what they did, carving the communities - and when I say carving that's exactly what they did — they carved our communities out of virtually nothing, primordial forests and that sort of thing. It's pretty amazing when you think about it."
Upton said she was thrilled when Pietsch bought into her idea to write a companion book to his book on the community's beginning, "Sandpoint's Early History."
"We loved the first book so much and it was wonderful it was such a focused scope on Sandpoint," Upton said. "The fact that there aren't a lot of historical references on this particular area was very exciting to be able to have this now. It's such an important, beautiful location and we're so excited that Gary could bring this location and history to life through this second book."
The book signals the museum's return to publishing through its "out of print" book program, which is allowing it to reprint many early books on the community. The fund was sponsored by Patty Rechnitzer, whose late husband, Paul Rechnitzer is the author of one of the books the museum is working to get reprinted. Rechnitzer's "Always on the Other Side," Nancy Renk's "A Glorious Field for Sawmills" and Pietsch's "Sandpoint Early History" are among the museum's books.
The ability to custom-print books — whether it is one book, 100 or 350 as is the case with "Hope, East Hope & Clark Fork's Early History" has been made possible due to changes in technology and the ability to access on-demand printing resources, museum officials said.
The book, which will be available Dec. 18., is $19.95 and can be ordered on the museum's website, bonnercountyhistory.org or by calling the museum. It also will be available at Vanderford's and the Corner Book Store. And, just in time for Christmas, the museum is offering a three-book package — for $40 — which includes both of Pietsch's books and "Hunted" by Dale Selle about two outlaws who broke into a pool hall in Hope, killed one man and almost killed a second.
Information: bonnercountyhistory.org
---