Group to deliver Christmas meals to seniors in Bonner County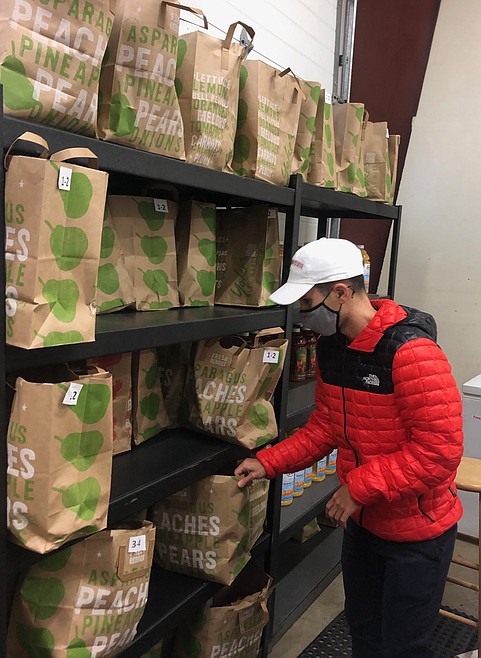 Food bank volunteer Tyren Thompson stocks shelves at the Bonner Community Food Bank.
Courtesy of Debbie Love
by
RACHEL SUN
Staff Writer
|
December 16, 2020 1:00 AM
This year, around 150 Bonner County seniors will be getting warm meals delivered to their door for Christmas thanks to a conversation between Randy Wilhelm, the art, CTE and graphic design teacher at Lake Pend Oreille High School, and Debbie Love, director for the Bonner Community Food Bank.
The idea got started when Wilhelm was volunteering at the food bank shortly before Thanksgiving, he said. The two were discussing the Thanksgiving and Christmas meals provided by Hoot Owl restaurant in Ponderay, and the possibility of doing something similar.
One group in particular stood out, Wilhelm said.
"We identified all these seniors who are shut-ins and can't go to the Hoot Owl," Wilhelm said.
To make it happen, Wilhelm called in help his colleague, LPOHS culinary arts teacher Rand Rosecrans.
Before teaching at LPOHS, Rosecrans worked as a chef professionally for 30 years, he said, including 27 years as the head chef at a boarding school in Alaska. He, along with his class, have been working on recipes for the boxes.
The group is planning to make a standard meal including turkey, stuffing, mashed potatoes, gravy and a dessert. There will also be strict sanitation and safety protocols in place, Rosecrans said, drawing from his experience as a professional chef.
"We'll concentrate on fewer things and try to make them a good and decent meal," he said.
In total, Rosecrans said, there will be between 20-25 students helping in the process in some capacity.
Many of the things his class is working on as preparation for the meal deliveries feed into the students' lessons, Rosecrans said. He's also trying to emphasize the importance of helping the community to his students, whose education is funded by residents.
Both the school and students are "very supportive" of the food bank, Love said, and students in the culinary arts program have worked tending the food bank's garden.
"This whole thing is born from the generosity and kindness of other people," Rosecrans said. "What can we do to give back to our community?"
Seniors are some of the most at-need in the community, Love said. Many seniors don't drive, and during the pandemic many more don't want to risk COVID-19 exposure.
One woman who called the food bank recently was 82 years old and struggling to find somewhere to deliver food, Love said.
"She had been trying to get food at home, and we were the third organization she called," Love said. "So we made a delivery to her."
Currently, there are about 50 seniors who are getting regular deliveries. Normally though, the food bank, which has around six dedicated volunteers and staff, only delivers ingredients, not fully cooked meals.
"[Recipients are] very excited because [normally] we just bring food that's not cooked or prepared," Love said. "They're tearful and joyful that they'll have a cooked meal."
Many of the seniors are also raising grandchildren, she said, so the deliveries will also be providing meals for families.
To determine who would receive the deliveries, the group relied on existing lists of food bank recipients.
"We have a program for seniors where they receive an extra supplemental box of food," Love said. "We basically go from that list."
Rosencrans said the soup kitchen, Thanksgiving and Chrismas meals hosted by the Hoot Owl were a big inspiration for this project.
"They have been so supportive," he said. "We thought we should learn from that community service."
Currently, the group is also trying to get 50 delivery volunteers. As of Monday afternoon, they had 35, Wilhelm said.
All of the deliveries are in Bonner County, he said, although some are farther out than others.
"There's one gentleman that's almost to Bonners Ferry," Wilhelm said. "We'll break up all driving assignments to different areas of the county."
Anyone who wishes to be a volunteer delivery driver can contact Randy Wilhelm at randy.wilhelm@lposd.org. The food bank is also looking for volunteers, Love said. Deliveries will be made Christmas Eve between noon and 2 p.m.
Those who would like to volunteer can call the food bank at (208) 263-3663. For those seeking services, the food bank is open from 9 a.m. to 2:30 p.m. Monday through Thursday.
Recent Headlines
---