Council hears proposal for historic carousel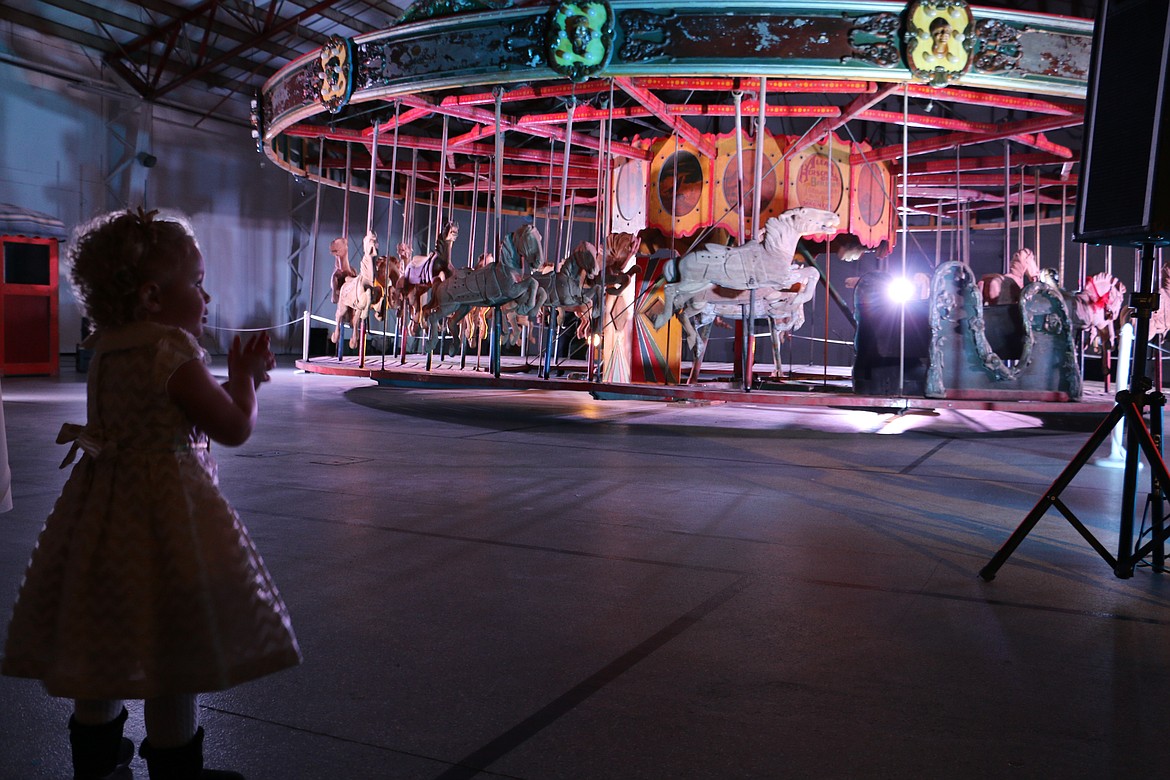 A girl looks at the historic carousel owned by Clay and Reno Hutchison, unveiled at a 2016 event. the Hutchisons hope to build a permanent home for the carousel at Sandpoint's City Beach in the next few years.
Photo by MARY MALONE
by
RACHEL SUN
Staff Writer
|
December 18, 2020 1:00 AM
In a Wednesday night meeting, City Council members heard a proposal for the incorperation of a historic carousel into the city's parks and recreation master plan, approved policy to maintain consistency for leases at the Baldy Mountain Communication Site, and approved a resolution to update plans for access and protection of the Little Sand Creek watershed.
The carousel, owned by Clay and Reno Hutchison, was exhibited in 1952 at the Kansas state fair. It is one of only around 150 fully intact golden-ag carousels, said Clay Hutchison, who presented to the board Wednesday.
"[After the fair], they put it in a farmer's field and left there 40 years," he said.
The Hutchisons purchased the carousel in 2000, and kept it stored for 16 years. Eventually, after moving to Sandpoint, they started making plans to try and build the carousel. An event was held in 2016 unvealing the carousel, and restoration began in 2017.
Now, another three years later, 11 horses have gone through an extensive restoration process by local artisans, with more to be completed. The two have also worked with locals to create artwork for panels on the bench in the carousel.
Now, Hutchison said, they want to work with the city to make plans for the carousel.
There are two potential locations listed in the master plan where the carousel might go, Hutchison said. The City Beach, and the Sand Creek parking lot.
"City Beach is the preferred option," he said.
Should the carousel be installed, the group is looking at a timeline of around two years — although that might take longer given challenges due to the pandemic, Hutchison said.
The project has had help from over 200 volunteers and artisans, he said, although there are currently some restrictions to how many people can gather for helping with the restoration, which is an intensive four-step process to restore and paint the hand-carved, roughly 100-year-old horses.
While some similar carousels, such as the Looff Carrousel at Riverfront Park in Spokane are owned by the city's parks and recreation department, their goal would be to maintain ownership of the carousel as a 501(c)(3) organization, raise funds for a building and maintain the building so it it doesn't become a drain on the city's resources.
There would also be events to help benefit the community at large, he said, such as a food drive where visitors can donate food for rides.
Council members were broadly supportive of the project, praising the work within the community and collaboration with local artists.
"I appreciate all the time and effort and reaching out on a national level that you put into this," said council member Deb Ruehle. "I think it'll bring beautiful things to Sandpoint."
Councilman Andy Groat also noted the ambitiousness of the plan.
"If you stick the landing with this, this is going to be one of the biggest art exhibits in the state of Idaho," he said.
Both Shannon Sherman and Joel Aispuro said they looked forward to visiting with their family.
"This is such a beautiful story, and an amazing vision," Sherman said. "I'm excited for my family and all the families in Sandpoint to be able to experience this."
The council also approved a resolution to institute policies for leasees of the Communication Site.
In a presentation to the council, Contract and Procurement Officer Cheryl Hughes said previously, the city did not have any formal guidelines for leasing to various government and corporate entities.
The new plan put forward provided clarity, including guidelines for prices moving forward to current and future lessees.
"This either is a mess or had the potential to be a mess," Groat told Hughes, "so thank you for your hard work."
The council further voted to update city code regarding watershed management from a previous, outdated version, and approved proposed procedures for considering uses within the watershed.
Public Works Director Amanda Wilson said previous code regarding the watershed was found within zoning codes, and was "well-intentioned, but incomplete."
Zoning is also not the appropriate place for watershed code, Wilson said, because the property where the watershed lies is outside of city boundaries.
Previously, the management of the city's Little Sand Creek watershed was focused on limiting public access, Wilson said. In the updated code, some allowances could be made for limited public access in collaboration with other public agencies for collaborated land use.
The council also heard presentation on a draft of the future watershed management plan, which would prohibit any activity within 150 feet of the watershed and also included specific language limiting activities such as hunting, camping, horesback riding and campfires.
In a discussion early in the meeting, Council member Ruehle said she wanted to pass ordinance requiring businesses to post signage at public entrances requiring masks, along with educational information from Panhandle Health District.
Although city police have officially taken an education-centric enforcement strategy to the mask mandate, Ruehle said she didn't see consistency in it, and continued to see many members of the public at local businesses without a mask.
"This is about the city being socially responsible and about educating the public in a consistent manner," she said.
However, most other council members showed apprehension or rejected the notion outright.
"No," said Aispuro, a local businessman, in his only response to the request.
Others expressed concerns over mandating individual business practices too closely.
"I understand where Deb is coming from and I believe her words are incredibly sincere," Sherman said. "I don't feel that mandating signage in businesses is our job."
Council member Kate McAlister said she, too, had doubts, although she would check in with some of the local businesses.
"I would concur that that's how businesses feel, but I will confirm," she said. "I already know what one says."
Given the council's inaction, Ruehle said, she planned to file a formal complaint with Sandpoint Police Chief Corey Coon.
"If we are educating, I don't believe we're doing a good job," she said. "There are a lot of businesses that are not following the Panhandle Health guidelines."
Finally, the council approved a resolution to to extend the current collective bargaining agreement with the local firefighters union for an additional 90 days in order to review the upcoming fire services operations study report from Fitch & Associates, and further consider options.
The next city council meeting is scheduled for Jan. 6 at 5:30 p.m.
---