Chamber welcomes Sandpoint Property Co.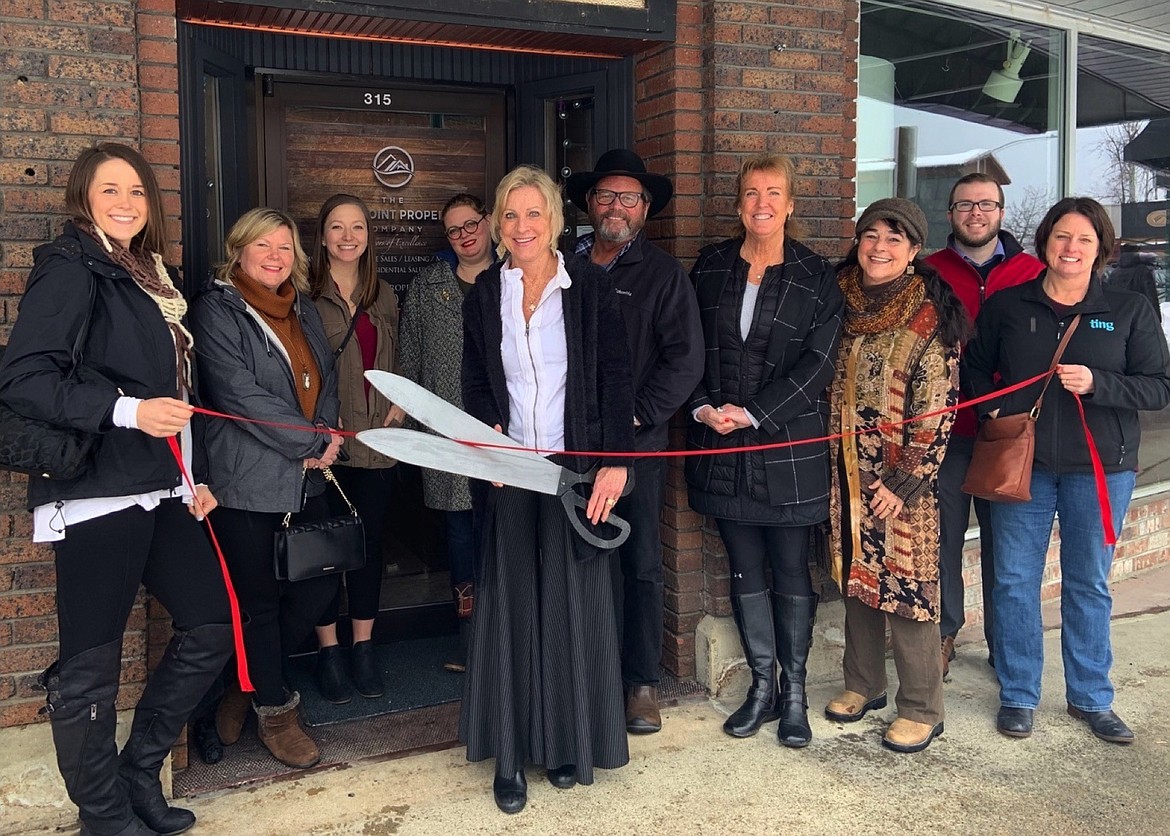 Chamber staff, Ambassadors, and friends join Leonora Prince, owner of The Sandpoint Property Company, at a ribbon-cutting ceremony on Jan. 21.
(Photo courtesy GREATER SANDPOINT CHAMBER OF COMMERCE)
by
Kristin Carlson
|
January 28, 2020 1:00 AM
SANDPOINT — The Greater Sandpoint Chamber of Commerce welcomed The Sandpoint Property Company to their membership with a ribbon-cutting ceremony on January 21.
Specializing in commercial real estate & property management, The Sandpoint Property Company was founded by Leonora Prince late last year. Leonora has been in Sandpoint several years after moving from the big island of Hawaii.
Growing up in Alaska, Leonora was one of the first women to work in the field on the Trans Alaska Pipeline as an operating engineer in the 1970s. She later moved to Arizona to finish college and got her first real estate license. She is currently licensed in Arizona, Washington, and is a broker in California, Hawaii, and now Idaho.
"Having lived in Alaska, moving to Sandpoint was a no-brainer. We just finished building a home in Sagle. This is our forever home. We're dying here," said Prince, of her and her husband.
Most of Prince's real estate career involved commercial and residential property management, and she acquired the acclaimed and highly regarded CCIM designation (which is touted to be the doctorate in commercial real estate) in 2005. There are no other CCIMs in the Sandpoint area.
The Sandpoint Property Company's mission is to achieve superior customer satisfaction with exceptional people and exceptional service. To revolutionize the standard of property management with a performance that inspires; demanding superior standards of care and diligence, and building a culture where aspirations, visions, and dreams do become a reality.
Prince's desire is not to manage hundreds of properties but rather have a boutique-minded business where she knows each client and each client's property.
"It's not about the money," she said. "It's about the relationships and being happy with yourself [and] your reputation."
She looks forward to getting more involved in serving the Sandpoint community as well.
The Sandpoint Property Company is located at 315 N. First Ave.in downtown Sandpoint or give them a call at 208-263-9197.
---