Locomotive removed from Kootenai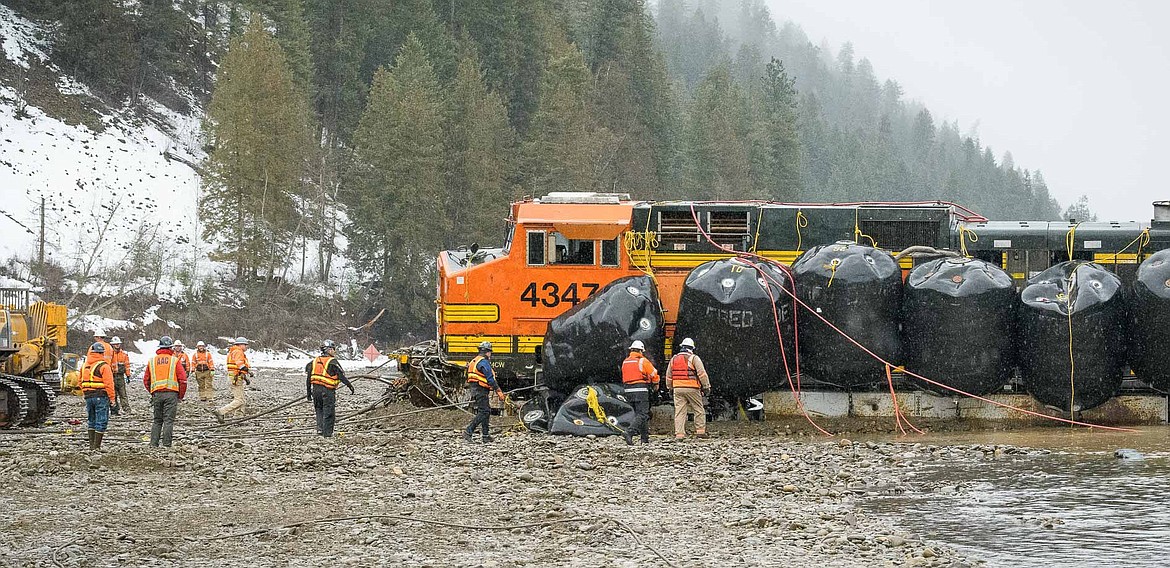 The derailed BNSF locomotive which fell into the Kootenai River arrives on the north shore, thanks to large airbags attached to the train by divers.
(Photo courtesy BNSF RAILWAY)
by
Mandi Bateman
Editor
|
January 30, 2020 1:00 AM
MOYIE SPRINGS — Trains traditionally use a bridge to cross a river.
But last weekend, aided by numerous air bags attached by divers, the final BNSF locomotive that remained in the Kootenai River after the New Year's Day derailment floated across the river, landing safely on the north shore.
"This was certainly a unique situation," said Courtney Wallace, spokeswoman for BNSF Railway.
Divers placed numerous airbags along the length of the locomotive on both sides, and with the aid of heavy equipment, they were able to float the train to the north shore where it is currently being dismantled.
"We were pleased with the operation," said Wallace. "Everyone worked really well and we were able to successfully get it across the river. We were really pleased with how safely and efficiently that went."
Wallace explained that a lot of time and effort went into the task of moving the last locomotive and they worked in coordination with the Idaho Department of Environmental Quality, the Environmental Protection Agency, local authorities, and their on site contractors, with a strong emphasis on safety and environmental impact.
"Making sure everything was environmentally sound and safe, and to make sure that we got that locomotive safely across the river," said Wallace about their priorities.
After the locomotive was successfully moved, divers scoured the bottom of the river, removing debris that remained after the accident.
"We continue to work closely with the Idaho Department of Environmental Quality and other agencies to ensure the protection of the surrounding environment," said Wallace.
The dismantling of the locomotive began on Monday, with plans for it to continue throughout the week. There is road access to the site, which will be utilized in the removal of the train pieces.
"We will have heavy equipment and technical experts there to help remove it," explained Wallace.
As for the locomotive, the future remains uncertain.
"What happens with the locomotive is still under evaluation," said Wallace.
The intricate and unusual feat ended in success — a massive locomotive floating across the Kootenai River.
"Those airbags are pretty amazing," said Wallace.
Recent Headlines
---