POAC's 43rd annual ArtWalk kicking off on July 10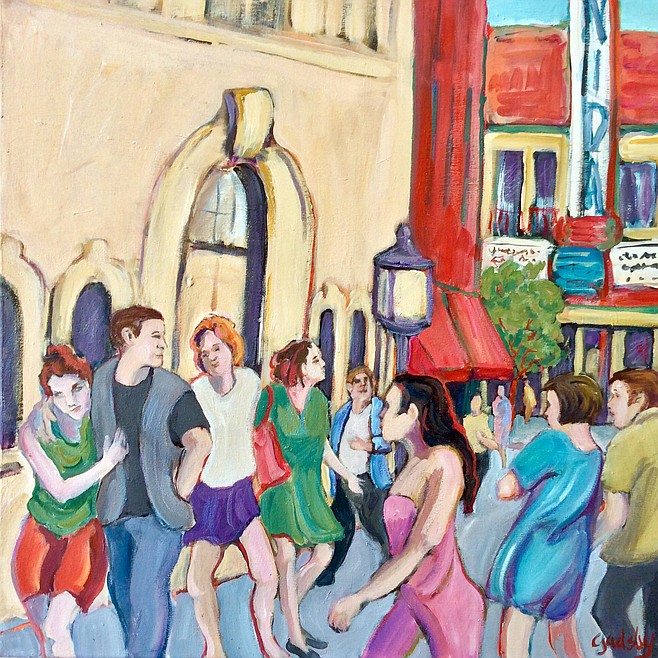 Lesley Gadsby's painting adorns the walking map for Pend Oreille Arts Council's 43rd Annual ArtWalk which transforms downtown into an extravagant art gallery. Event starts Friday, July 10 with artists' receptions at 34 venues from 5:30 to 8 p.m.
(Courtesy photo)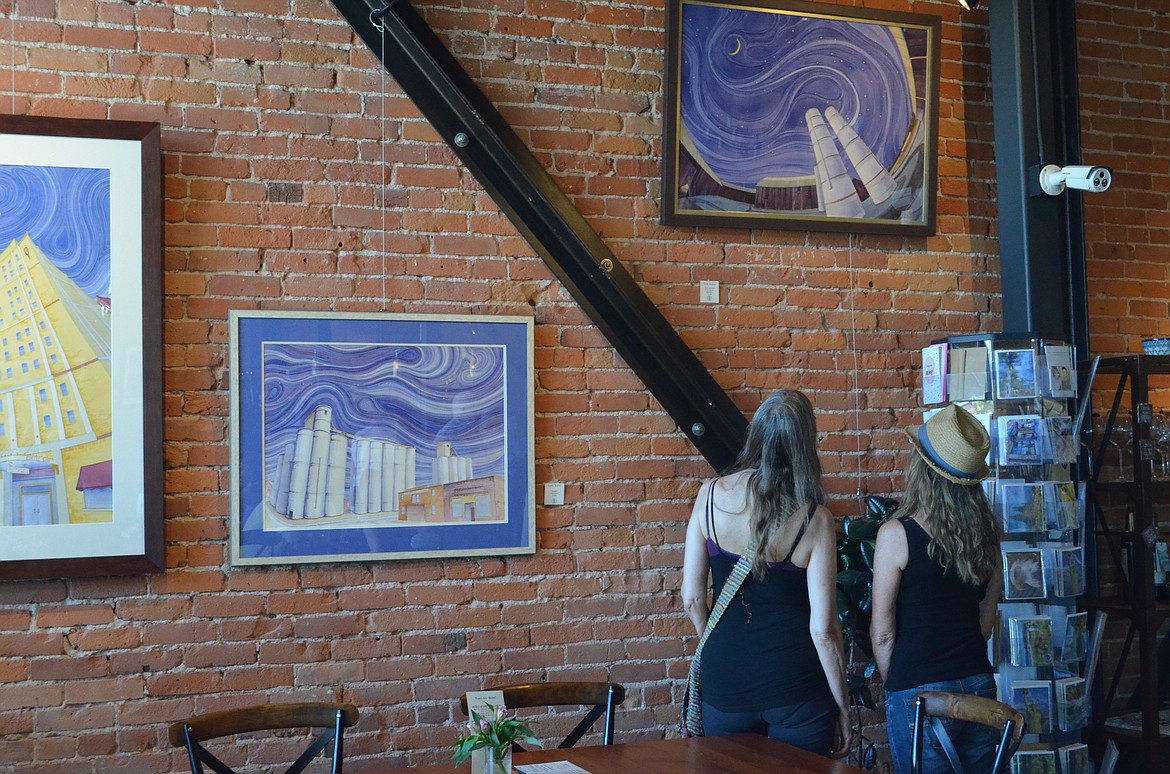 Pend Oreille Arts Council invites the public to attend the opening of the 43rd Annual ArtWalk on Friday, July 10 from 5:30 to 8 p.m. at 34 downtown locations. Come see how the town is transformed into a large art gallery.
(Courtesy photo)
Previous
Next
For over four decades Pend Oreille Arts Council has opened its annual downtown-wide art gallery. It's a time for neighbors to meet neighbors and friends to meet friends all the while enjoying the works of multi-talented local artists.
Showcasing paintings in varied mediums, photography, jewelry and sculptures this event has proven over the years to be a Sandpoint favorite. And, POAC's board of directors is happy to announce that ArtWalk will open on Friday, July 10 with artists' receptions at 34 venues from 5:30 to 8 p.m. Refreshments will be served.
"We thought long and hard about having this event," POAC President Carol Deaner said. "There is a feeling shared by both the city and our board that we could keep ArtWalk on the schedule. It will be mostly outside. People can keep a social distance and still enjoy the art and the social interaction ArtWalk offers."
Deaner also said that hand-sanitizer and masks will be available and attendees will be encouraged use them. Participating businesses will monitor the number of people at their locations to make sure crowds are kept to a minimum.
Pick up a brochure at any of the participating businesses to chart your course for the evening walk. Also grab a passport and enter to win tickets to Pend Oreille Arts Council's 2021 Performing Arts series and dinner for two at Ivano's Ristorante.
Participating businesses are:
• Evan's Brothers Coffee Roasters, 524 Church St., featured artist: Erin Cramer.
• Murphy's, 130 Sixth Ave., featured artists: Tim and Crystal Closson.
• Embodied Virtue, 307 Church Street, featured artist: Savannah Holt.
• Colombia Bank Community Plaza, 231 N 3rd Ave., featuring "Think Spring" collaborative show by POAC artist members: Jenni Barry, Dan Carpenter, Foster Cline, Tom Kramer, Stan Kwiatowski, Mary Maio, Robens Napolitan, Cynthia Oliver, Sandy Piltch, Ed Robinson and Karen Robinson.
• Pend d'Oreille Winery, 301 Cedar Street, featuring artist Jodie Stejer.
• Allstate Insurance: Jason Funk, 301 Cedar Street, Suite 107, featuring artist Doug Fluckiger.
• Nieman's Florral Market, 211 Cedar St., featuring artists Fran Summerday, Catherine Earle, Sohini, and Jody Aslett.
• Eichardt's Pub, 212 Cedar St., featuring artists Kirk Miller and Alison Barrows-Young.
• Idaho Pour Authority, 203 Cedar St., featuring artist Joanne Cannon.
• Vanderford's, 201 Cedar St., featuring artist Lesley Gadsby.
• Pend Oreille Arts Council, 110 Main St., is celebrating their new gallery's grand opening with artwork created by Jeanine Asche, Jenni Barry, Al Bruce, Barry Burges, Lynne Campbell, Clint Crawford, Vickie Edwards, Lesley Gadsby, Beverly Goding, Corrine Jones, Daris Judd, Natalie Koster, Lillian and Pearl Lassen, Lori Moore, Cyndi Morgan, Ellen Pfalzgraff, Karen Robinson, Connie Scherr, Olline Smith, Jean Spinosa, Sarah Taylor and Randy Wilhelm.
• The exhibit at the Music Conservatory at Sandpoint's Little Carnegie Gallery, 110 Main St., is themed "Poetry in Art" with featured artists: Al Bruce, Barry Burgess, Kathleen Cassidy, Tesssema Compton, Kip Folker, Lesley Gadsby, Beverly Golding, Lanie Johnson, Josh Knaggs, Carol Kovalchuk, Tom Kramer, Lillian Lassen, Robens Napolitan, Cynthia Oliver, and Sandy Piltch.
• Realty Plus, 111 Main St. featured artist Mary Levy.
• Lisa V. Fine Art, 109 Main St., featured artist: Lisa V Maus.
• La Chic Boutique, 107 Main St., featured artist Lynn Gardner.
• I Saw Something Shiny, 313 N. 1st Ave., featured artist: Stan Kwiatkowski.
• Hallans Gallery, 323 N. 1st Ave., Dann and Ross Hall. • Baxter's on Cedar, 109 Cedar St., featured artist Carver Kearney.
The following businesses are located on the Cedar Street Bridge, 334 N. 1st Avenue: Gethsemane Oil & Vinegar Shoppe, featured artist Hurley Dean; Carousel Emporium, featured artists Crystal Closson and Mary Gayle Young; Sandpoint Laser Works, featured artist Staci Schubert; Syndicate Tattoo, featured artist Matthew Edwards; Marsha Lutz Photography with featured artist Marsha Lutz.
• Grace & Joy, 102 Cedar St., featured artists Mary Maio and Fran Summerday.
• Azalea, 322 and 324 N. 1st Ave., featured artist Heidi Dinning.
• Outdoor Experience, 314 N. 1st Ave., featured artist Ed Robinson.
• Northwest Handmade, 308 N. 1st Ave., featured artists Pamela Bohn, Merilee Conley, Maria Larson and Lori Moore.
• Zero Point, 226 N. 1st Ave., featured artist Donna Hamblin.
• Art Works Gallery, 214 N. 1st Ave., featured artists: Colleen Auble, Jeff Breaky, Lynne Campbell, Dan Carpenter, Foster Cline, Pat Congleton, Janet Contreras, Susan Dalby, Sally Dennison, Vickie Edwards, Julie Ellis, Susan Gallo, Marek and Lynn Gardner, Tyler Horton, Diane Kinney, Denys Knight, Glenda Kochen, Lisa Lund, Cyndi E. Morgan, Brandon Puckett, Debbie Todd, Beth and Paul Viren, Joanne Walker, Jeff and Leilani Williams, and Debbie Ziesemer.
• TruArt, 212 N. 1st St., Suie 101, featured artist Karen Trueblood.
• Burlwood Dreams, 201 N. 1st Ave., featured artists Cynthia Oliver, Larry Book and Corey Obenauer.
• Monarch Mountain Coffee, 119 N. 1st Ave., featured artist Alison Barrows-Young and Remy Winona.
• Lakeshore Realty North, 116 N. First Ave., featured artists Kyle Flory and Lynne Campbell.
An exhibit called "The Fine Art of Fly Fishing" co-sponsored by Trout Unlimited will be held at the Old Power House, 120 Lake Street. Featured artists include Don Childress, Tessema Compton, Carol Kovalchuk, Cynthia Oliver, Joanie Renkert, Ed Robinson, Karen Robinson and Alex Sutton.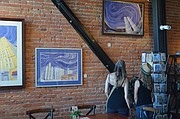 ---