Pandemic hampers Panida finances
by
Susan Drinkard
|
July 5, 2020 1:00 AM
SANDPOINT — Residents and visitors alike love the Panida Theater, the anchor of our downtown, where performers such as the late John Prine, Emmy Lou Harris, Bonnie Raitt, Jesse Colin Young, Taj Mahal, Jerry Jeff Walker, Keb Mo,' Wynton Marsalis, Arlo Guthrie and Joan Baez have livened our lives on the stage of the Panida.
One of the reasons people live here is because of easy access to quality entertainment at the Panida. Just going inside feels as though something special is going to happen, and it usually does.
But now the Panida is in trouble, financial trouble.
The worldwide pandemic has impacted most everything, even the gem that is the hub of downtown Sandpoint.
The Panida staff do not have paying jobs. Director Patricia Walker and Becky Revak, assistant director in charge of programming, are working part-time on a volunteer basis. Walker assuredly said she will remain executive director "until we navigate these waters. It will be with significantly reduced hours but a leader will remain at the helm, she said.
"Yes, things are a bit bleak here. Last year our revenue and donations totaled $20,730 per month. Now I have about $1,012 each month to pay the bills," Walker said.
"The Panida is a cherished icon of downtown. Many people have entered its doors and performed on stage. Without the financial support, the doors could be closed, the stage dark," said Robert Moore, chair of the Panida board.
Walker said the Panida's events drive the success of many other community businesses and restaurants. The tentacles are far reaching. A server at a downtown bar/restaurant depends upon tips to pay her bills, and if the Panida is not open for events, it impacts people like her because people like to enjoy dinner out before a show, she said.
"Our immediate task is to raise $41,350 to bridge the operations gap for the next six months and to bring back staff who have been laid off," Walker wrote in a fundraising letter.
Attendance at the theater events is extremely low, not only because people are staying home, but performers have canceled. Pend Oreille Arts Council has had to cancel scheduled events because paying the performers depends on a full house. "The Nutcracker," a Sandpoint Christmastime favorite, has been canceled, she said.
With the Festival of Sandpoint canceled this year, the Panida won't have the annual $14,000 made through the ice cream booth at the Festival. "We depended on that to get us through the summer," she said. "And beer and wine sales during the shows pay the power bill, which runs $1,700 per month in the winter," she said.
Businesses downtown have already been affected negatively by three successive years of construction, she said, "and when people see the marquee is lit, they think the Panida is doing fine, but that is no longer the case," she said.
Walker said the board recently replaced the rope that holds the lights on stage and that was $600; "it wasn't safe. We had to do it." Still, even if the Panida closed its doors for a few months, as other theaters around the country have done, there is still a "staggering" commercial insurance bill to pay each month, phone, and heat. "Even the lightbulbs are $12 apiece," she said.
The theater is thoroughly sanitized after each event and there are seats roped off for social distancing purposes, Walker said.
After the Scottish party film "Beats" last week at the Panida, a couple from Arizona handed Walker a check for $1,000. "It was so uplifting," she said. "They wanted to support a community theater still in existence. They said, 'They're rare now.'"
Walker said the Panida only breaks even on the movies, so they try to mix it up with concerts. Organizations that rent the Panida help considerably.
If the coronavirus makes attendance at movies and events still offered in upcoming months at the Panida impossible, there are ways to support the theater: Donate any amount; purchase a Panida membership; buy a gift certificate for future use; write to legislators to ensure arts funding is made available.
Walker said the board has cut expenses as much as possible. "We still have store front rentals and patron rentals to help with funding. We have applied for all avenues of assistance available. We are rolling out our Star Member VIPS—Very Important Panida Sustainers—with a goal of 100 (contributors) to sustain and stabilize operating expenses." These memberships are $100 per month or $1,200 per year.
Upcoming events at the Panida include "When God Left the Building," a documentary about the decline of church attendance in America. It begins at 6:30 p.m., Tuesday, July 7. Admission is a donation to the food bank.
"The Dark Knight" film will show at 8 p.m. July 10 and "The Dark Knight Rises" plays at 8 p.m., July 17.
"Comedy 4 A Cause" featuring comedian Richie Minervini is 7:30 p.m., July 18.
"Festival of the Bards," a collection of one-act plays by playwrights from throughout the Inland Northwest, will have three performances--2:30 p.m. and 7:30 p.m., Saturday, August 1 and 2:30 p.m., Sunday, August 2.
Panhandle Playhouse Players' live theater performance of "Clue" is set for 7:30 p.m., August 13, 14, 15 and 3:30 p.m., August 16.
"We are so lucky to have this asset in our community. We have survived many trials and challenges and we will get through this one day at a time, together," Walker said.
To donate to the Panida, go to https://www.panida.org/support
Susan Drinkard writes features for the Daily Bee. She can be reached at susanadiana@icloud.com.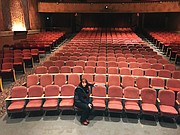 ---