Reptile racer proves to be natural-born engine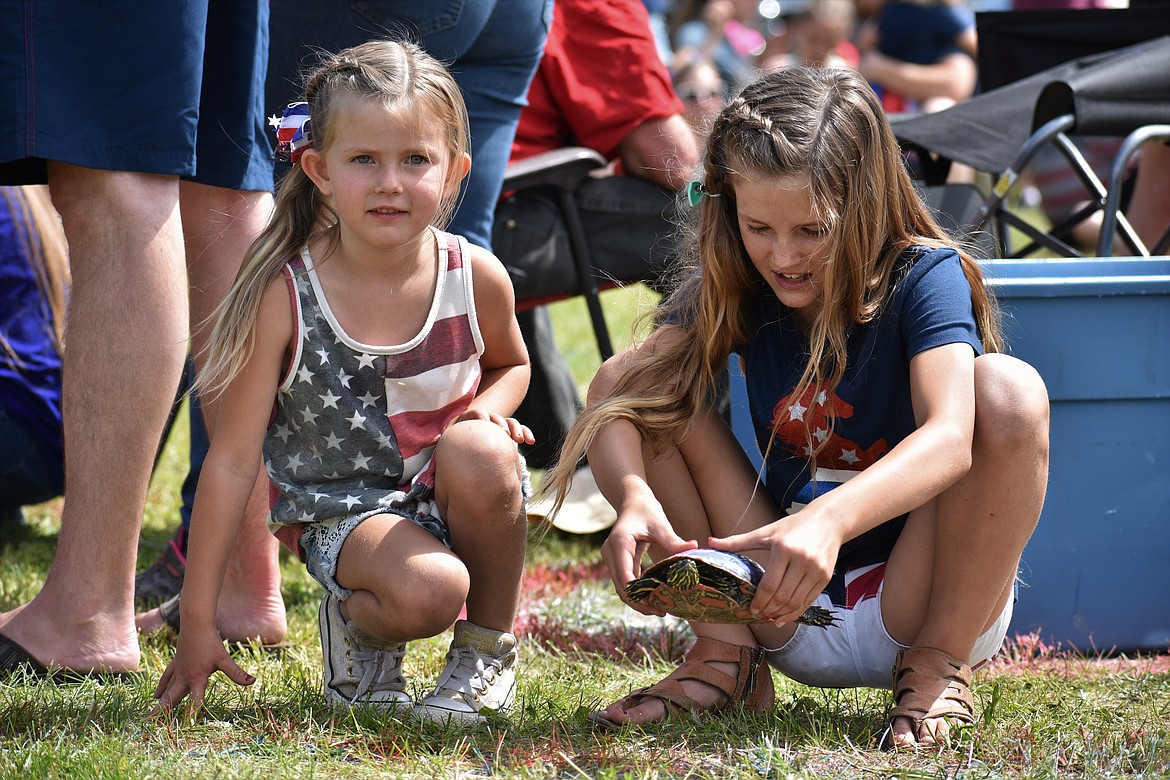 A pair of young girls get ready to release the fastest turtle, V8, during the Clark Fork turtle races Saturday — a fan favorite Fourth of July event.
(Photo by DYLAN GREENE)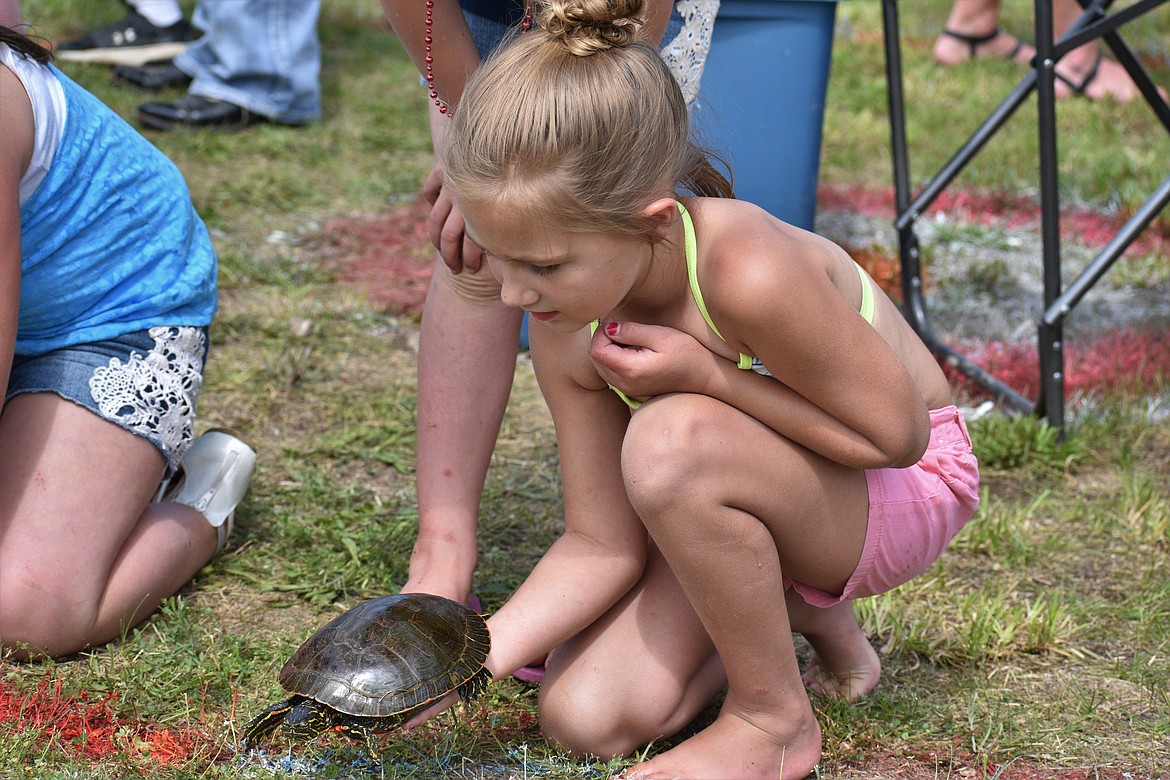 Bria Gors prepares to release her turtle, Tom, during the Clark Fork Fourth of July turtle races on Saturday.
(Photo by DYLAN GREENE)
(Photo by DYLAN GREENE) A youngster begs her turtle to move toward the finish line.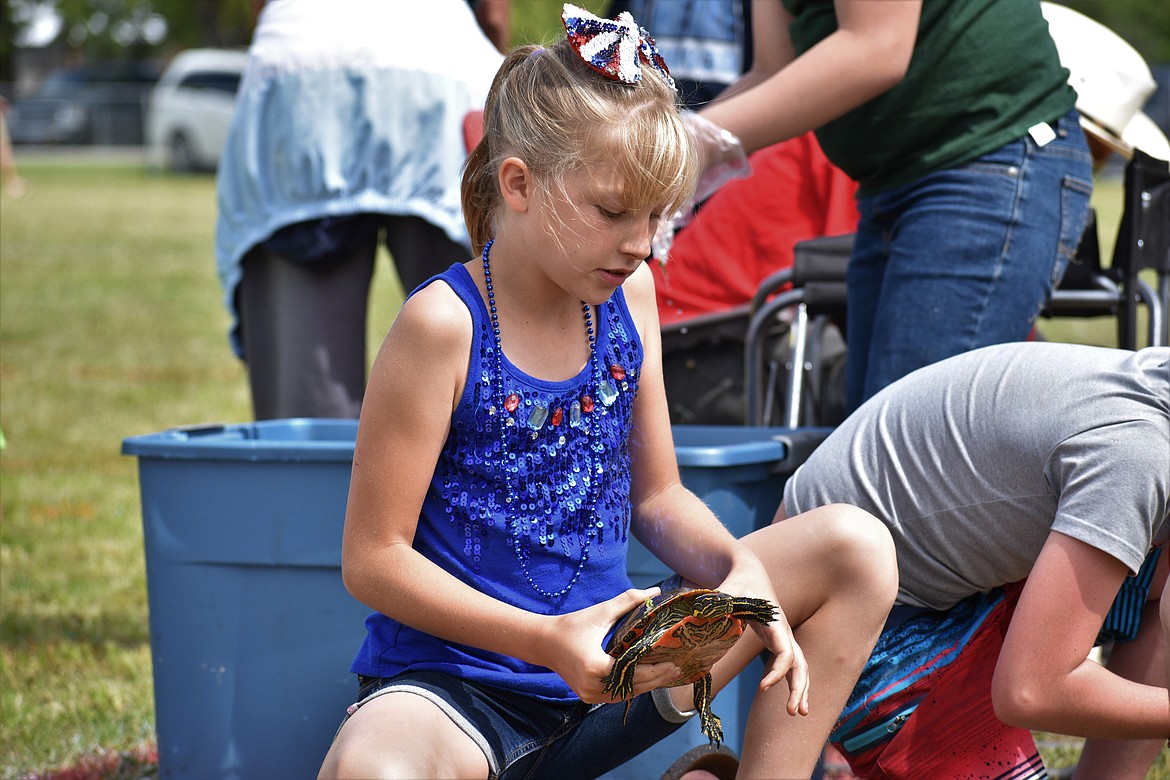 (Photo by DYLAN GREENE) A young girl grabs V8 during the turtle races Saturday.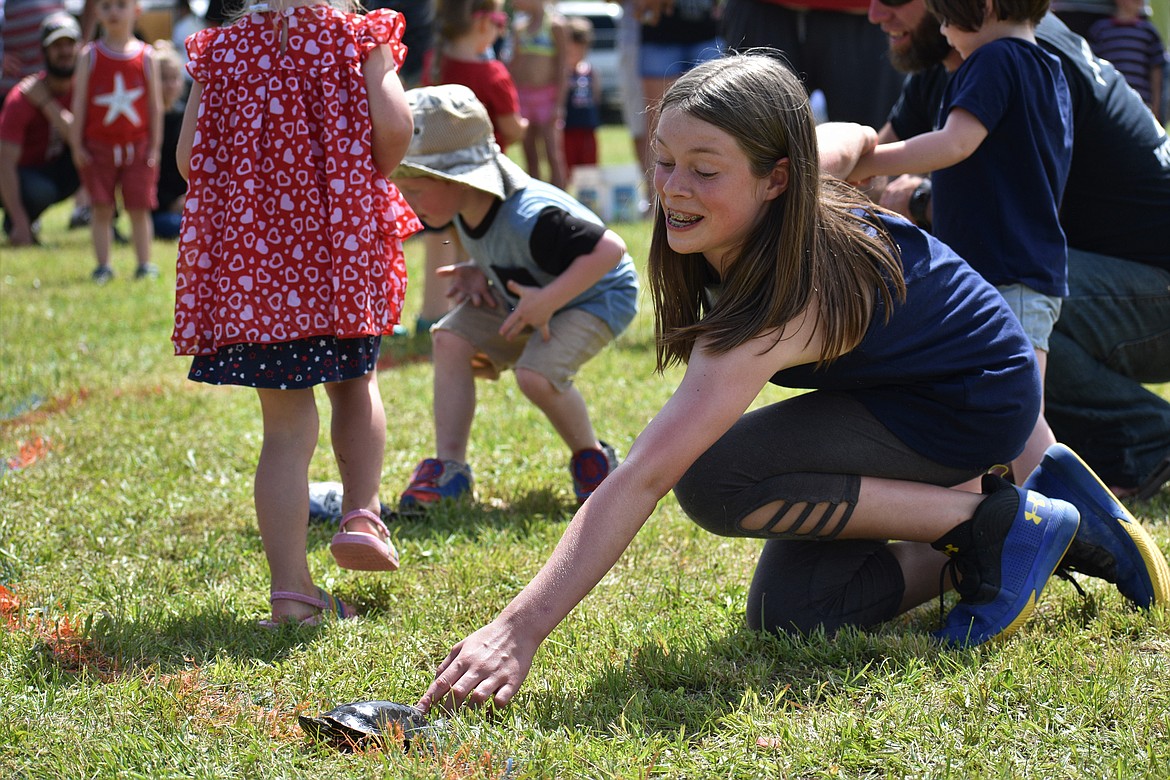 (Photo by DYLAN GREENE) A youngster gets within inches of poking her turtle forward.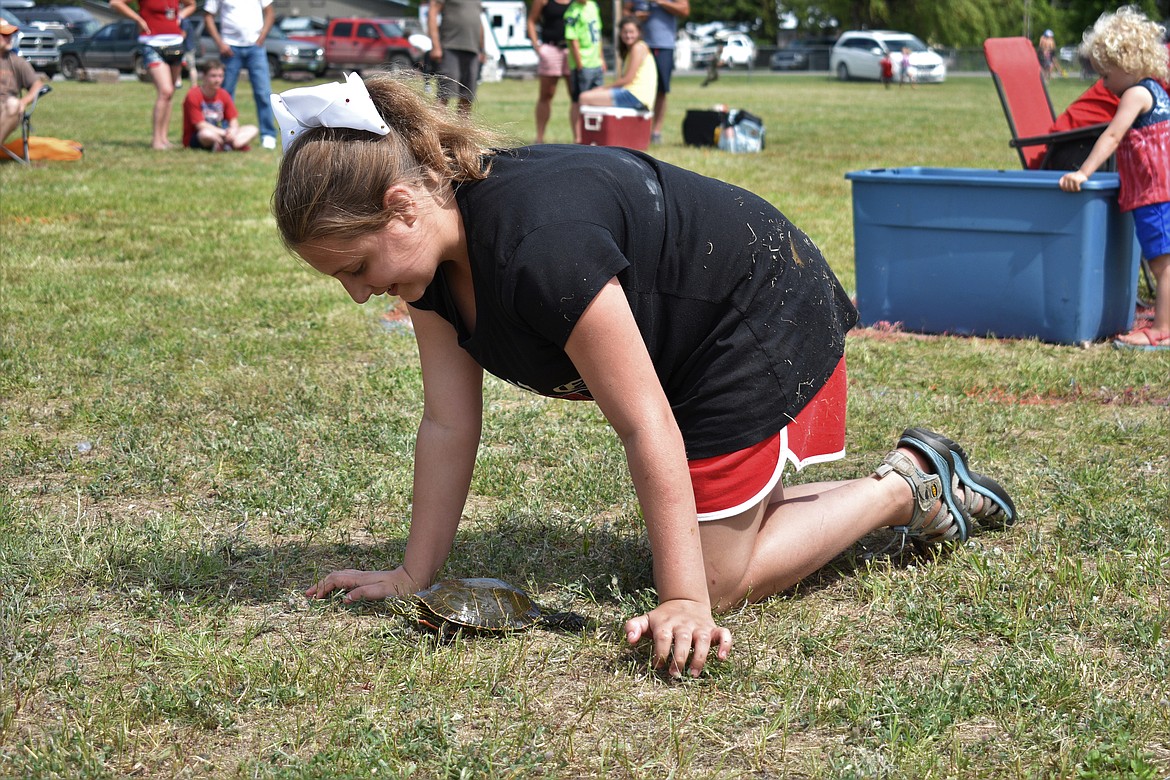 (Photo by DYLAN GREENE) A teenager walks with their turtle and tries to guide them to the finish.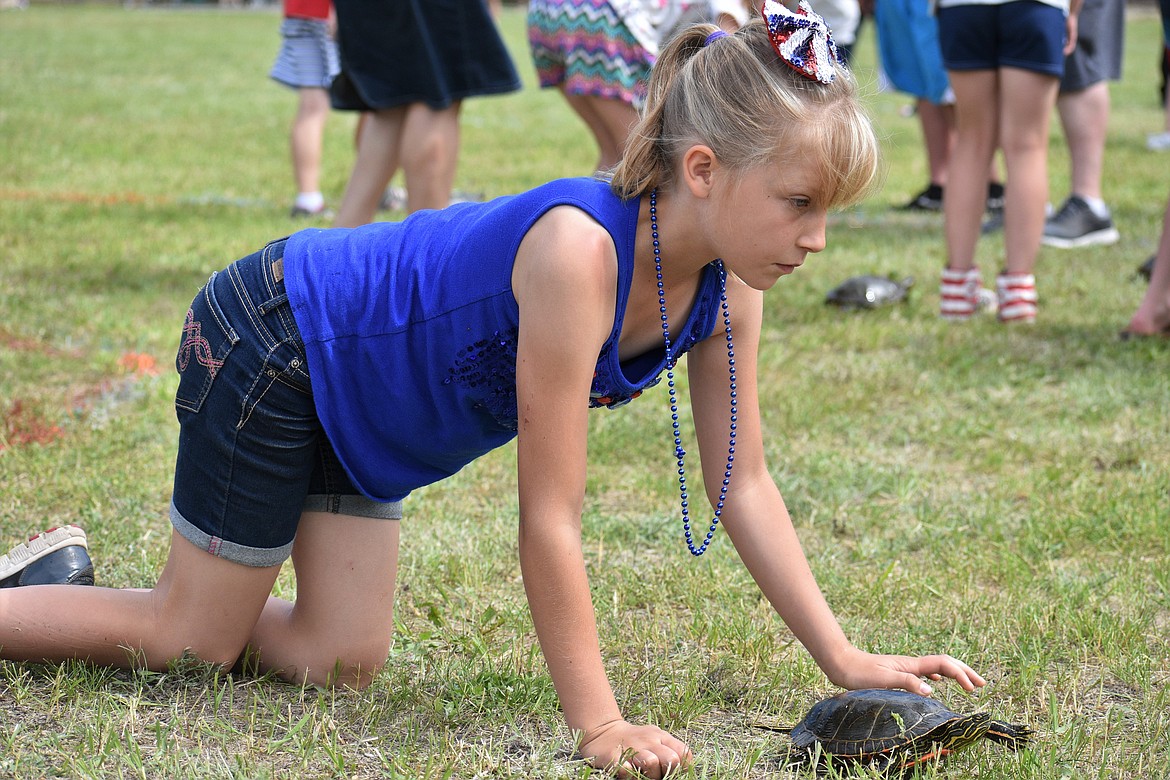 (Photo by DYLAN GREENE) A young girl looks ahead as her turtle nears the finish line.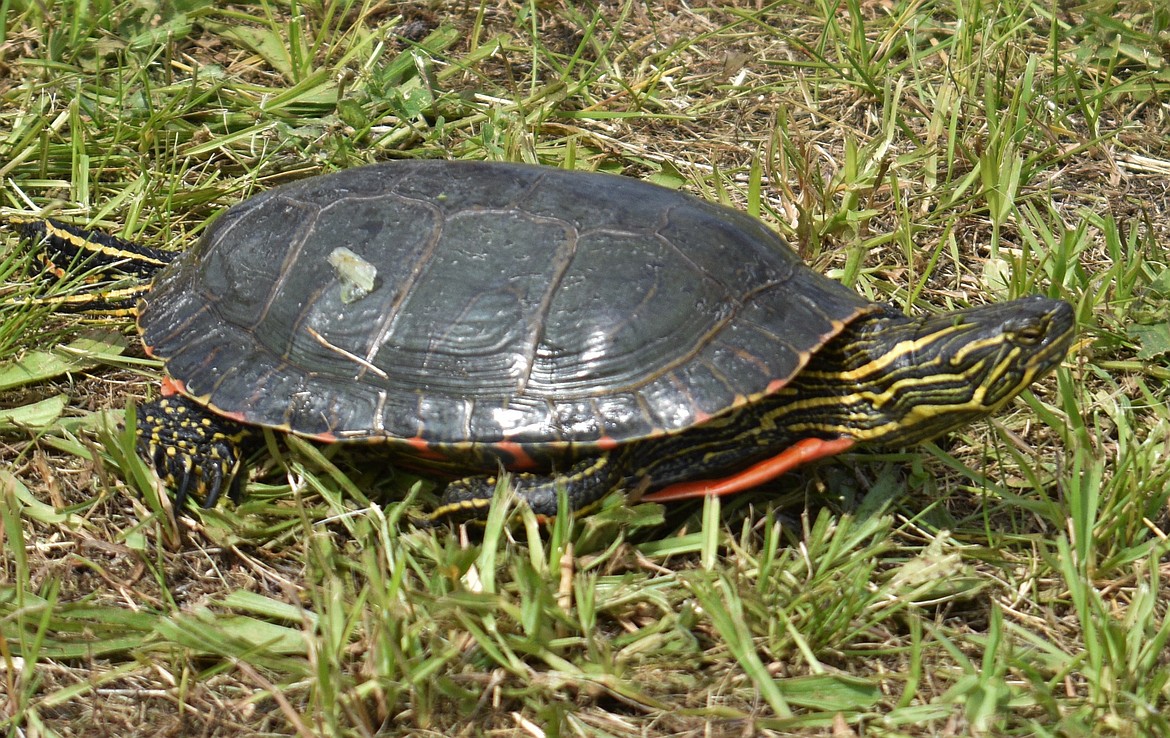 (Photo by DYLAN GREENE) V8 the turtle claimed six of the 12 races.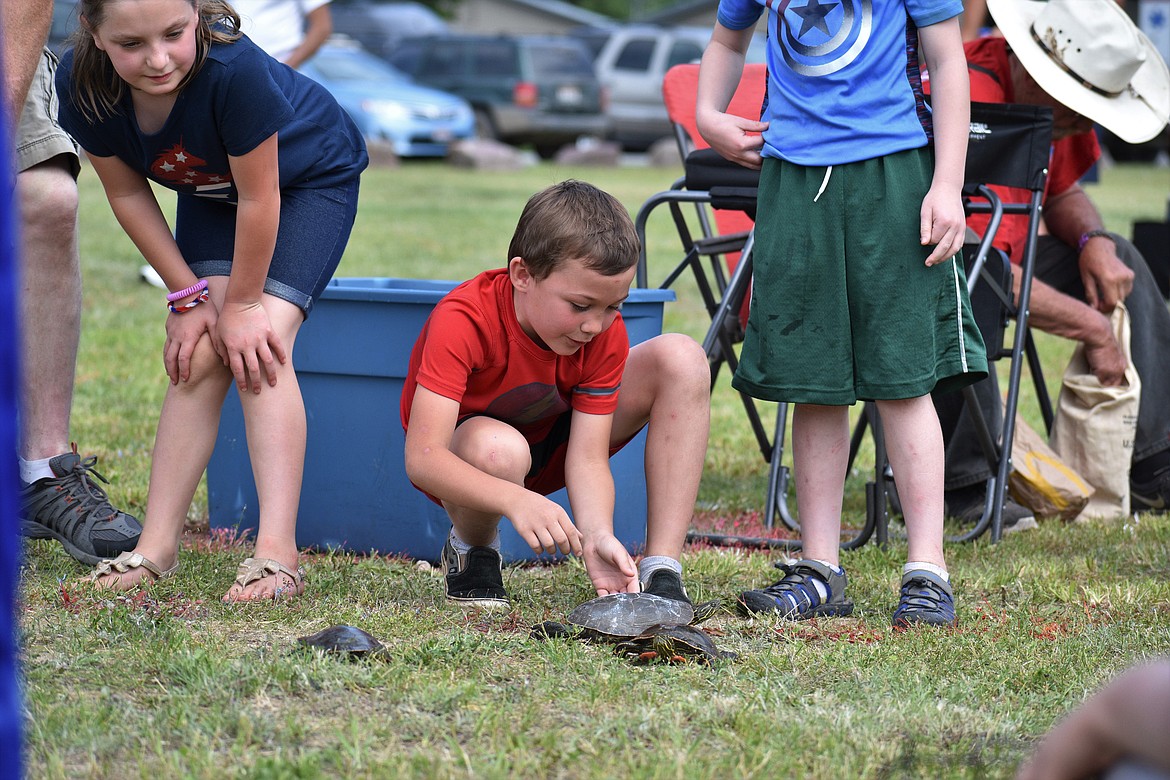 (Photo by DYLAN GREENE) A young boy releases his turtle during the races Saturday.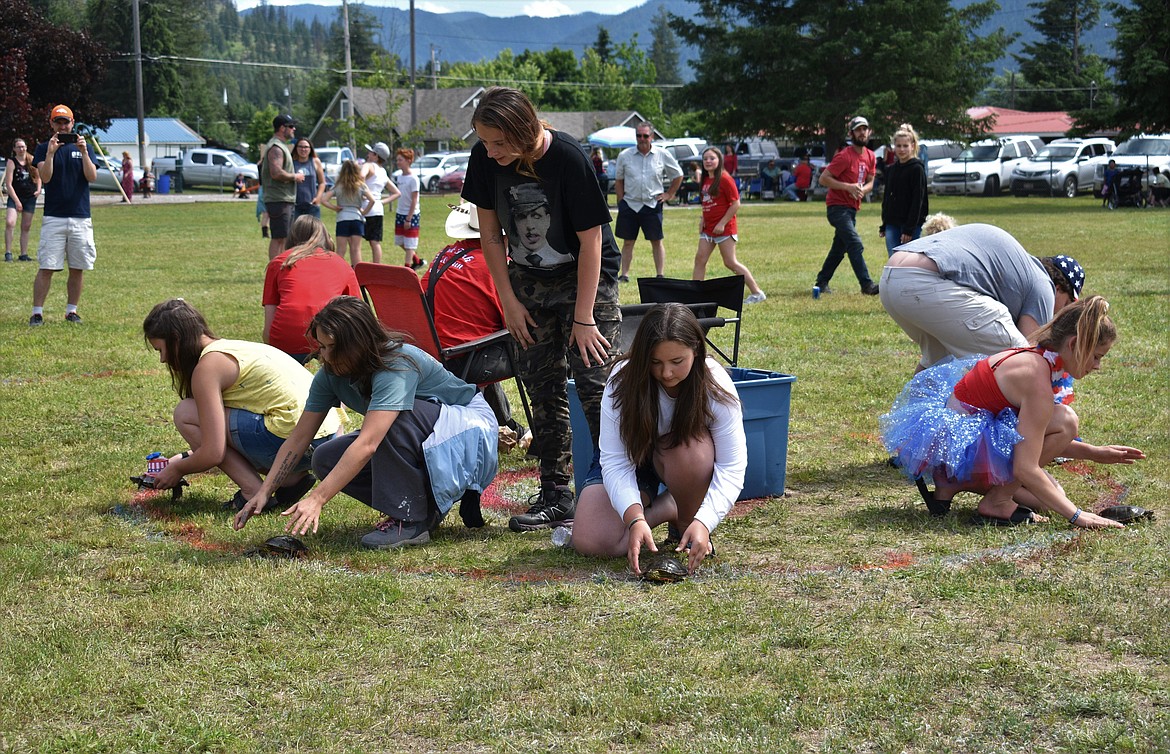 (Photo by DYLAN GREENE) A group of teenagers prepare to release their turtles.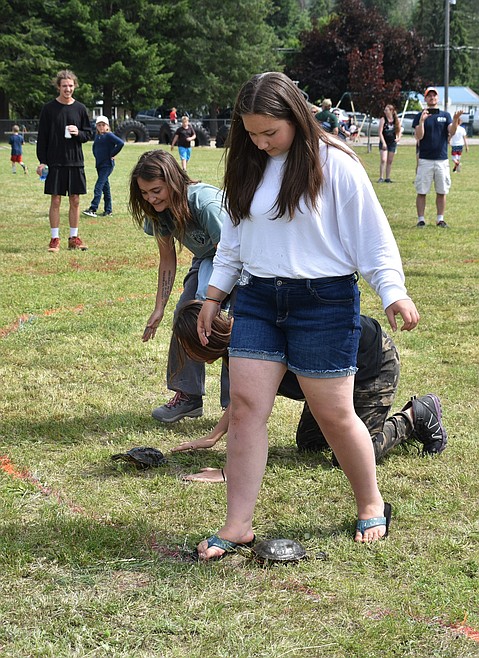 (Photo by DYLAN GREENE) A teenager walks step-by-step with her turtle and guides them toward the finish.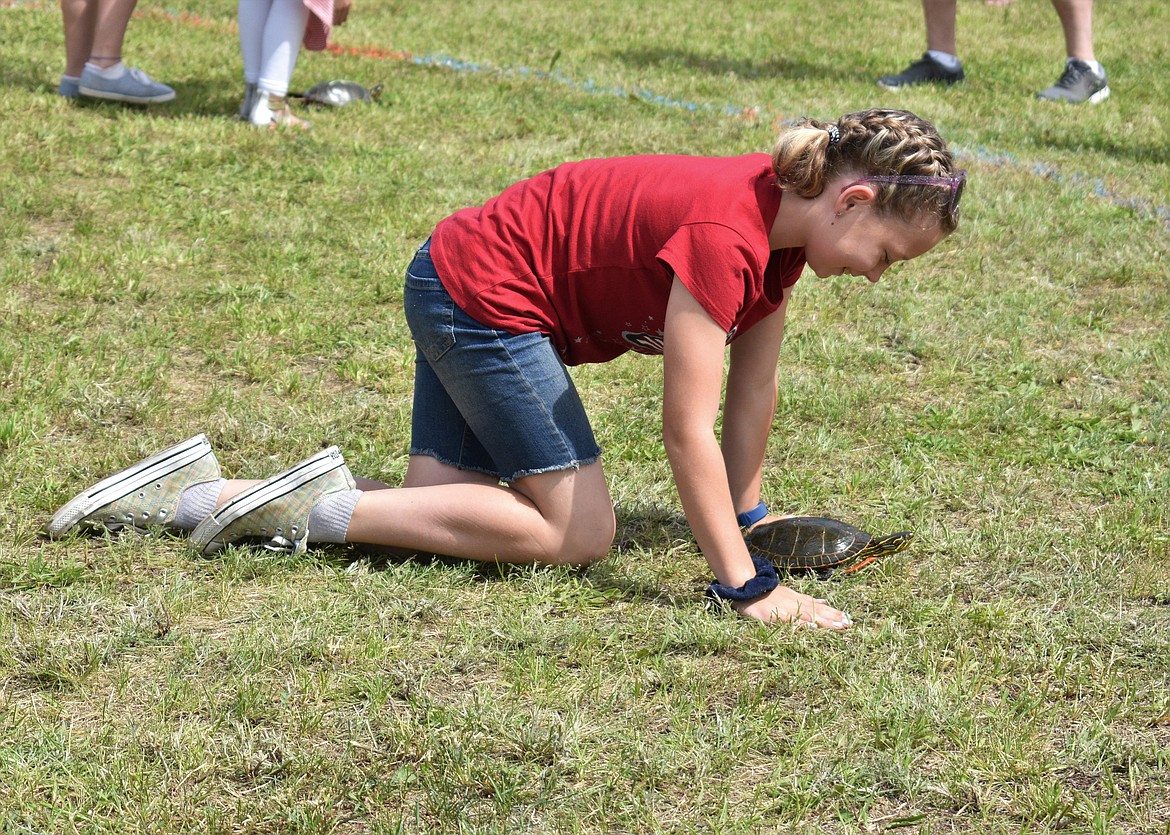 (Photo by DYLAN GREENE) A young girl smiles as she crawls with her turtle toward the finish line.
Previous
Next
by
ALY DE ANGELUS
Staff Writer
|
July 7, 2020 1:00 AM
CLARK FORK — At first glance, it was a traditional Fourth of July celebration. The strong smell of fresh hotdogs and fireworks smoke swirled around a crowd of revelers in Veterans Memorial Park.
But underneath the red, white and blue haze, there existed a more relatable story — one man's pursuit for the American dream.
"Am I too old for this?" asked Jay Graham. "Is it like playing dodgeball with little kids, am I going to feel weird?"
Graham's wife grew up in North Idaho and convinced him to attend Clark Fork's Fourth of July festivities. Less than an hour before events began, Graham learned about the sport of turtle racing.
Though he was willfully underprepared, turtle-less, and above-the-age limit for a kid's 12-and-under competition, Graham was determined to compete.
"I was so sad I didn't have a turtle and then my family just ran one over to me," Graham said. His turtle, V8, was found on the side of the road minutes before the referee called contestants to the circle. He named his turtle after the infamous V8 engine, and then placed him on the ground for a quick test run.
"He's fast," Graham said. "We just did a trial run against that one, all revved up."
Graham was pointing to Tom the Turtle, who Bria Gors had entered in the race. Gors caught Tom the night before the competition in Denton Slough's waters with her mom and dad.
Tom is about 5-years-old and got his name after one of Gors' favorite YouTube channel cartoon characters, "Talking Tom."
According to her, Tom is a self-starter. With complete faith in Tom's speed, Gors' coaching style was less hands-on and more to do with emotional support and encouragement.
"I'll just chase it," she said. "He's a fast turtle."
Nevertheless, Graham remained confident in V8. One competitor displayed great sportsmanship by sharing his water tank to keep V8 fully hydrated and refreshed for the main event.
Many of the participating turtles belonged to the event organizers and were borrowed for a small fee, but Lucky, a fully-domesticated turtle, was rescued two years ago after surviving a car accident on the road by Denton Slough. Though Lucky has a chipped shell, her handicap has never held her back from becoming a tough and tenacious competitor.
"We are going to keep her in the tank, get her riled up and walk by her so she doesn't run away," said Harmonie Johnson, a 6-year-old who entered Lucky in the race for a friend. "One of us is going to be right there (points to her left side), one of us is going to be right here (points to her right side) and we are just going to make a wall."
Lucky didn't get to go for a trial run, Johnson said, because she gets all riled up when she is taken out of the water and petted. Johnson did, however, get well acquainted surrounding competitors. Rexy was practicing next to Lucky and had a team of coaches giving him belly scratches, but she didn't fear the competition.
She and all of the competitors were eyeing the grand prize — $1.
"You'll see when he crosses the finish line," Graham said. The other turtle racers grabbed their turtles out of the tanks, with beads of sweat lining their sharp jaws and shimmering on their glossy shells.
"1-year-olds, 1-year-olds line up to compete," called the referee. But, Graham was slightly above the age bracket. So, he did what any sensible competitor would do — he borrowed people's kids.
One after one, turtles and competitors lined up in the arena, where a larger circle and a smaller circle was spray painted in the grass. The rules were simple: You must hold the turtle before releasing it into the grass on count and you must not touch the turtle once it is released until it crosses the finish line.
"You've got to touch your turtle if you want to race him," the referee said. "You've got to give him some love."
"I can't hold him," one competitor said as her turtle began to wiggle out of her hands.
The in-game strategy was extensive and progressed with each age group. At 10-years-old, competitors were clapping behind their turtle and at 11-years-old they were stomping and crawling on their knees. The most unique strategy was by a female participant who persuaded, and succeeded, in navigating her turtle to the finish line by holding a cage for her athlete to crawl into. As the saying goes, it was a home run.
There were many upsets, as Lucky, Tom and Rexy did not place in the top three of their age bracket, but V8 entered all races with a different coach and won six out of the 12 competitions.
Baffled by his determination and physical capabilities, the referee even allowed V8 to take a victory lap.
And true to the theme on Independence Day, Graham celebrated his new friend's talents and liberties.
"Be free V8!" Graham shouted. "Be free!"
V8, along with Tom, was released back into the wild after the competition. Gors already owns four guinea pigs, two dogs, three cats and 15 fish, so her house was too full to take care of another animal long-term.
And V8 was a true wild westerner, one who belonged to the great outdoors.
---