Rise in COVID-19 cases puts an end to Lakers season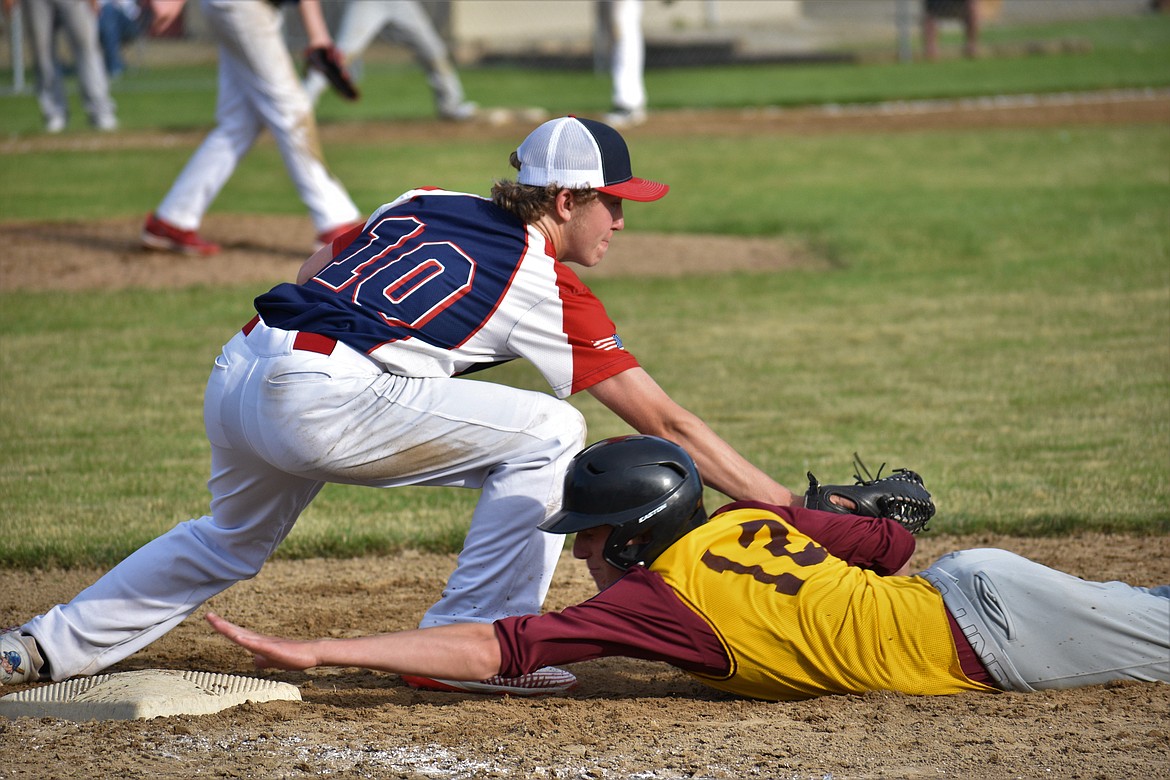 North Idaho Lakers 16U player Jack Zimmerman (left) attempts to tag a Silver Valley runner reaching for first base during the second game of a doubleheader last Wednesday at Pine Street Field.
(Photo by DYLAN GREENE)
by
DYLAN GREENE
Sports Editor
|
July 14, 2020 1:00 AM
SANDPOINT — Just when it looked like the North Idaho Lakers were going to finish out a condensed season, it was ripped away.
On Sunday night, a memo from Ken Oler, former Lakers head coach and general manager, was sent out to every American Legion baseball team in Area A (North Idaho) informing them that the season had been canceled due to the recent surge in COVID-19 cases in the Panhandle.
Abe Abrahamson, chairman of Idaho American Legion baseball, told the Lewiston Tribune on Sunday that an unknown number of players on Area A teams tested positive for COVID-19, but didn't clarify what teams they were on.
North Idaho Lakers General Manager KC MacDonald said none of the players on the Class A (19U) or Class B (16U) teams tested positive and he had a feeling this move was coming after emails from concerned Legion officials started circulating late last week.
"We knew that any day this thing could fall over and be done," MacDonald said.
Despite the season being shut down in North Idaho, several teams in the area — including the Coeur d'Alene Lumbermen — are still planning on playing for the next few weeks as independents outside of the Legion umbrella.
MacDonald said the Lakers don't have insurance to compete independently but he reached out to the American Legion board on Monday morning to see if the program could play a few games with Bonners Ferry to get the kids some more playing time this season. Unfortunately, MacDonald's request was denied and now the season is officially over.
"It seems like everyone else is going to try and continue so I gave it a shot," he said.
MacDonald informed the players of the decision Monday morning.
"Overwhelmingly, the kids and families wanted to keep playing," he said.
MacDonald is the head coach of the 16U team and said his players were just starting to gel.
"They were pretty stoked," he said. "Things were coming together and the kids were looking really good."
In May, it looked like a season may not even be possible for the Lakers, but MacDonald navigated all the hurdles to ensure seniors such as Sandpoint's Ethan Edlund and Priest River's Jantzen Lucas got one last chance to compete after the high school season was lost.
After every game, MacDonald reminded his players that having the opportunity to play a competitive baseball game was a gift not everyone was afforded this summer.
"We just felt lucky that we got to be on a field," he said. "We got some games which a few months ago, some games was almost impossible."
Typically, the kids participating in Legion baseball are fresh off a high school or Little League season. This year was much different though, and MacDonald and the rest of the coaches had to ease the kids back into playing baseball on a regular basis.
"What I'm really surprised by is that [the players] had zero games in the spring and how fast they got back into it," he said. "These kids really did accelerate quicker than I would have expected."
MacDonald said his team talked about making it to state but it wasn't their main focus. The kids just wanted to get better every day and he saw that in practice.
MacDonald pointed to Jack Ringer as being the Lakers most consistent 16U pitcher this season and said Zach and Alex Leverich, who joined the team late, helped save their season.
"Honestly, I could say something great about every single kid," he said.
One thing that MacDonald loved about the uncertain season was the ending of doubleheaders. Instead of shaking hands after the series, the two teams would line the first-and-third-base lines and clap and tip their caps to one another. MacDonald hopes the postgame gesture becomes a tradition.
MacDonald thanked 16U assistant coach Tom Riley and 19U coaches Josh Edlund, Brian Riley and Shane Brackett for their dedication to making the shortened season possible.
The 16U team finishes with a 5-9 record and the 19U squad went 2-10.
In his first year as the Lakers general manager, MacDonald said at times it was a nightmare navigating the health regulations and trying to schedule games, but he does it all for the kids.
"If it's like this every year, there's no way a guy sticks around," he joked.
---