Helen Hope Dixon, 86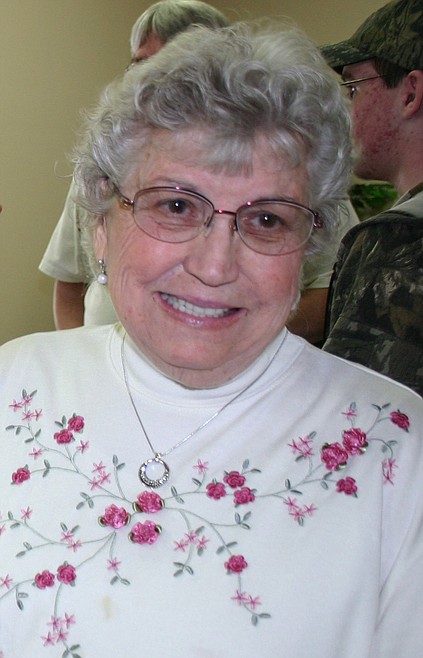 Helen Hope Dixon, 86, Sandpoint, Idaho, passed into the waiting arms of Jesus on July 17, 2020, at the home of her family in Sagle, Idaho.
Graveside service will be held at 10 a.m., July 25, 2020, at Seneacquoteen Cemetery, with the Rev. Barry Johnson of New Song Bible Church officiating. Lunch will be provided at the home of Valerie Hester, 289 Old Highway 95, Sagle, following the graveside service. All family and friends are welcome to attend both.
Helen Hope (Briery) Dixon was born in Carthage, Panola County, Texas to George Gardner Briery and Effie Mae (Graves) Briery on Easter Sunday, April 1, 1934.
Helen graduated from Carthage High School in 1951. She married Robert "Bob" William Dixon on June 2, 1952, in Harris, Texas.
She attended nursing school becoming a registered licensed practical nurse working at Mercy Hospital. She worked for Dr. Siemsen, in Sandpoint and for over 30 years was the night head charge nurse at The Manor (now Valley Vista) in Sandpoint.
She sang on the Baptist Radio Hour in Houston before meeting Bob, who was stationed there in the Air Force. She enjoyed any activity with her family, motorcycling, bowling, and drives down country roads. After she retired she volunteered for several years at Bonner General Hospital as an Auxiliary member working the front entry desk.
Helen is preceded in death by her husband, Robert William Dixon; her mother, Effie Mae Briery; and father George Gardner Briery; and by, 6 brothers and 2 sisters.
Helen is survived by siblings: Gene Autry Briery, of Tyler, Texas; George Milton Briery and Dianne Briery of Jacksonville, FL; Bonnie Mae (Briery) Williams and Bud Williams of Tyler, Texas; and her children, W. Keith Dixon and Patti Dixon of Sandpoint, Idaho; Joel C. Dixon of Athol, Idaho; Valerie Hester of Sagle, Idaho; Deianira S. Kincaid and Ed Kincaid of Kennewick, Washington; Victoria A. Dixon of Boise, Idaho; J. Kevin Dixon and Kymberly Dixon of Kootenai, Idaho. Over 50 grandchildren, great- and great-great-grandchildren. Her family was the most precious thing in life to her. She sent birthday cards to over 62 family members every year.
Memorials may be made to her favorite charity St. Luke's Children Hospital, in lieu of flowers, to www.stlukeshospital.com/donate
The family wishes to extend our sincere thanks to Bonner General Hospice, New Song Bible Church and Cocolalla Cowboy Church for their love and support.
Family and friends are invited to sign Helen's online guest book at www.coffeltfuneral.com.
Arrangements are under the care of Coffelt Funeral Service of Sandpoint.
---