Crowd unhappy after mandate is approved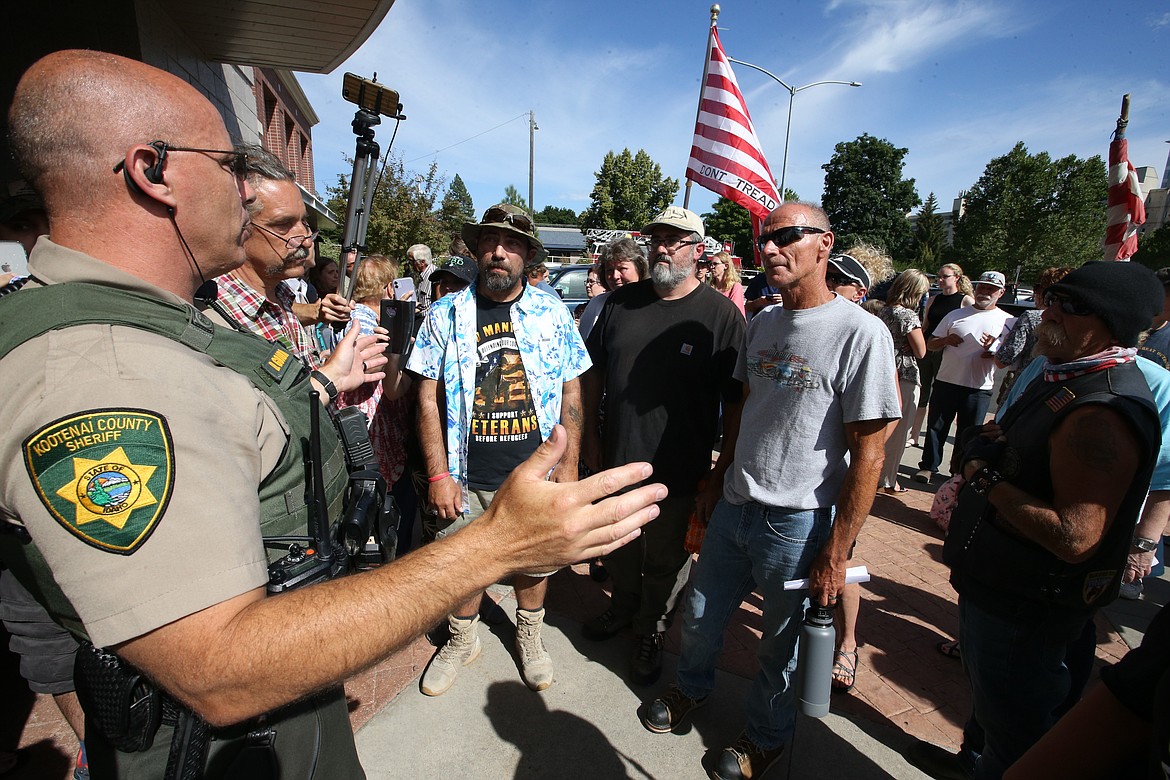 Kootenai County Sheriff's Deputy Doug Goodman spoke to the crowd after the mandate was approved.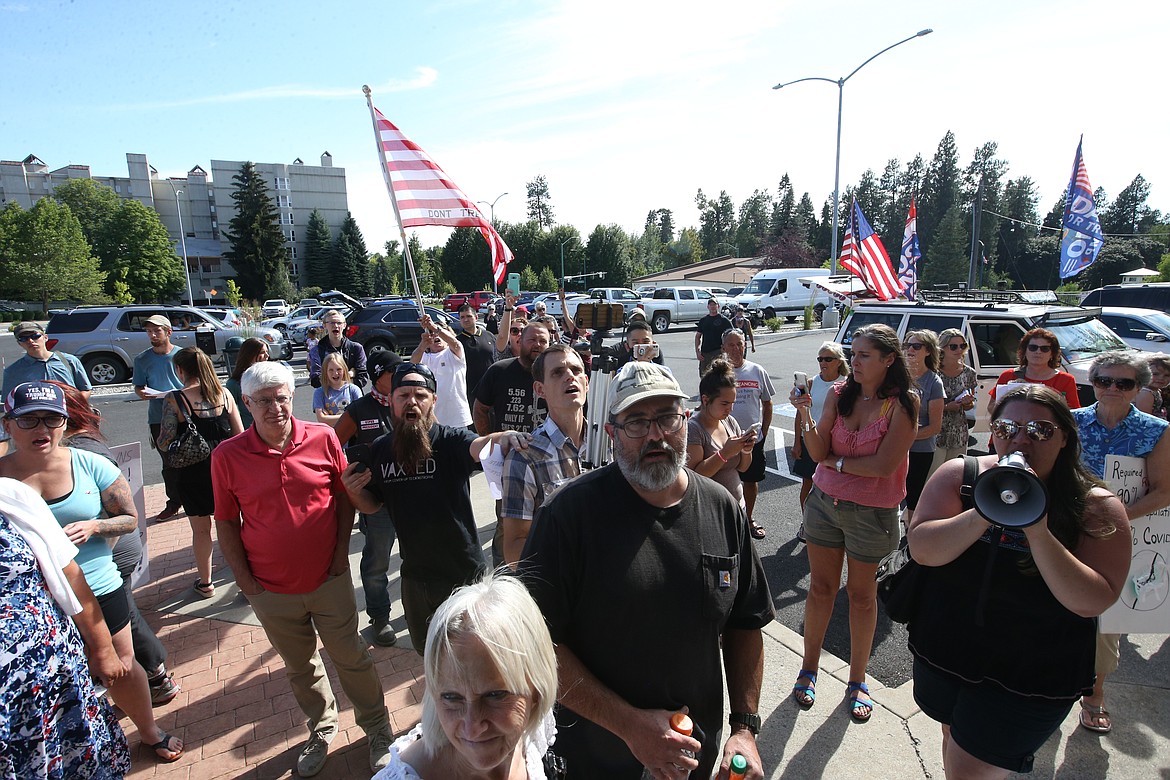 People react to the Panhandle Health District board's decision to approve a mask mandate for Kootenai County on Thursday.
BILL BULEY/Press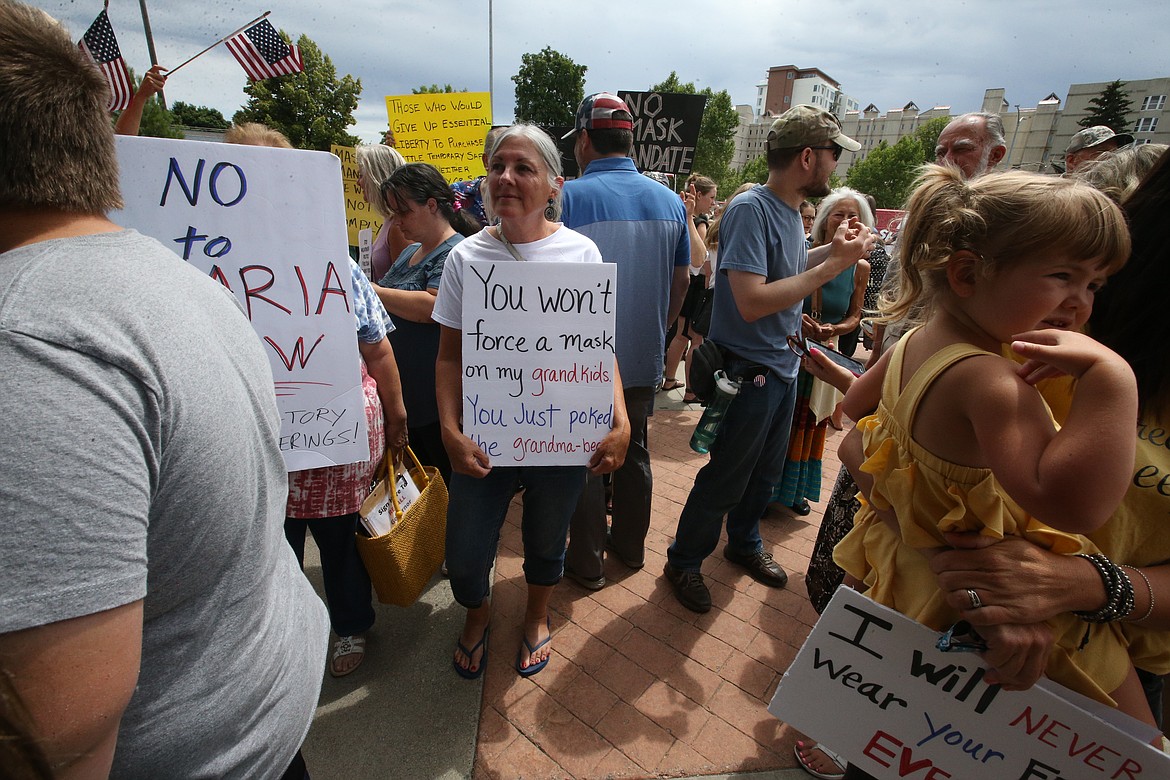 Bill Buley/Press Linda Clark of Rathdrum stands in the middle of the crowd Thursday outside the PHD board meeting.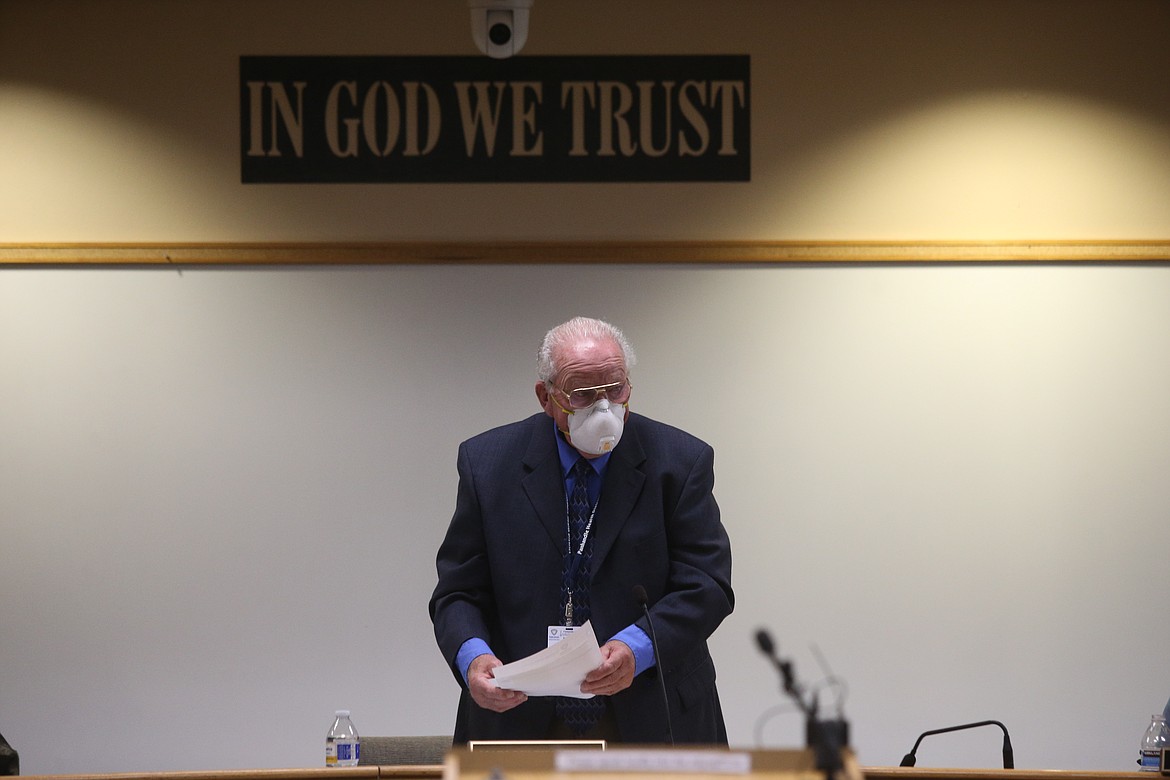 Marlow Thompson, Panhandle Health District board member, prepares for Thursday's meeting.
BILL BULEY/Press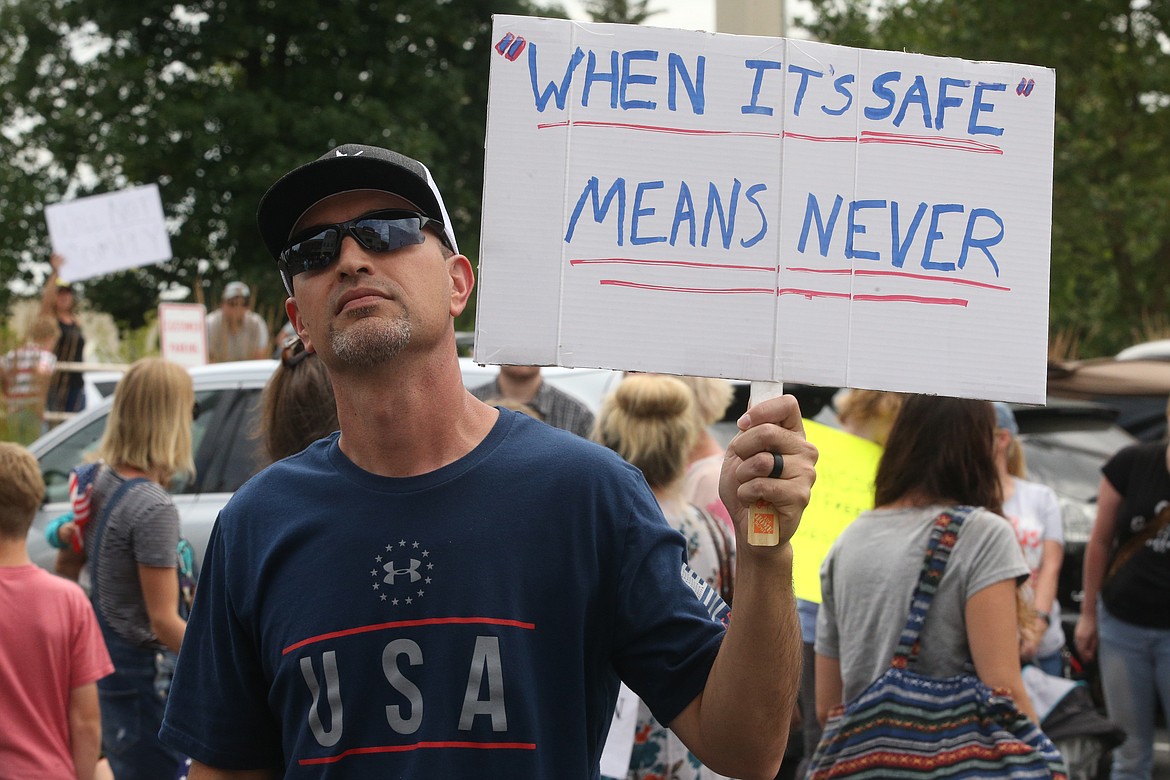 BILL BULEY/Press Steve Kellerhals holds a sign outside the Panhandle Health District board meeting on Thursday.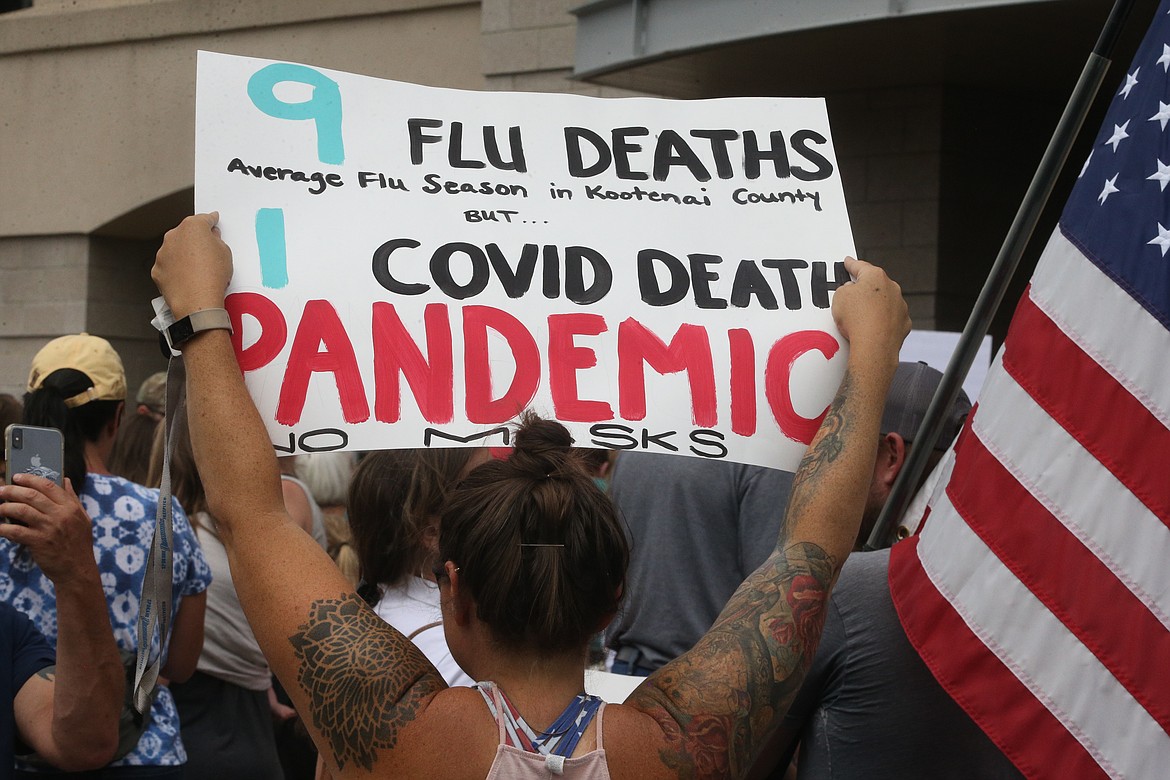 BILL BULEY/Press A protester rallies outside the Kootenai County administration building before the PHD approved a mask mandate for the county on Thursday.
Previous
Next
by
BILL BULEY
Hagadone News Network
|
July 24, 2020 7:24 AM
COEUR d'ALENE — Shortly after the Panhandle Health District's board approved a mask mandate on Thursday for Kootenai County to try to prevent the spread of the coronavirus, Deputy Doug Goodman faced a small, but visibly upset crowd.
"Remember this, guys. At the end of the day, we all have elected officials," he said outside the county administration building.
As he began to continue to speak, some started to shout over him, prompting one to yell, "Let the man finish."
They did.
"You guys have legal challenges you can follow up on. You can go through the courts. You can do recall. You can do impeachment proceedings. You guys have all of those avenues," Goodman said.
With the group of about 30 standing and listening, he credited them for being "really cool today," and with good behavior at Friday's anti-mask rally outside the PHD building and during the recent Black Lives Matter protests.
"Do me a favor, I don't want us to look like the guys from these other areas that are totally out of control," Goodman said. "I have no problem with you guys voicing opinions. This is the criteria. We can't damage property."
That prompted a man to say, "Don't talk to us like we're out of control. They are," he said in reference to the PHD board.
Goodman called for calm.
He added that Kootenai County Sheriff Ben Wolfinger had already indicated enforcement of a mask mandate would be a low priority, as he doesn't have the manpower to enforce it.
"I know everybody here is disappointed," Goodman said. "You guys have a right to be heard. You guys can do your protest and everything as long as you keep it within reason."
Some remained upset.
Dawn Pratt, stepping closer to Goodman and raising her voice and pointing toward him, said her kids could be harmed by being forced to wear masks when they return to school.
"I'm mad, I'm angry," she yelled. "Oh, I'm angry."
One woman, who declined to give her name, spoke up with a megaphone.
"Guys, we have to not comply," she told the crowd. "Do not be afraid, do not comply. Get them to ticket you. These guys said they're not going to enforce this so we have to call them on what they told us."
The woman urged the people to get organized, get involved and unite.
"Do not comply. This is not over," she added.
At one point, a chant of "We will not comply" was repeated.
Donald Adams called the board's vote to approve a mask mandate for Kootenai County "outrageous."
"They didn't give us a voice and we will not comply to that," he said.
Mike Quattrocchi of Hayden said, "it's absolutely ridiculous."
"You cannot force us to wear a garment," he said.
He said studies have shown that masks trap bacteria that you breathe in, and were dangerous, not helpful, to health.
"We are not going to wear them," he said.
A man who said his name was Viper questioned the PHD board's authority to pass a countywide mask mandate.
"If you're not authorized to mandate law, we're not going to roll with it," he said.
When the meeting started about 12:30 p.m., about 500 people had rallied outside in protest. Many carried signs that stated their opposition to masks and some held flags. There were children along with adults and for a time, people sang and prayed.
Steve Kellerhals said while he respected people who choose to wear a mask, he was against being forced to do so.
"I disagree with it vehemently," he said.
Linda Clark of Rathdrum stood in the middle of the crowd with a sign that read, "You won't force a mask on my grandkids. You just poked the grandma-bear."
She opposed the mandate, "because I care about my grandkids. Once they take our freedoms away, they're not going to be returned."
Her daughter, Jamie Clark of Hayden, held daughter Emme in her arm. She said she respected those who wear masks, but opposed her 5-year-old child being forced to mask up.
"It's just not OK," she said. "I can't go along with that at all."
Jamie Clark feared her teenage son could be confronted by adults if he ventures outside without a mask, and worries the mandate will turn neighbor against neighbor.
"It's sad," she said. "This is Coeur d'Alene. We weren't like this."
---