Senior Spotlight: 'He's the type of kid you want to keep around forever'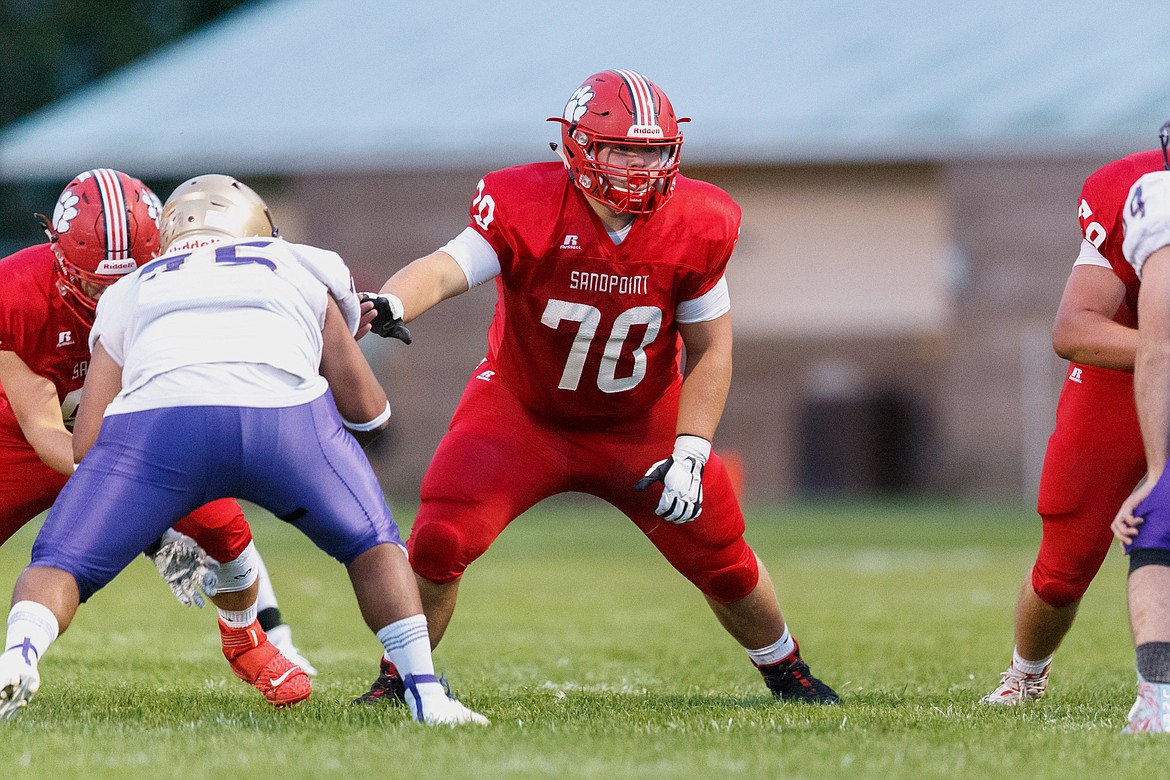 Connor Hutchings grew up in Syracuse, New York, where lacrosse is king but he didn't join a lacrosse team until he got to Sandpoint. Hutchings is heading to Whitworth University to play football and SHS offensive line coach George Yarno Jr. expects him to play early and often.
(Photo courtesy of JASON DUCHOW PHOTOGRAPHY)
by
DYLAN GREENE
Sports Editor
|
July 31, 2020 1:00 AM
Editor's note: This article is part of a recurring series on local high school athletes who had their seasons cut short or canceled due to the coronavirus pandemic.
SANDPOINT — Some would call what happened to Connor Hutchings fate.
Prior to his eighth grade year, Connor and his family moved from Syracuse, New York, to Sandpoint. That winter, he and his family went skiing at Schweitzer and as they were taking off their boots and packing up the car to head home, a man approached them. It was Tom Whalen, the head coach of the Sandpoint Lacrosse Club at the time.
Whalen looked at Connor and asked him if he had ever thought about playing lacrosse. Connor grew up playing lacrosse in the back yard, but he had never been a part of a team. From that moment on a spark was lit, not only in Connor, but his parents who convinced their son to join the lacrosse team. And he hasn't stopped since.
"I tried it out and I absolutely loved it," Connor said.
It was as if the interaction that day was meant to happen. Ken Hutchings, Connor's dad and current SHS lacrosse head coach, admitted that if they hadn't crossed paths with Whalen that day, Connor may have never joined the team and he probably wouldn't have become the head coach. Talk about destiny.
"I wouldn't have even thought about playing lacrosse if we hadn't talked to the coach," Connor said. "I didn't even know [Sandpoint] had it."
Lacrosse runs deep in the history of the Hutchings family. Ken was raised in a suburb just outside of Syracuse where lacrosse is king. After graduating from college, Ken joined a men's open lacrosse team in the early 90s' with a handful of friends. He played on the team for five years and the squad played in a league that consisted of colleges in the area, including Syracuse University and John Hopkins University, and the Iroquois national lacrosse team. Ken said his team won the league championship one year by beating some of the best lacrosse teams in the country and arguably the world.
A couple of Connor's cousins have also seen success at the collegiate lacrosse level with one playing at Syracuse and another playing for Division II Le Moyne College.
The point is, if you grew up in New York you were likely born with a lacrosse stick in your hands. Ken was and so was Connor. But the family did a lot of traveling when the SHS grad was growing up and missed out on getting Connor involved in the sport at a young age.
"We have pictures of him in a diaper dragging my lacrosse stick around, so he was exposed to lacrosse his whole life," Ken said about Connor.
Ken is just thankful that Connor got a chance to play lacrosse in Sandpoint.
"It was funny," he said, "when I first got here I would see people with the block S on their shirt and I would do a double take because it was a red S instead of an orange S, it reminded me of Syracuse."
Connor was a captain throughout his time with the Bulldogs and played long pole on defense.
"You also get to hit people which is really fun," Connor said about the position.
Connor said lacrosse taught him how to be mentally tough and to not get discouraged when things aren't going your way. He enjoys the flow of the game and will never forget when he won his first lacrosse game as a Bulldog his freshman year. But now Connor is preparing for a new challenge — playing football at Whitworth University.
In early March, Connor announced he would be joining the Pirates this fall. His older brother, Kiehl Hutchings, played left guard for Whitworth last season and Connor hopes the pair will start on the offensive line together in the near future.
Ken said if it wasn't for lacrosse and Tyler Pettit reaching out, Connor may have never joined the SHS football team.
George Yarno Jr., the Sandpoint offensive line coach, could tell when Connor joined the team that he had the potential to be special.
"When you first look at him, his stature is pretty intimidating," Yarno said. "He's a giant of a human being."
As a junior, Connor earned all-league honors for his efforts on the defensive line. Last year, the coaching staff asked Connor to switch to the other side of the ball to help fill the void left by the departure of Kiehl at guard.
Yarno said Connor had no problem making the switch and he was a natural guard.
"Connor's a selfless human being, he is the first one to volunteer for everything," Yarno said. "His outlook was whatever helps the team and whatever we need to do to win."
Connor shined in 2019 earning all-league honors at guard and grabbing a share of the team's Jerry Kramer Award.
During the past four months away from lacrosse, Connor has spent quite a bit of time with his older brother and he's enjoyed every second of it.
"I love hanging out with him," Connor said. "We've always been super tight."
Connor can't wait to get to Spokane and put on a Pirates uniform, but he'll have to wait because the Northwest Conference has postponed football this fall due to COVID-19. The conference is working to develop a plan to play the sport this spring and Connor is staying ready for when that opportunity arises.
Connor and Kiehl have been working out with Brandon Casey in his garage and running sprints at the high school fields.
Yarno said Connor has an amazing work ethic and he gives everything his all and he never complains.
"He's the type of kid you want to keep around forever," Yarno said.
Connor plans on studying psychology at Whitworth, but he isn't sure what career path he wants to pursue.
Ken said his son never quits and Connor credited his dad for having that trait.
"We've gone through some hard times," Connor said, "and I've seen him just not quit or give up for anything and he always continues working his hardest to make the best life he can for us."
Yarno expects Connor to play early and often at Whitworth.
"He is honestly probably one of the strongest kids in the weight room and on the football field that I've ever coached," Yarno said, "and I've coached some kids that will probably play in the NFL someday."
Ken is proud of his son and has no doubt Connor will accomplish any dream he sets his mind to.
Yarno said Connor has that "X-factor" and is willing to go that extra mile.
"He has amazing integrity," Yarno said, "and he's going to do whatever he can to do the right thing ... and that is what is going to make him be successful no matter what he does."
In his own words: Connor Hutchings
"My high school experience has been different than most because I was homeschooled until 10th grade, and we only moved to Sandpoint in my eighth grade year. I am really thankful to have gotten to live in this beautiful town and I really enjoy the people, the lake and the mountain. I am thankful to God who helped my family get through some really hard times. God kept us together and brought us to Sandpoint. I am thankful to my mom who homeschooled me and nurtured me and taught me to be a good person. I am thankful to my dad who set an example of the relentless pursuit of his dreams, and how to never ever give up. He taught me how to be a man even though real men are looked down on these days. I am thankful to my siblings for looking out for me my whole life and being my best friends. I am thankful to sports and to all the friends I have made through football and lacrosse. I thank my coaches for always encouraging me to give my all and to get up when you get knocked down. I am thankful to my teachers and Mrs. Meyers and counselor Gosling for helping me deal with my dyslexia and get straight A's my senior year. All these people have been a part of my life and helped me become the person that I am today. I believe that living with gratitude is the best way to live a successful life."
---