Injured osprey back on the wing in Ponderay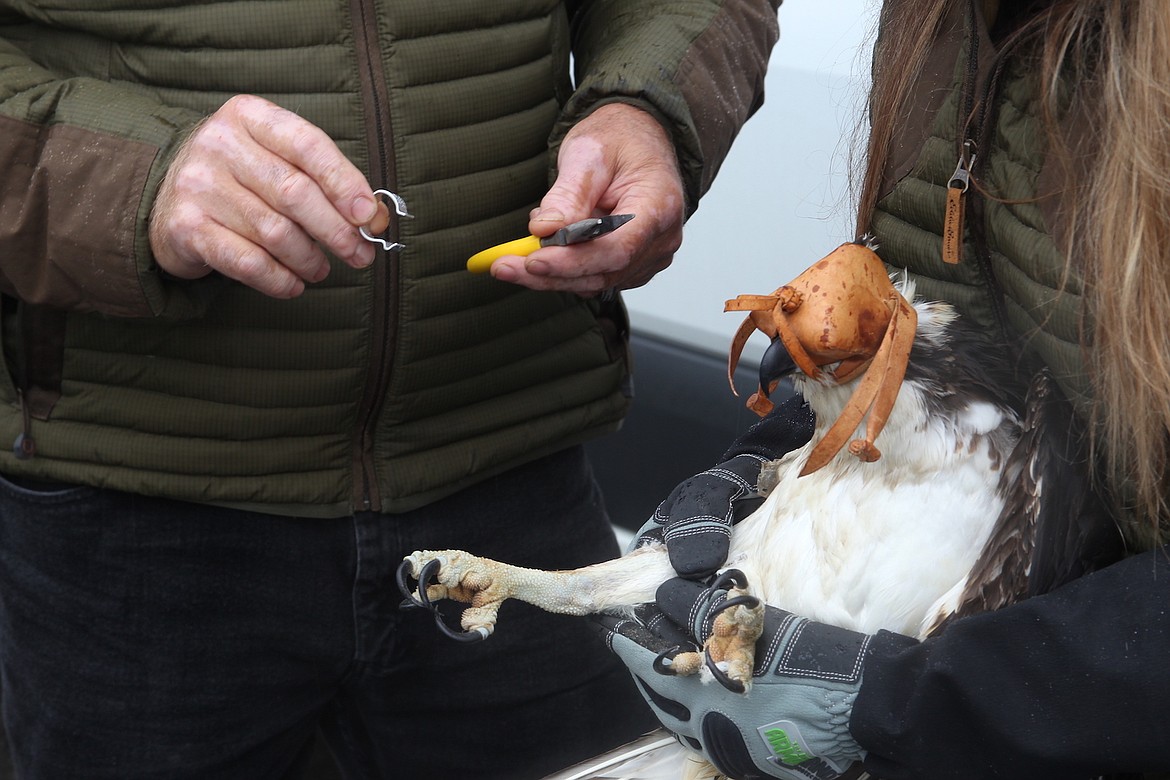 Don Veltkamp prepares to affix a band prior to the osprey's release.
(Photo by KEITH KINNAIRD)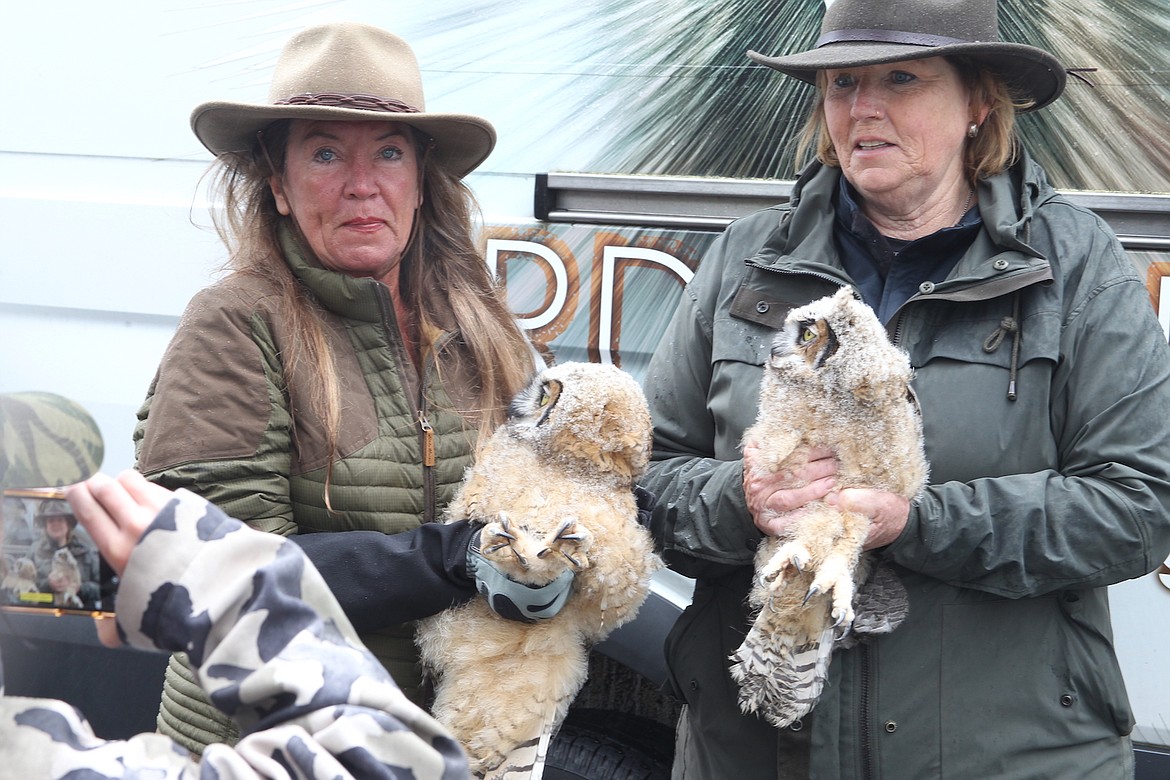 (Photo by KEITH KINNAIRD) Janie Veltkamp and Birds of Prey Northwest volunteer Teri Poutre display great horned owls that are returning to the wild.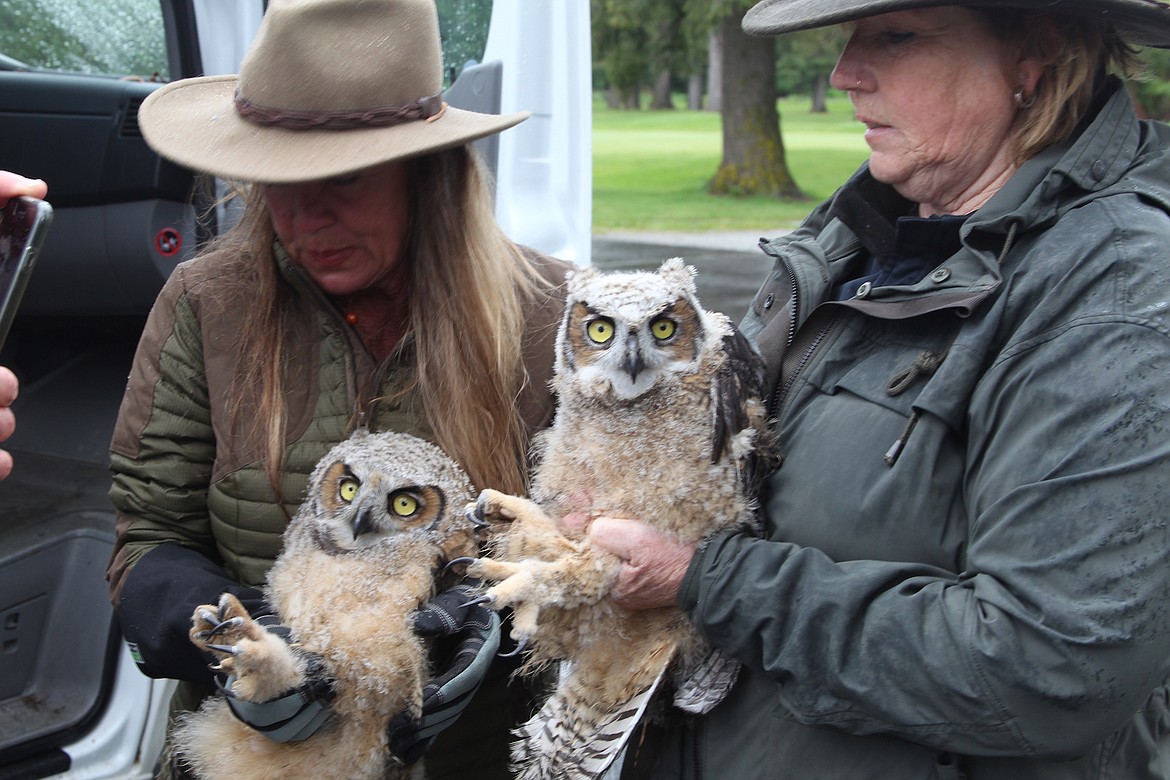 (Photo by KEITH KINNAIRD) A closer shot of the great horned owls.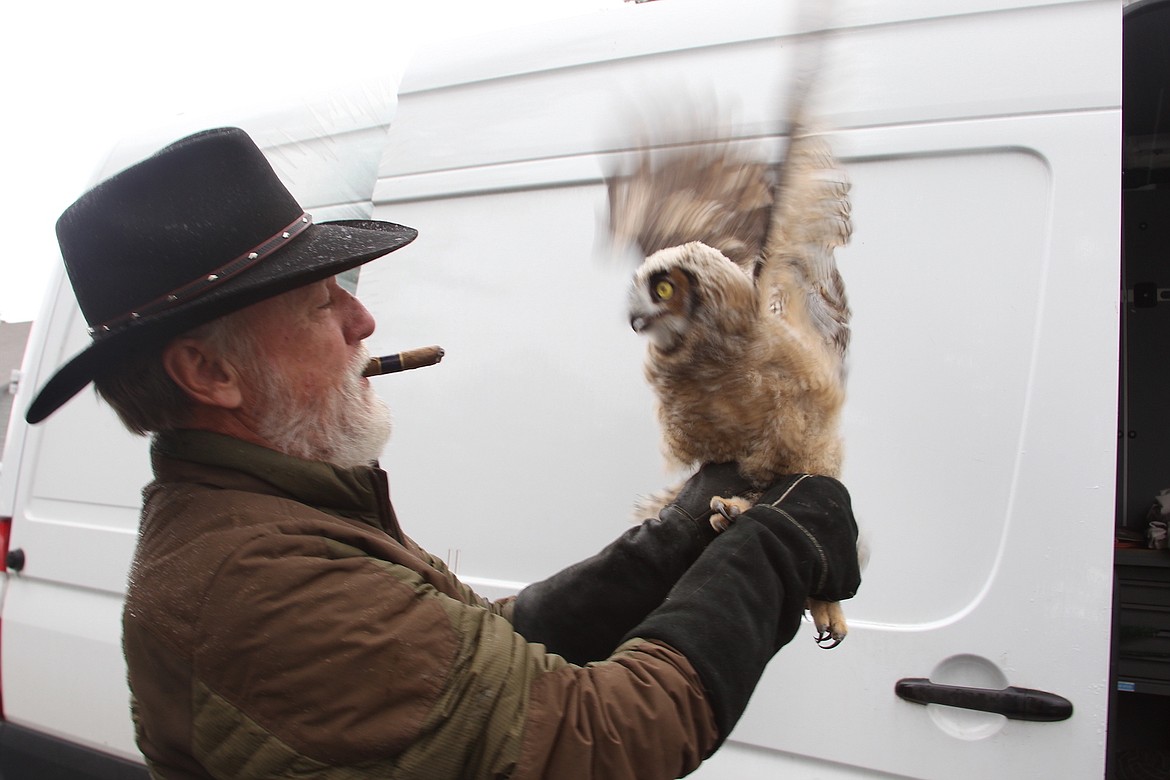 (Photo by KEITH KINNAIRD) Don Veltkamp removes a great horned own from its cage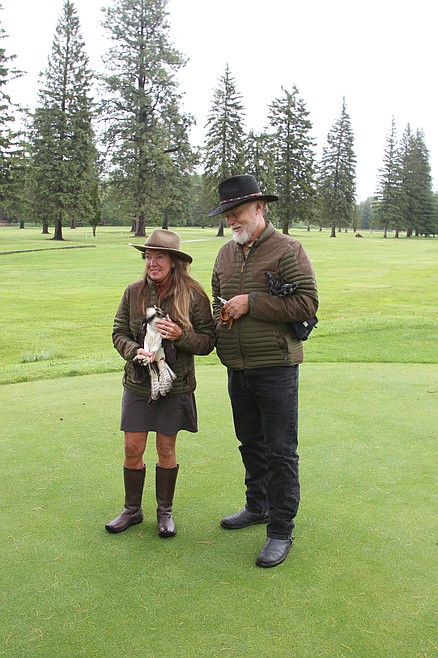 (Photo by KEITH KINNAIRD) Jane and Don Veltkamp prepare to release the osprey at the Elks Lodge Golf Course on Sunday.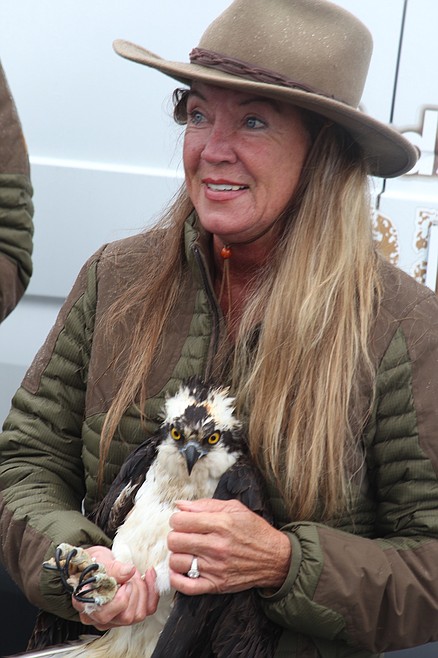 Janie Veltkamp of Birds of Prey Northwest prepares to release a rehabilitated osprey in Ponderay on Sunday.
(Photo by KEITH KINNAIRD)
Previous
Next
by
Keith Kinnaird
News Editor
|
June 2, 2020 1:00 AM
PONDERAY — An adult female osprey that was struck by a vehicle on May 14 reclaimed her place in the sky on Sunday.
The osprey was found injured along Highway 200. It's unclear how the bird was hit as osprey subsist on fish, making it unlikely it was scavenging roadkill on the highway, according to Janie Veltkamp, founding director of Birds of Prey Northwest in St. Maries.
The osprey was X-rayed and examined at North Idaho Animal Hospital in Sandpoint after it was found. The osprey, which had bilateral shoulder injuries from being struck and a large laceration across her chest, was rehabilitated at Birds of Prey.
She was paired with Birds of Prey's educational osprey, which travels into the field with Janie and Don Veltkamp.
"She had company in the big flight run and she's had time to exercise her wing," Janie Veltkamp said on the tee box for Hole No. 1 at the Sandpoint Elks Golf Course off Highway 200. Don Veltkamp hoisted the osprey and let it go.
The osprey was immediately harried by two very alarmed crows, but managed to give her pursuers the slip. Janie Veltkamp said the crows were likely defending a nearby nest with young in it.
The Veltkamps were also releasing a Cooper's hawk in Coeur d'Alene, in addition to two baby great horned owls that were found grounded in Blanchard.
"They're babies that got blown from their nest two weeks ago, before they could fly. So they were found grounded by citizens," Janie Veltkamp said.
The two owls have consumed hundreds of dollars worth of mice while they were on the mend. Janie Veltkamp said each mouse costs approximately one dollar.
"People have no idea behind the cost of rehabilitating these wild birds of prey. They all have to be fed," she said.
Don Veltkamp said he put 30 mice in the aviary on Saturday night.
"Only a couple of them were left in the morning," he said.
Birds of Prey Northwest's mission is to educate the public about birds of prey, through live raptor presentations and other expanding outreach, and provide medical treatment to injured, sick, and orphaned wild raptors with the goal of returning them to the wild.
The group celebrated its 25th as a nonprofit in 2018 and sustains its activities through program fees, book and educational material sales and private donations.
To find out more about Birds of Prey Northwest, visit birdsofpreynortwest.org.
Keith Kinnaird can be reached by email at kkinnaird@bonnercountydailybee.com and follow him on Twitter @KeithDailyBee.
---