BLM protest held in downtown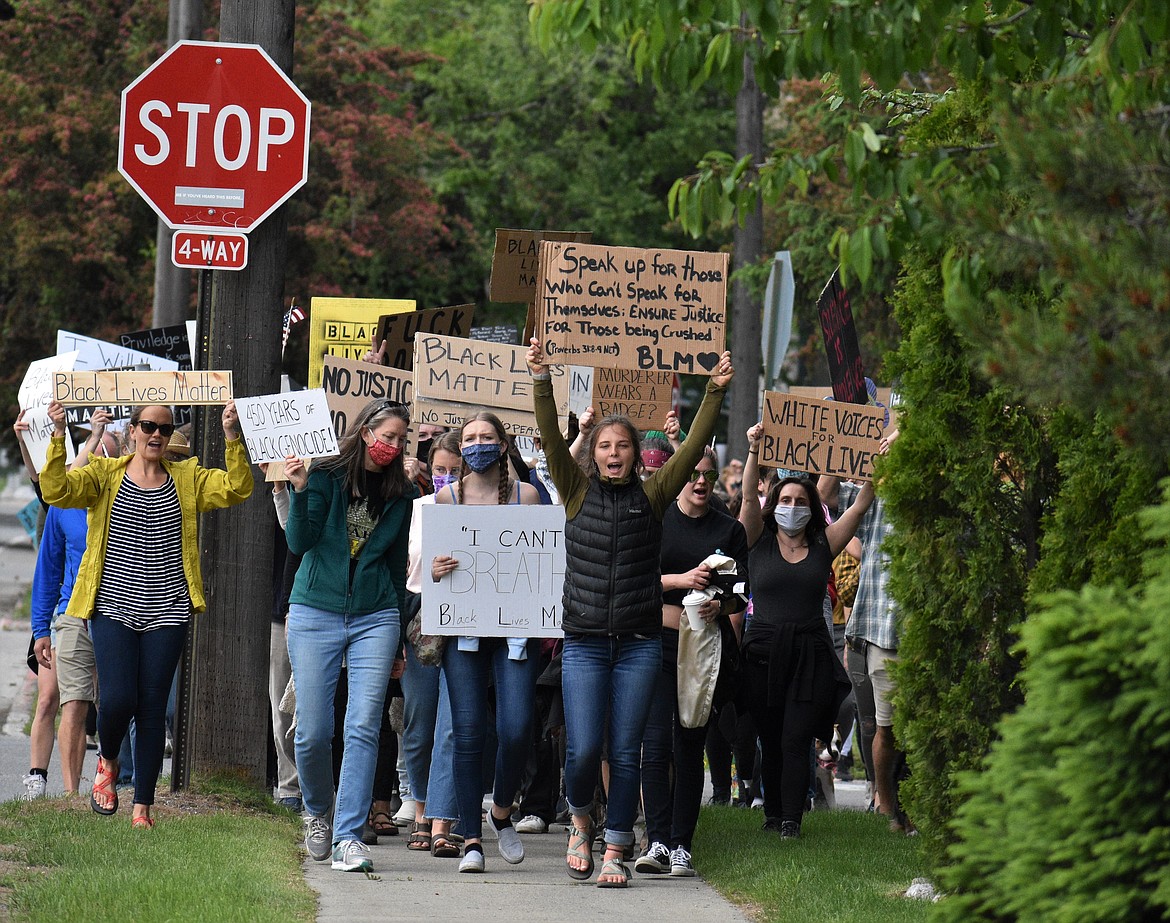 Roughly 300 people filled the sidewalks in downtown Sandpoint on Saturday as part of a Black Lives Matter protest.
(Photo by DYLAN GREENE)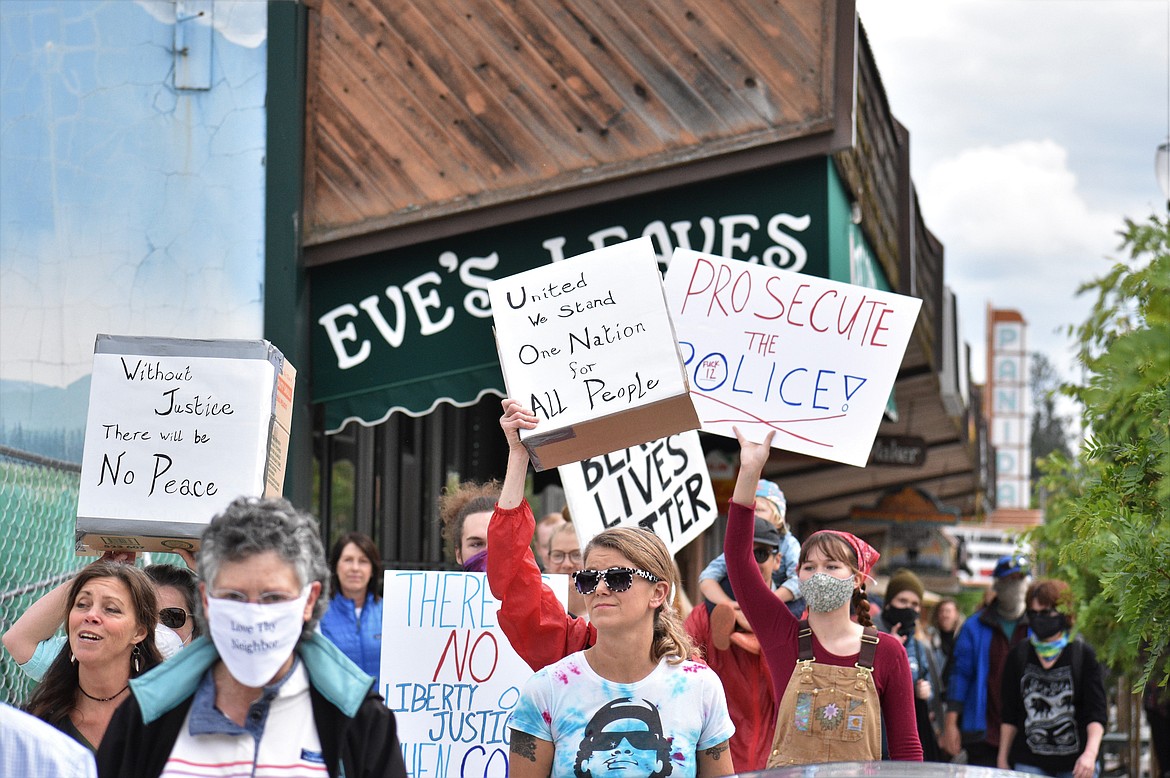 (Photo by DYLAN GREENE) Protesters march down First Avenue in Sandpoint on Saturday.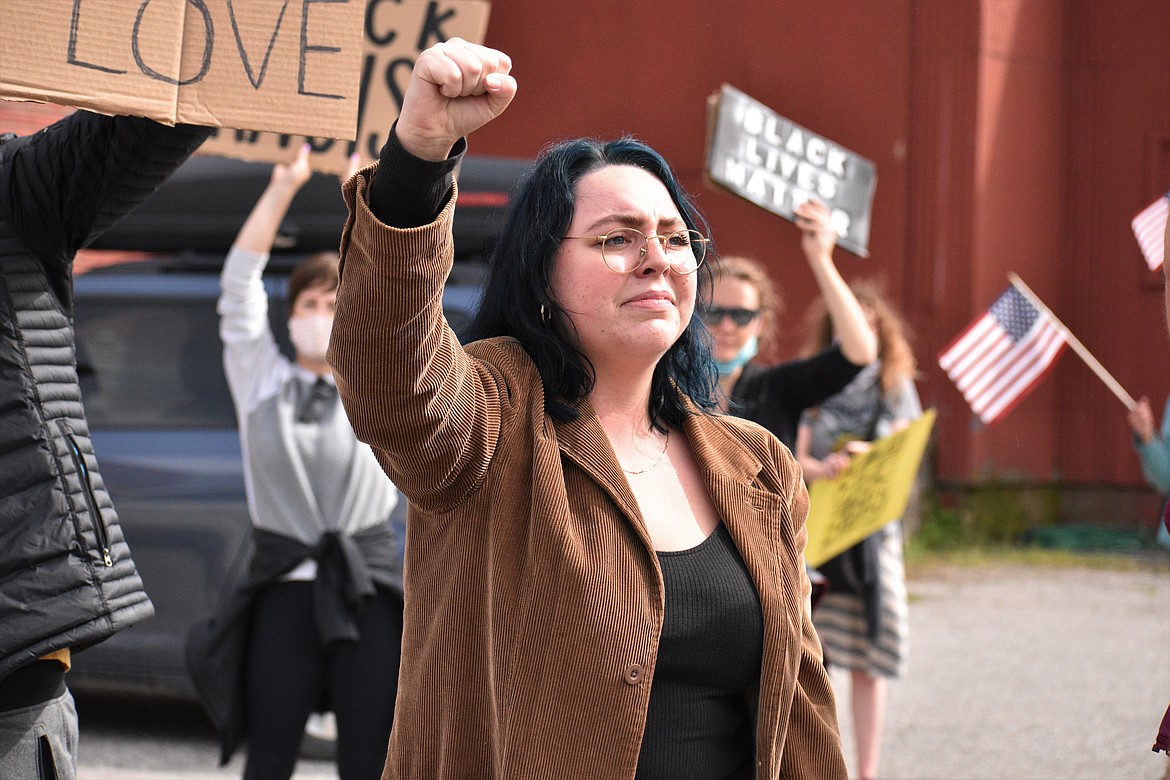 (Photo by DYLAN GREENE) A protester holds up their fist while chanting, "no justice, no peace."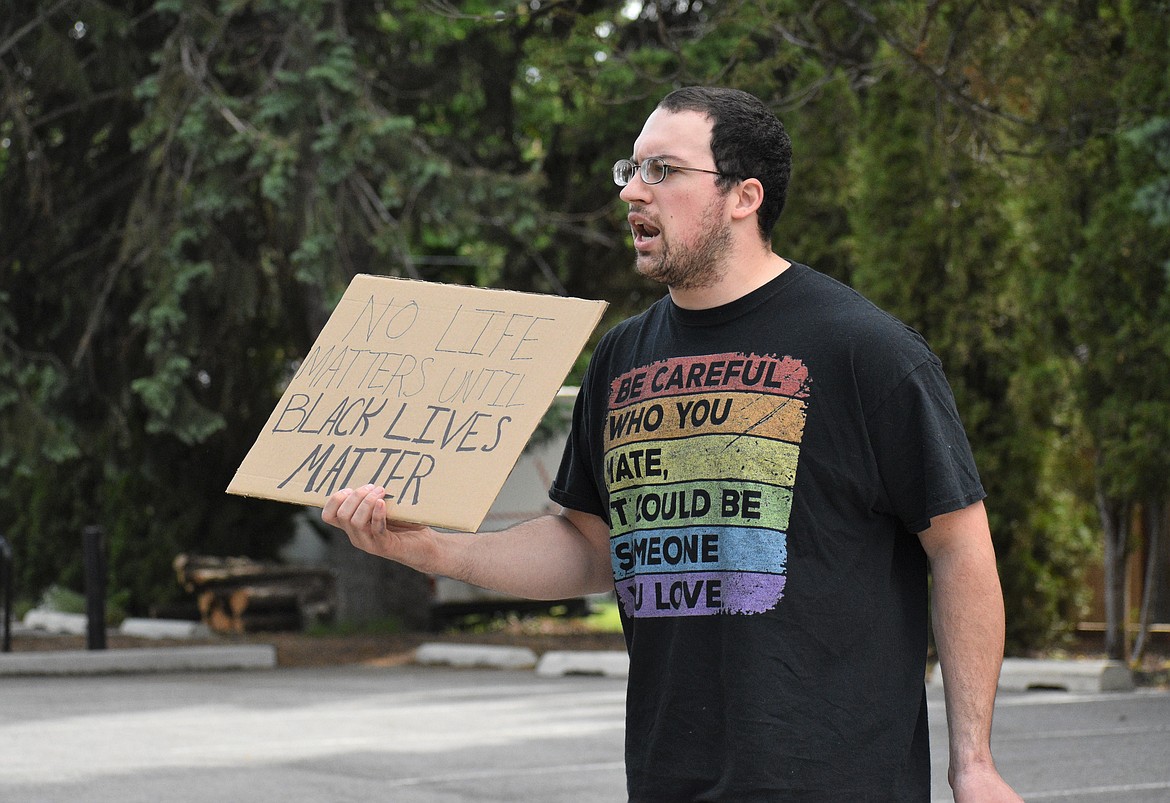 (Photo by DYLAN GREENE) Caleb Giard holds a sign and chants "Black Lives Matter," during Saturday's protest.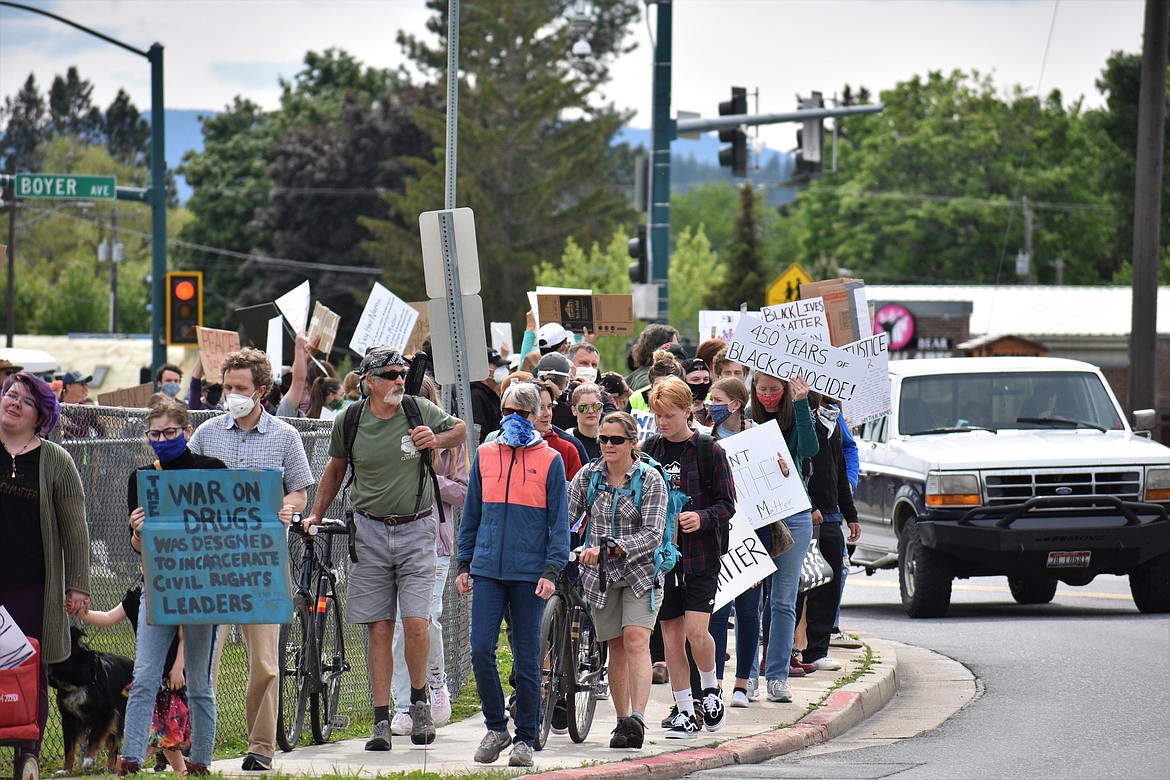 (Photo by DYLAN GREENE) Protesters head down Pine Street on Saturday.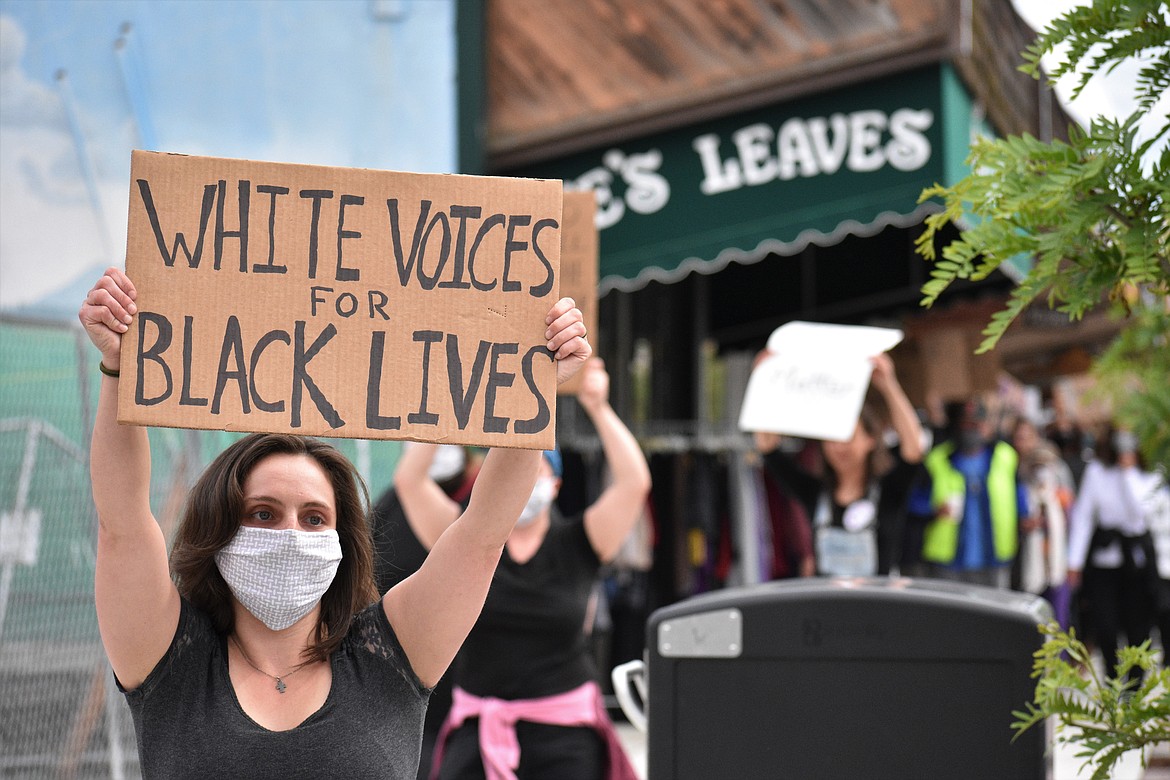 (Photo by DYLAN GREENE) A protester holds a sign that says, "white voices for black lives."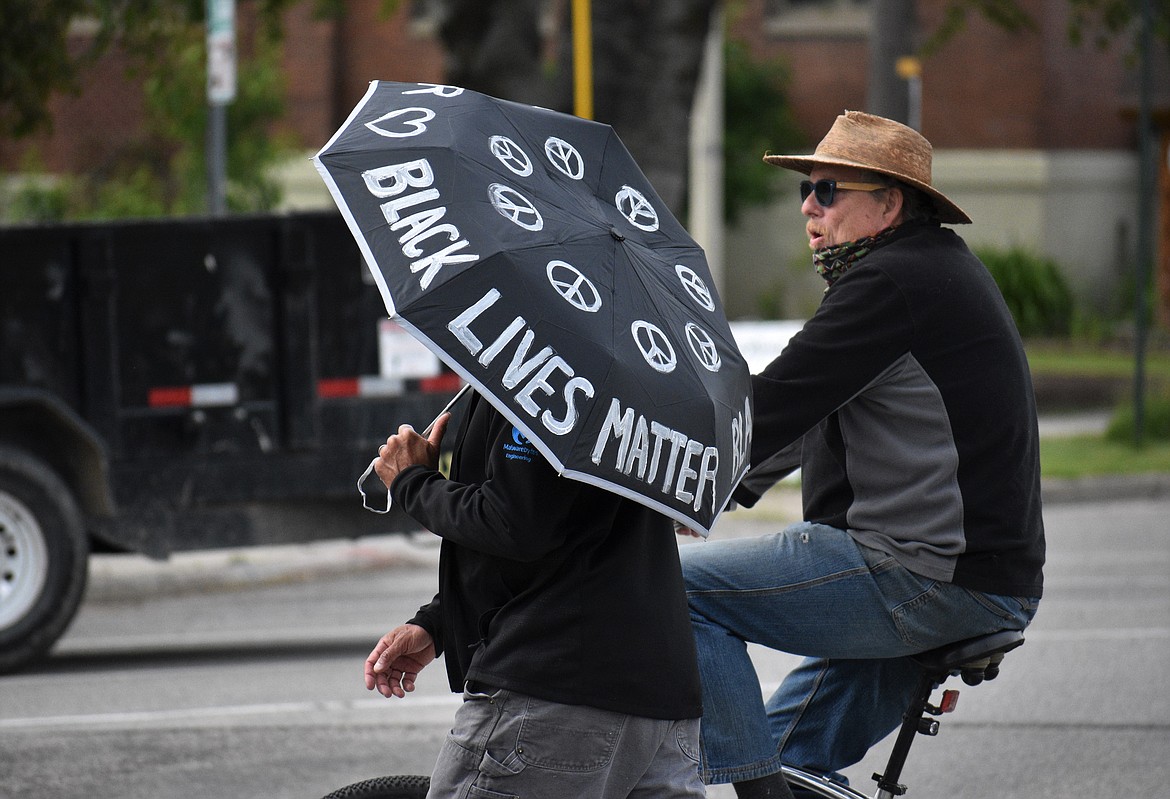 (Photo by DYLAN GREENE) A protester carries an umbrella with hearts, peace signs and the words Black Lives Matter on it.
Previous
Next
by
DYLAN GREENE
Sports Editor
|
June 7, 2020 1:00 AM
SANDPOINT — For the third time in five days, a large group of people gathered in Sandpoint to voice their views on the killing of George Floyd, police brutality and racism.
The Black Lives Matter protest was held Saturday and about 300 people showed up for the march. The march through the community started at Matchwood Brewing Company and the protesters went on this route twice, but more than half of the people broke off after the first time around. In total, the protest lasted just over an hour and half.
It was a peaceful protest that stayed on the sidewalks and avoided interfering with traffic as much as possible. On Tuesday when about 50 young adults and high school students protested across the Long Bridge, a group of individuals armed with semiautomatic rifles followed closely behind. The group said they were there to protect demonstrators from "outside agitators."
Prior to Saturday's protest, Sam Crossett, one of the many people that helped facilitate the event, read a statement rejecting the notion that people armed with guns are trying to protect the protesters.
"We do not accept protection from vigilante militia groups as people who are standing in solidarity with Black Lives Matter," Crossett said. "The Black Lives Matter movement is about police accountability for killing and oppressing black lives. Vigilantes are even less accountable then police ... and Ahmaud Arbery and Trayvon Martin were killed by vigilantes and we are standing in solidarity with them to prove that their lives are valuable."
Crossett said the armed individuals are only intimidating "free and lawful expression of speech."
The main organizer of the event, Lexa Oraa, posted on Facebook last night that she would not be attending Saturday's march after receiving threats from a blocked number.
"Though I'm sure it's just someone trying to scare me, I am not ready to take that risk," she wrote in part of the post.
There were no signs of armed individuals during the entirety of the protest as chants of "Black Lives Matter," and "no justice, no peace," filled the streets of Sandpoint.
Caleb Giard was one of the people who led the protesters in a Black Lives Matter chant. Giard, who lives just south of Sandpoint, attended the rally with his wife and two young kids. Giard held a sign that read, "no lives matter until black lives matter," while pulling his children in a red wagon.
Giard said he spoke up because he felt like it was the right thing to do.
"There's been systemic racism against part of the population of America and really the world for hundreds of years," he said, "and since I'm in a position of privilege — being a white male — I have the ability to speak out for those who can't and especially now that it's on the national radar with the death of George Floyd, I feel like this is the perfect time to try and push our point across to those who may agree but wouldn't necessarily feel brave enough to step out."
During the protest, a man along the route asked "why is this needed in our town," and later on a young child was heard pondering, "why do people have to judge other people by their skin?"
More than a dozen cars that passed by showed support for the protesters by honking or shouting out their windows.
Giard said people of all backgrounds need to feel safe in our community.
"Idaho is predominantly white and I feel if there is anyone in our community who is afraid just because of the color of their skin, we need to change that and we need to be good neighbors to each other and this is a good first step," he said.
Dylan Greene can be reached by email at dgreene@bonnercountydailybee.com and follow him on Twitter @DylanDailyBee.
---