'You made this all worth it'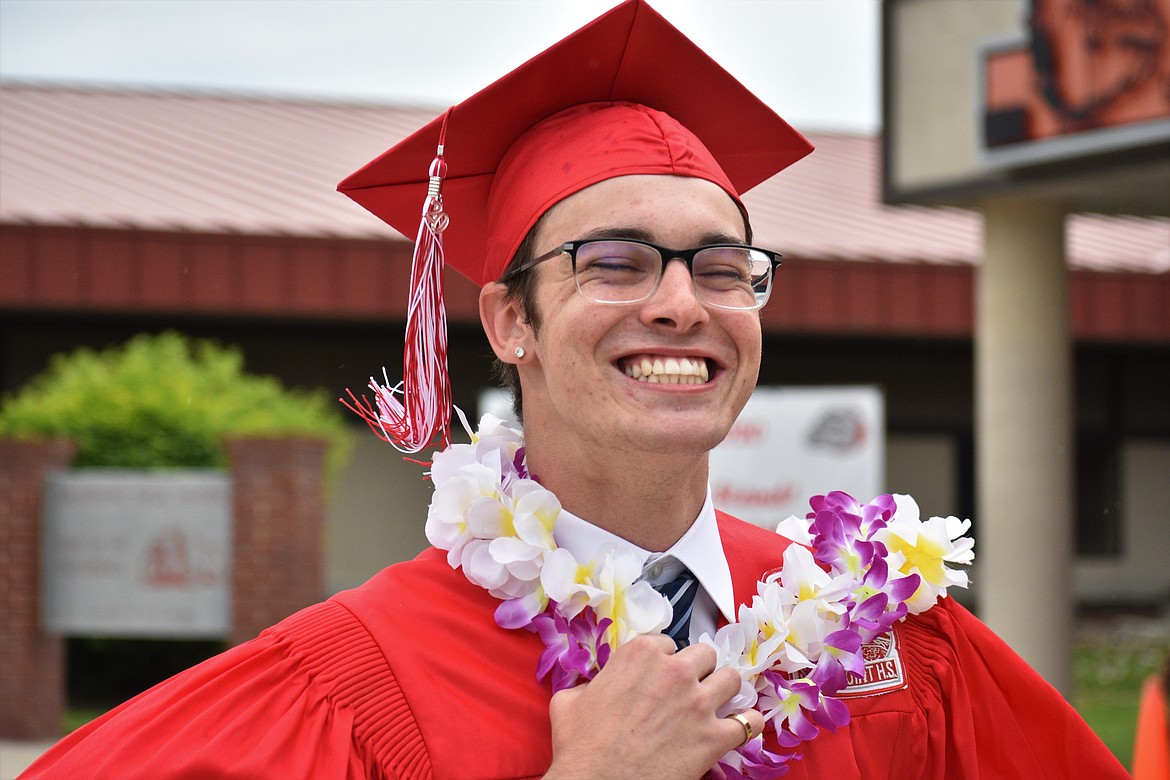 This Sandpoint High School graduate can't hold back a big grin after receiving his diploma during commencement Friday.
(Photo by DYLAN GREENE)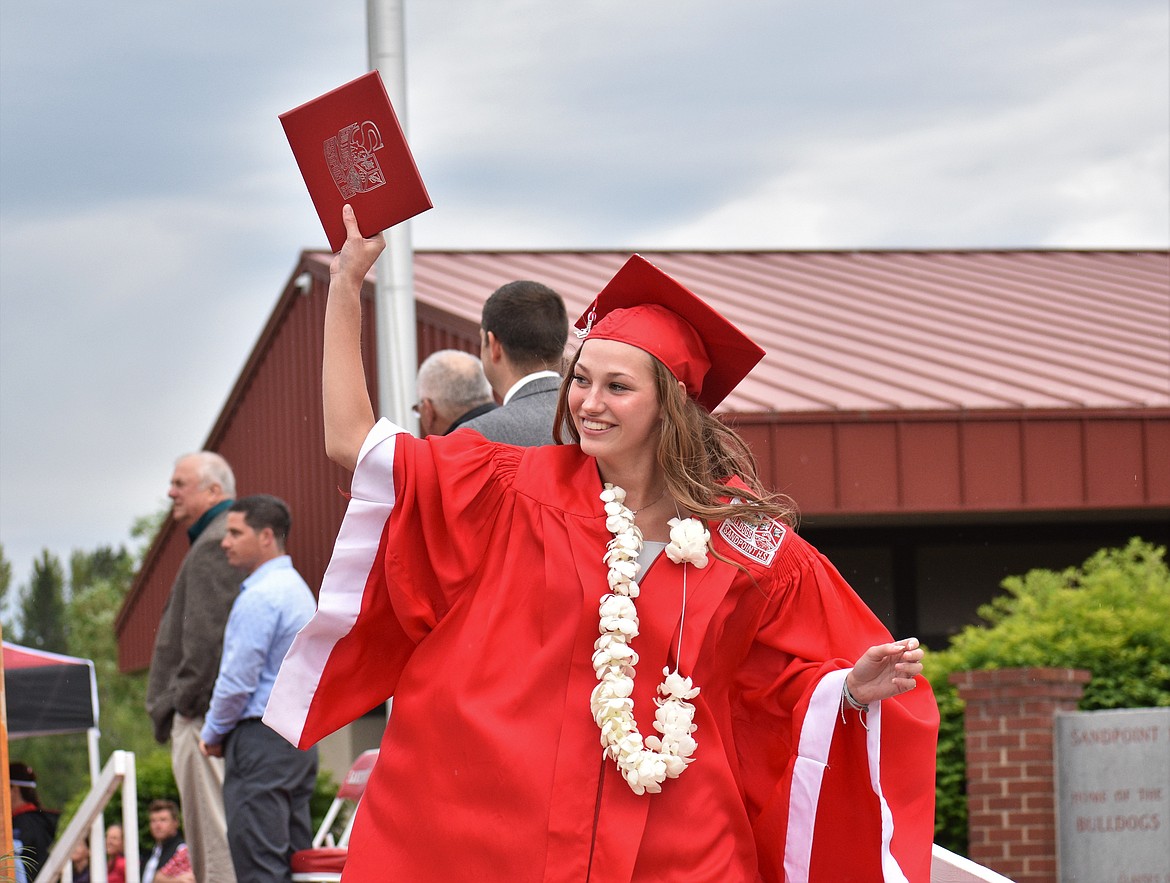 (Photo by DYLAN GREENE) Samantha Ferguson holds up her diploma and looks toward her family in the crowd.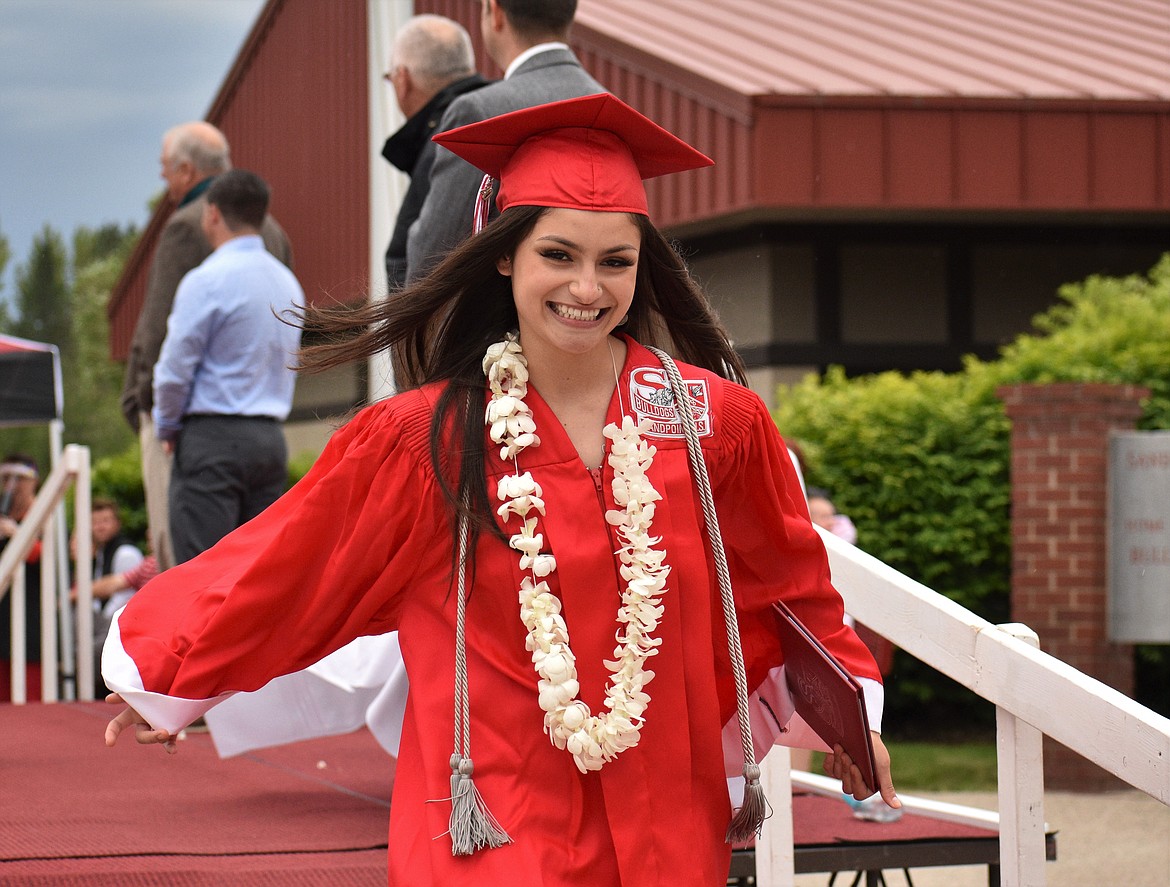 (Photo by DYLAN GREENE) Bionce Vincent smiles after receiving her diploma.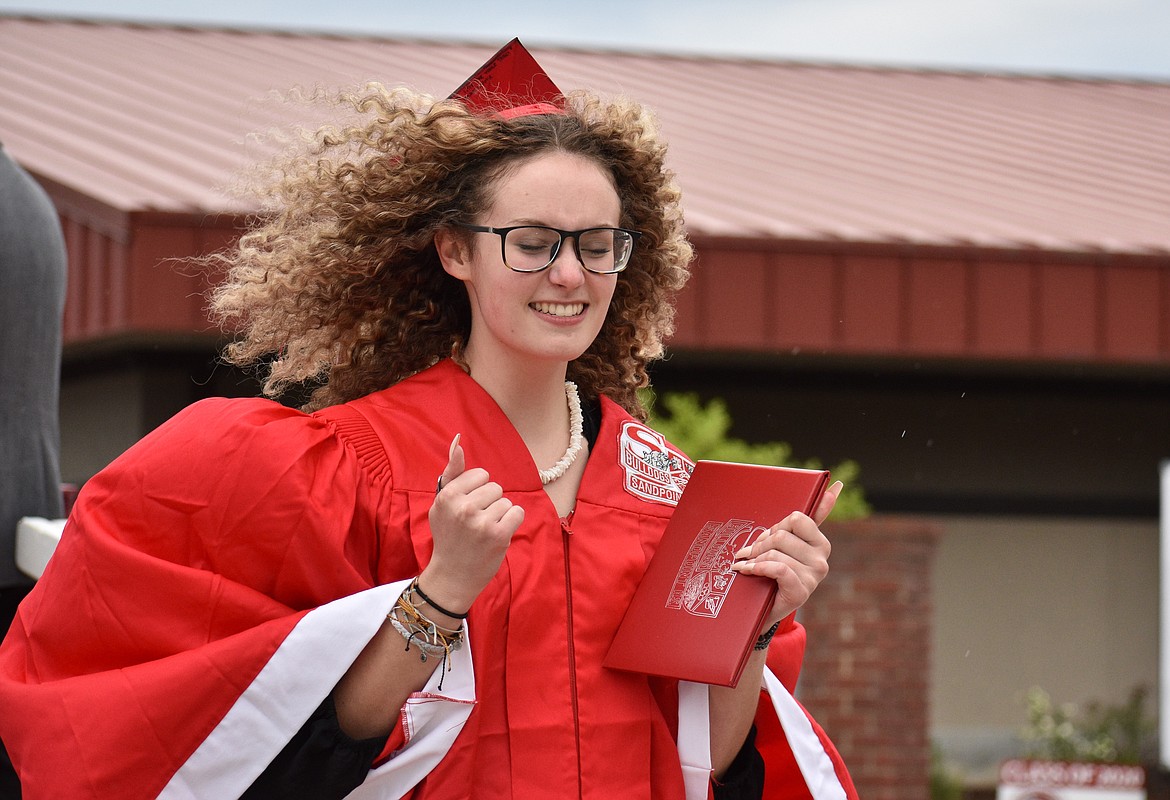 (Photo by DYLAN GREENE) An SHS grad is pumped after crossing the graduation stage.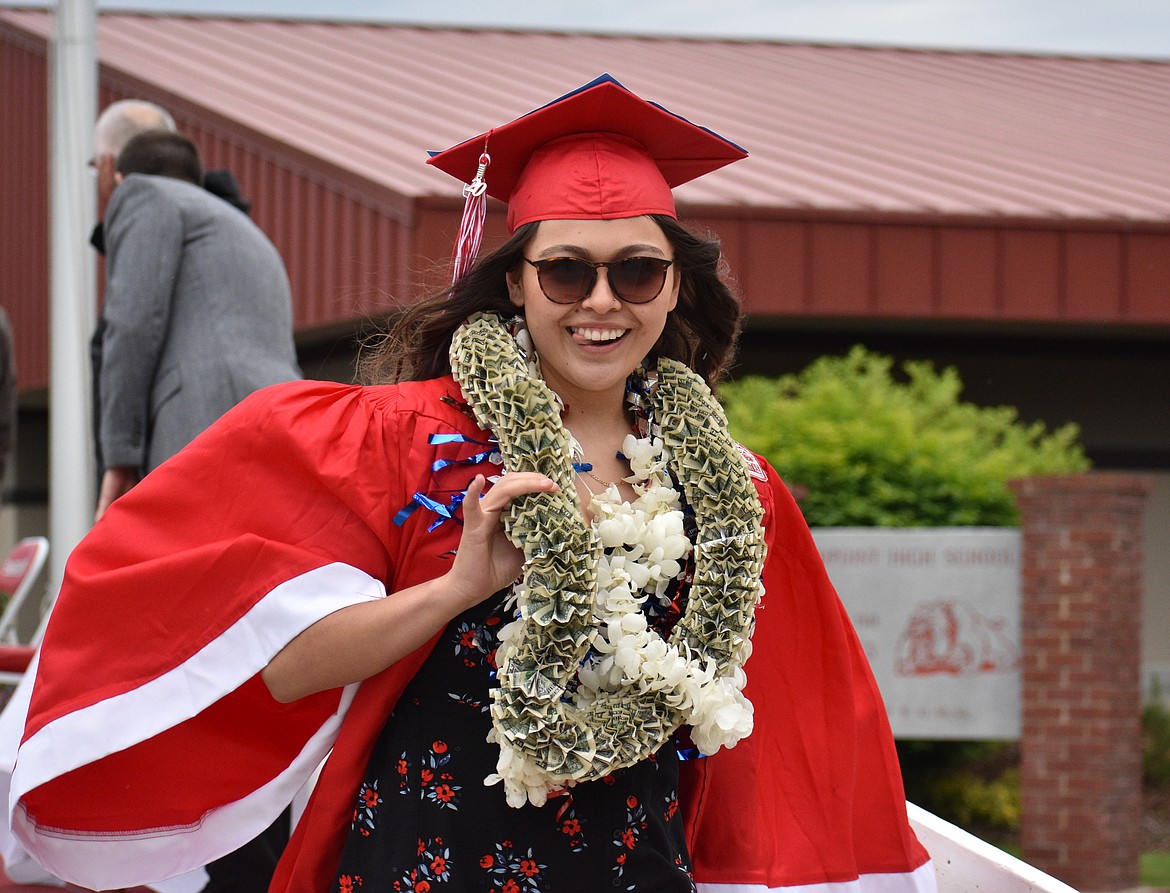 (Photo by DYLAN GREENE) An SHS grad celebrates after receiving her diploma.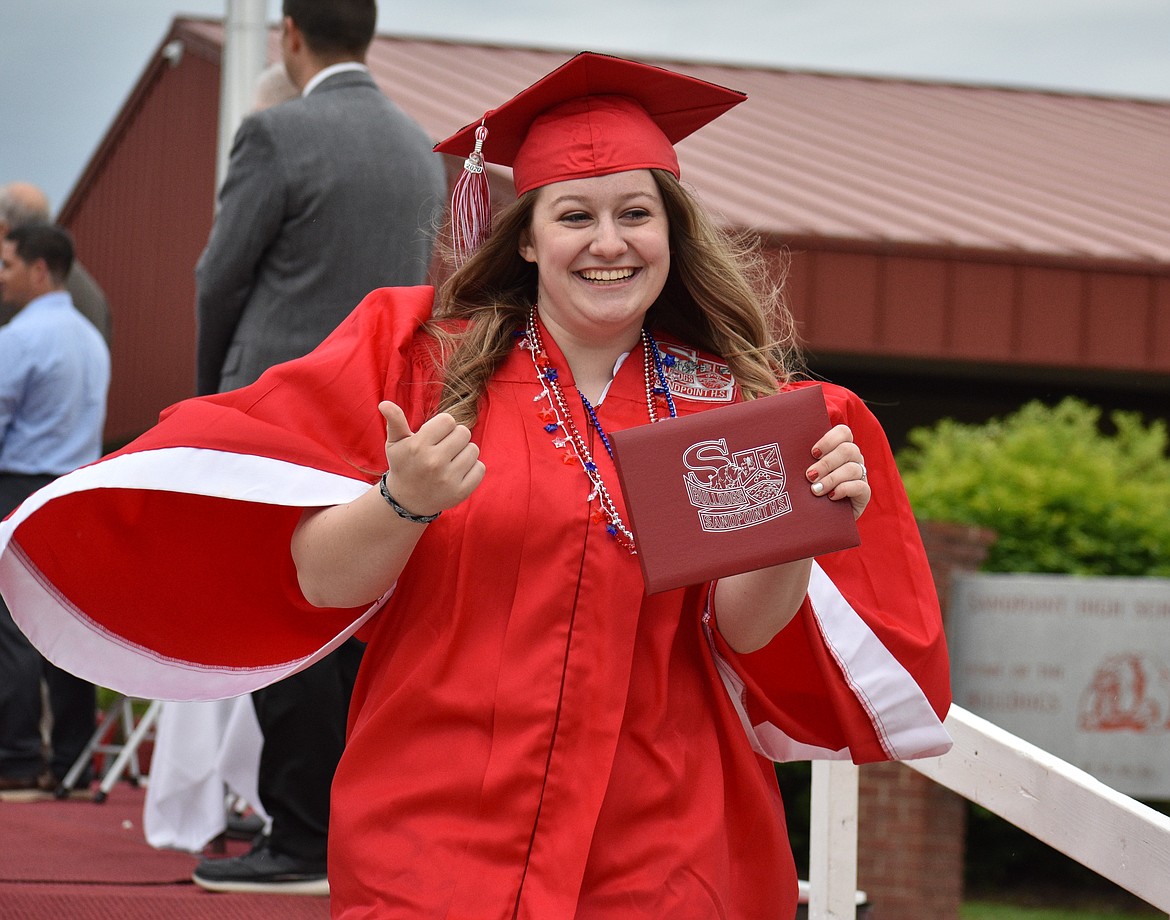 (Photo by DYLAN GREENE) Jaycie Irish gives a thumbs up after grabbing her diploma.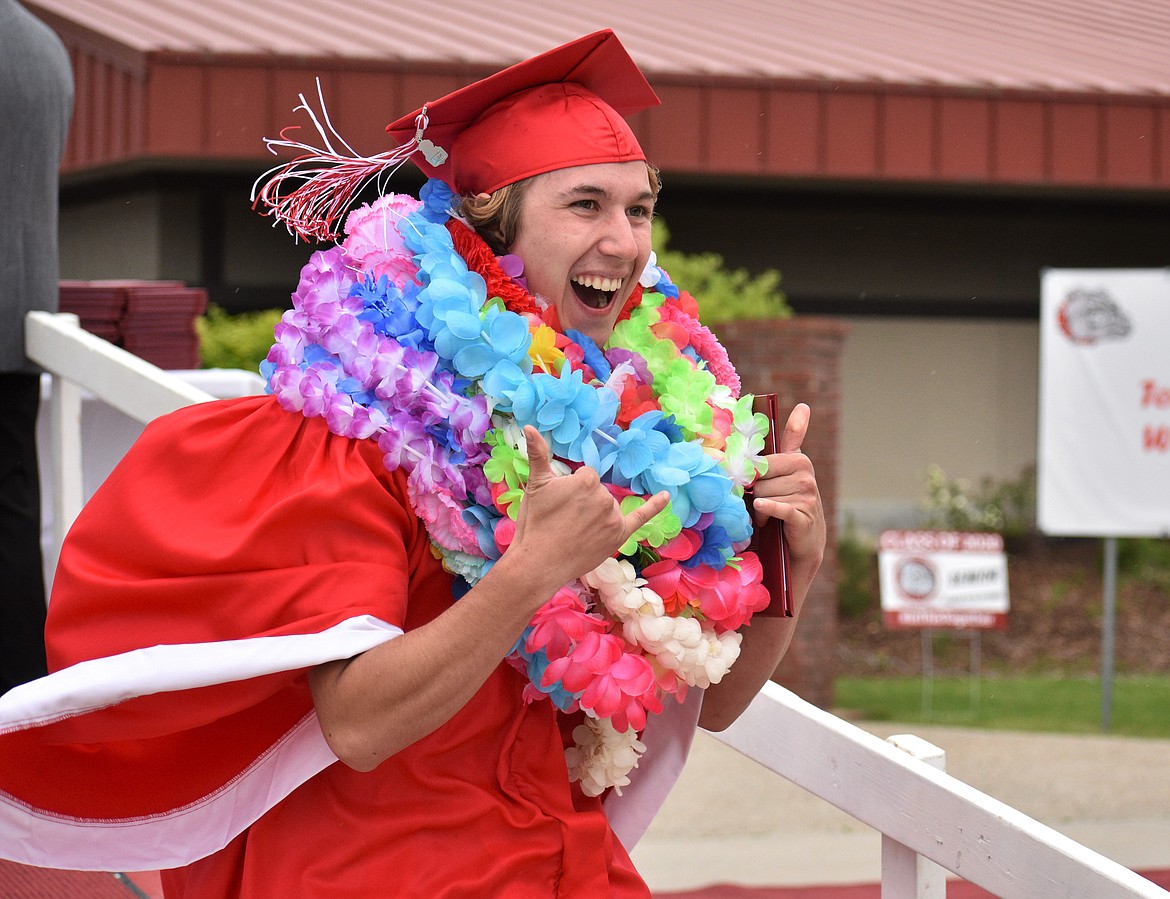 (Photo by DYLAN GREENE) An SHS grad with a wide array of colorful leis throws up some hang loose signs.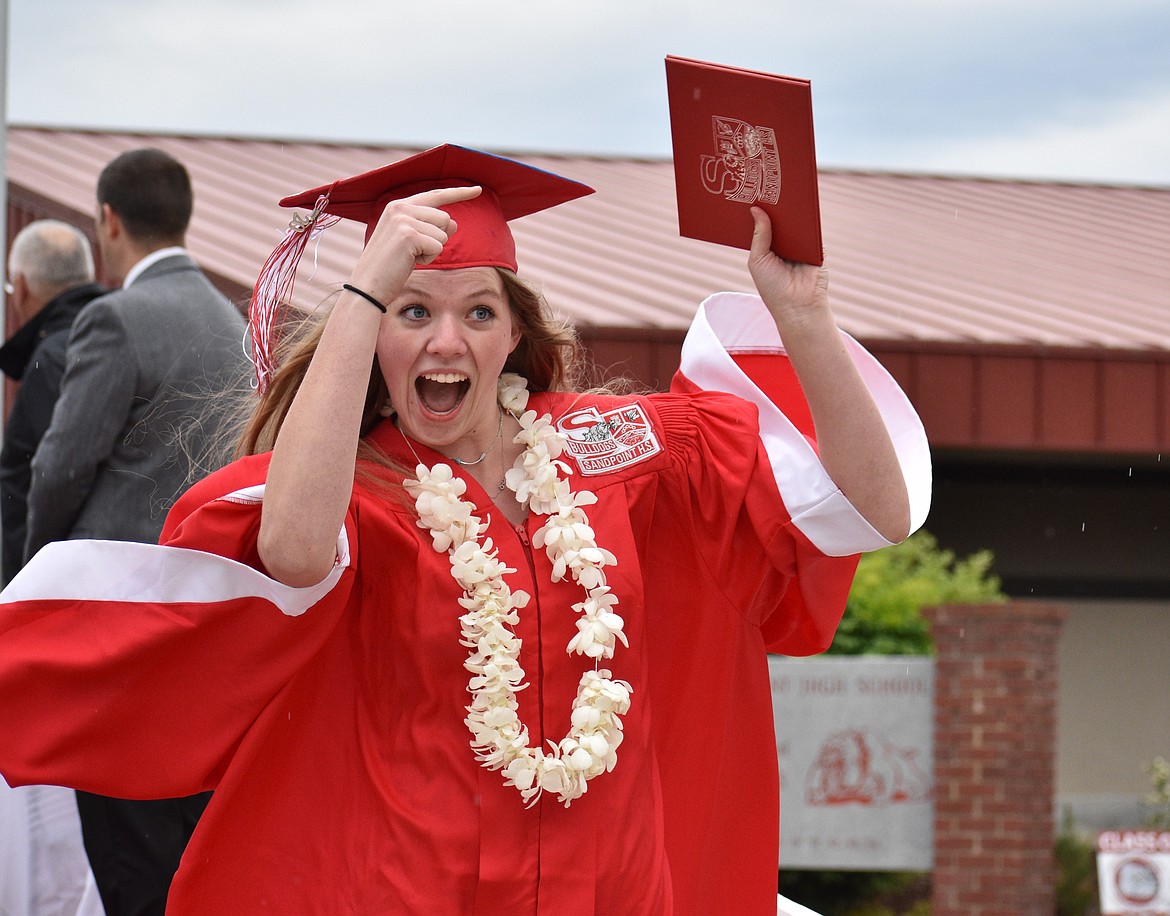 (Photo by DYLAN GREENE) Katie Korn makes sure to point out that she just received her diploma.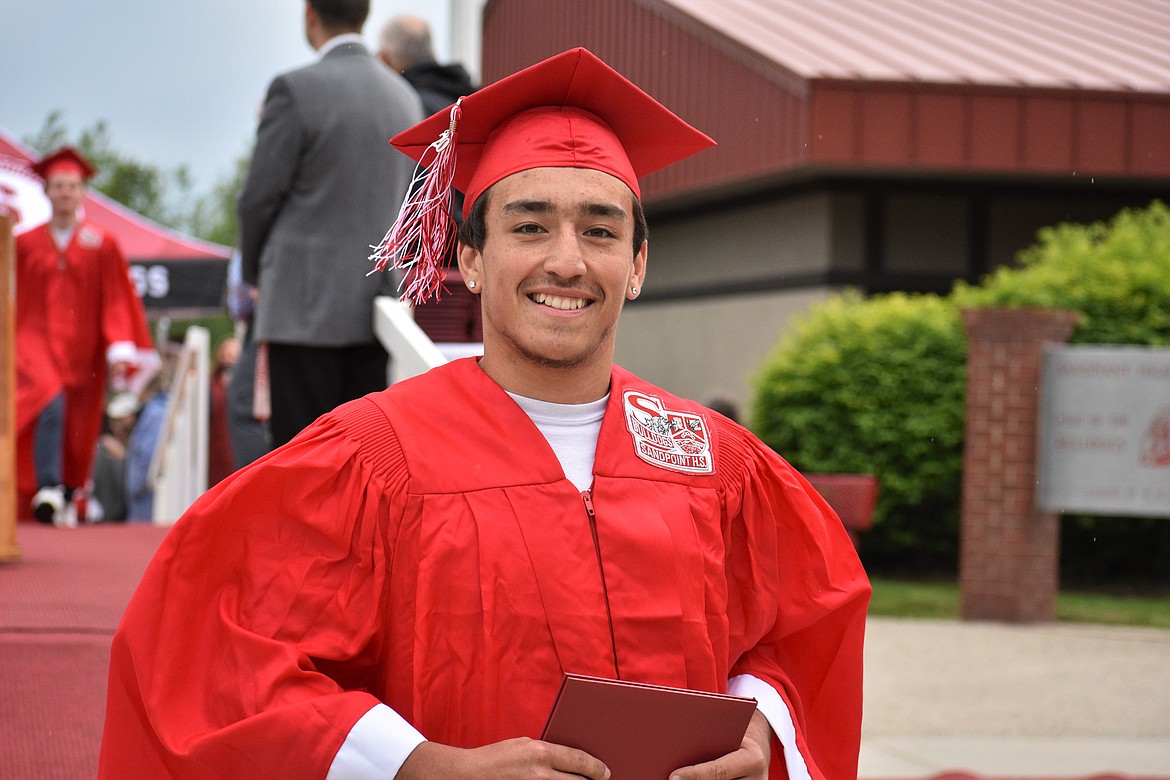 (Photo by DYLAN GREENE) Isaiah Caralis smiles after receiving his diploma.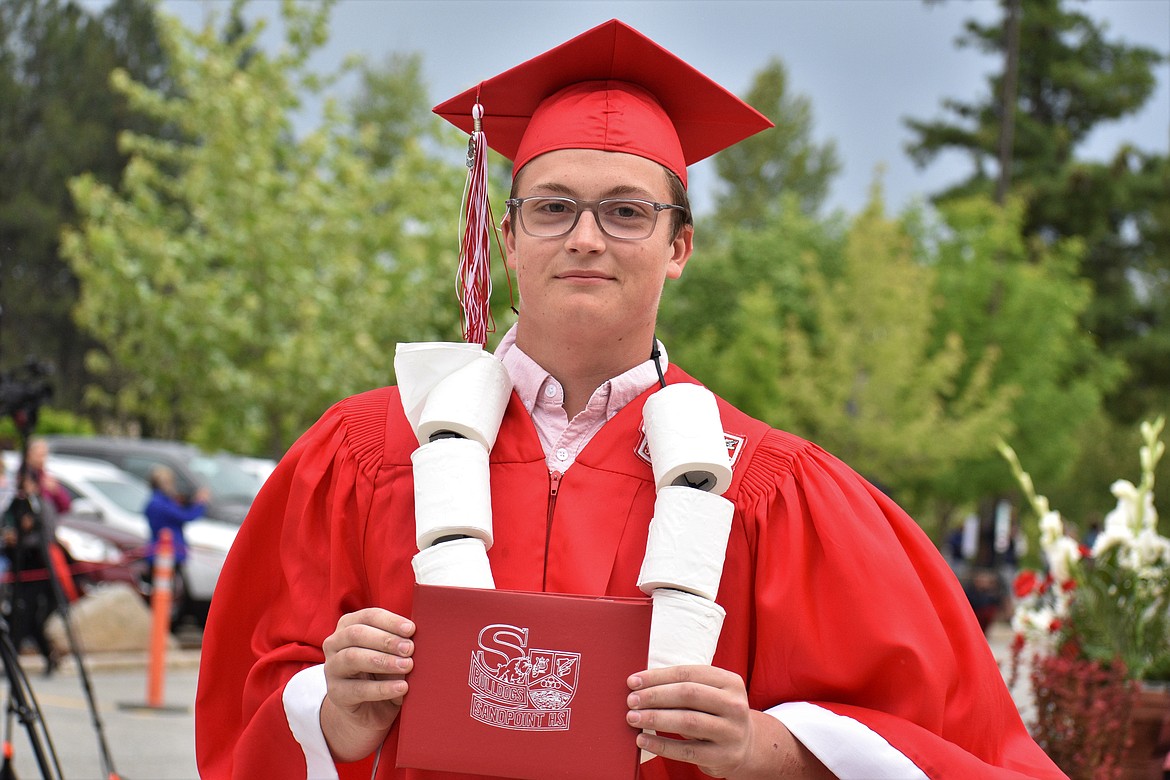 (Photo by DYLAN GREENE) Jackson Prior poses for a photo with his diploma and toilet paper roll necklace.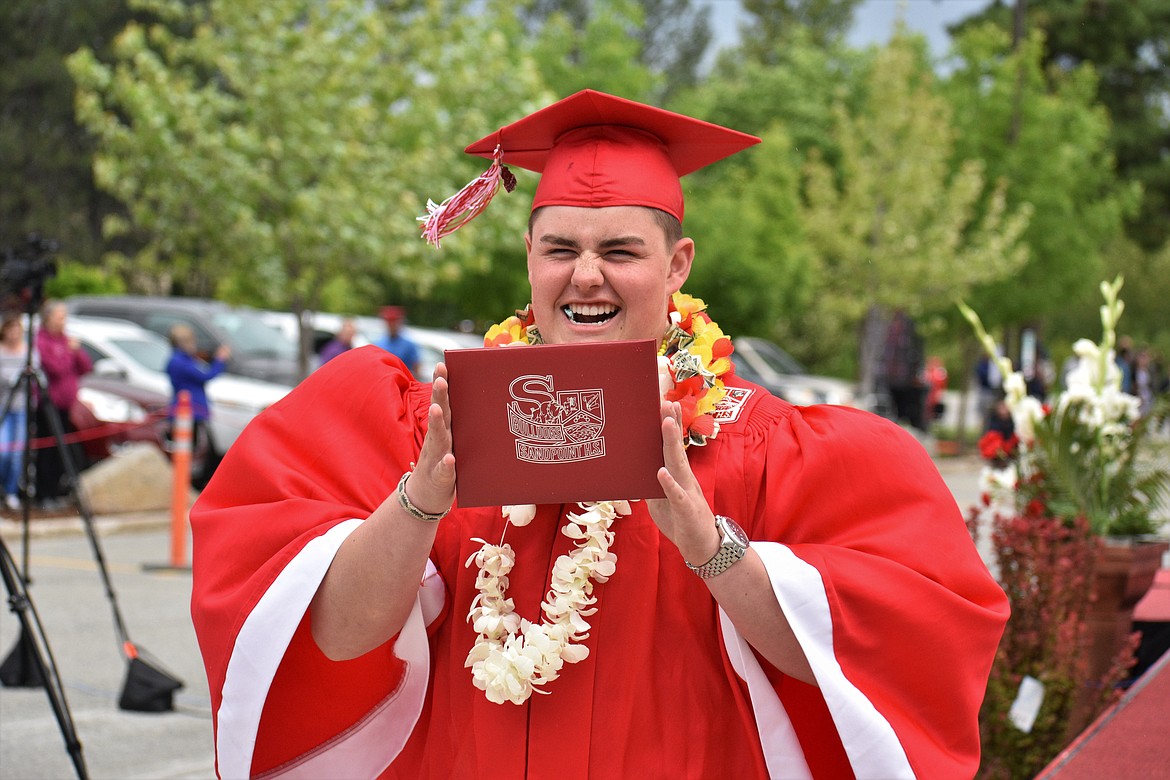 (Photo by DYLAN GREENE) Sam Puckett celebrates after receiving his diploma.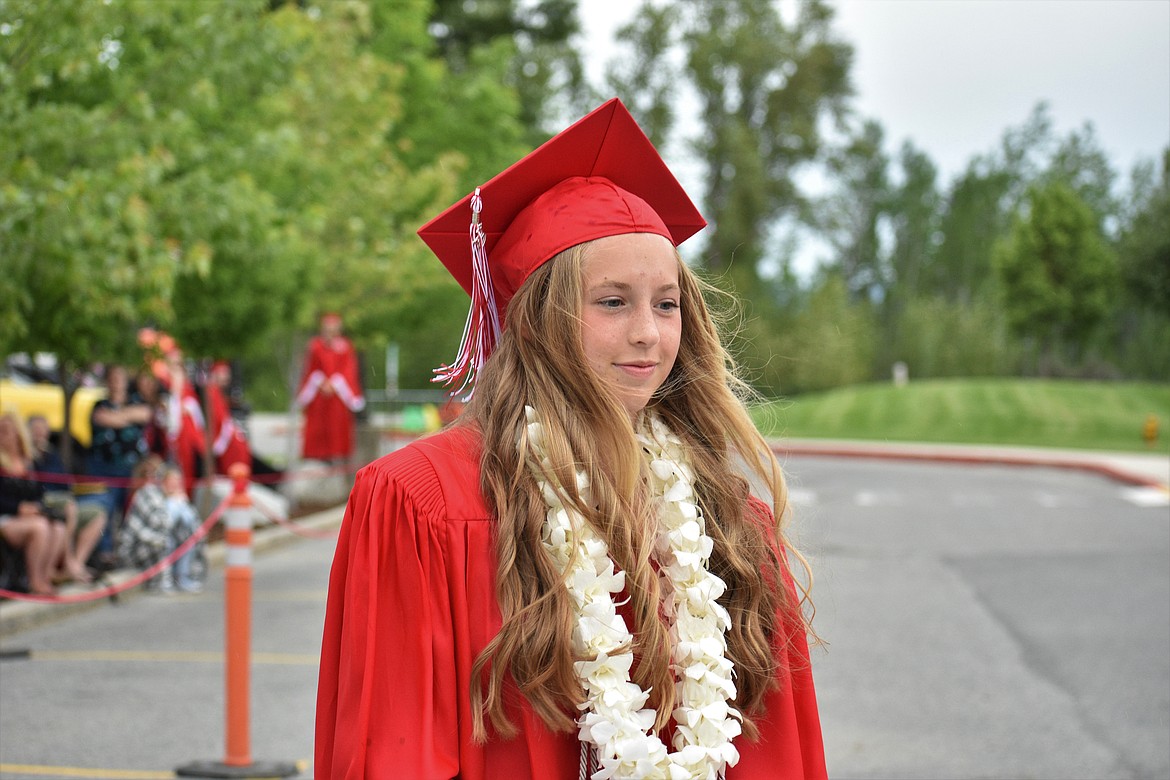 (Photo by DYLAN GREENE) Paige Davidson walks up to deliver her salutatorian speech.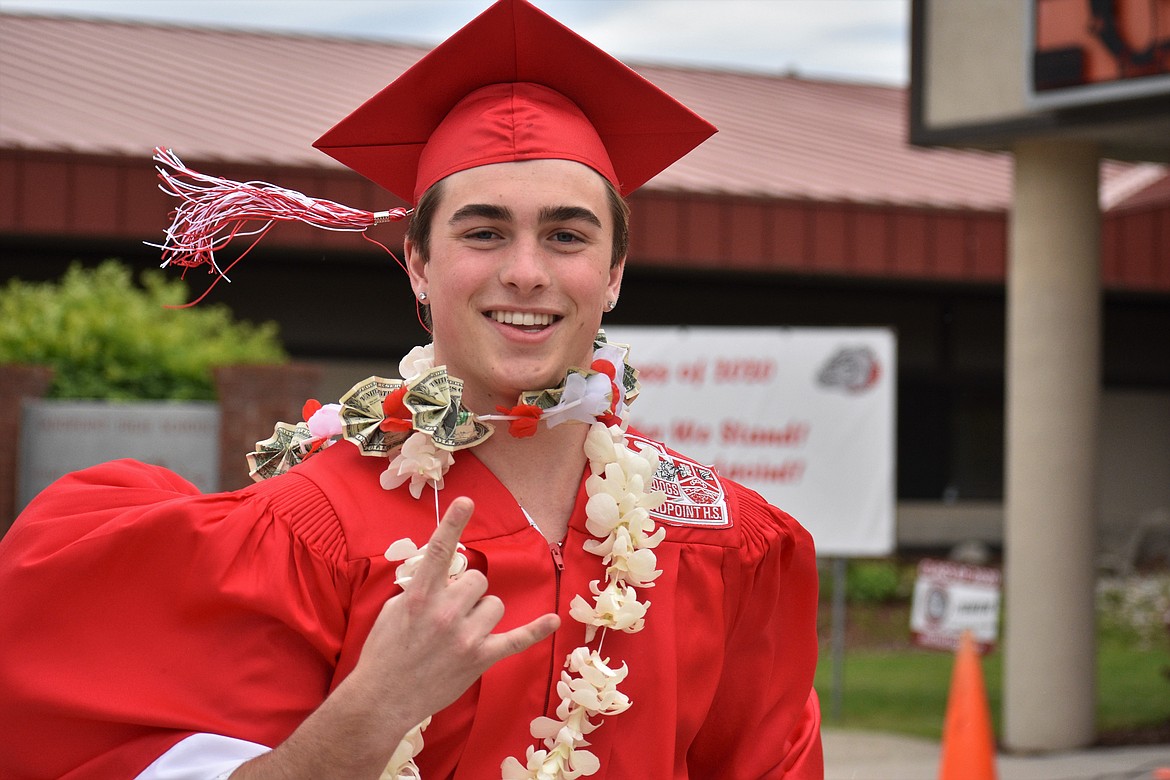 (Photo by DYLAN GREENE) Christian Niemela celebrates after receiving his diploma.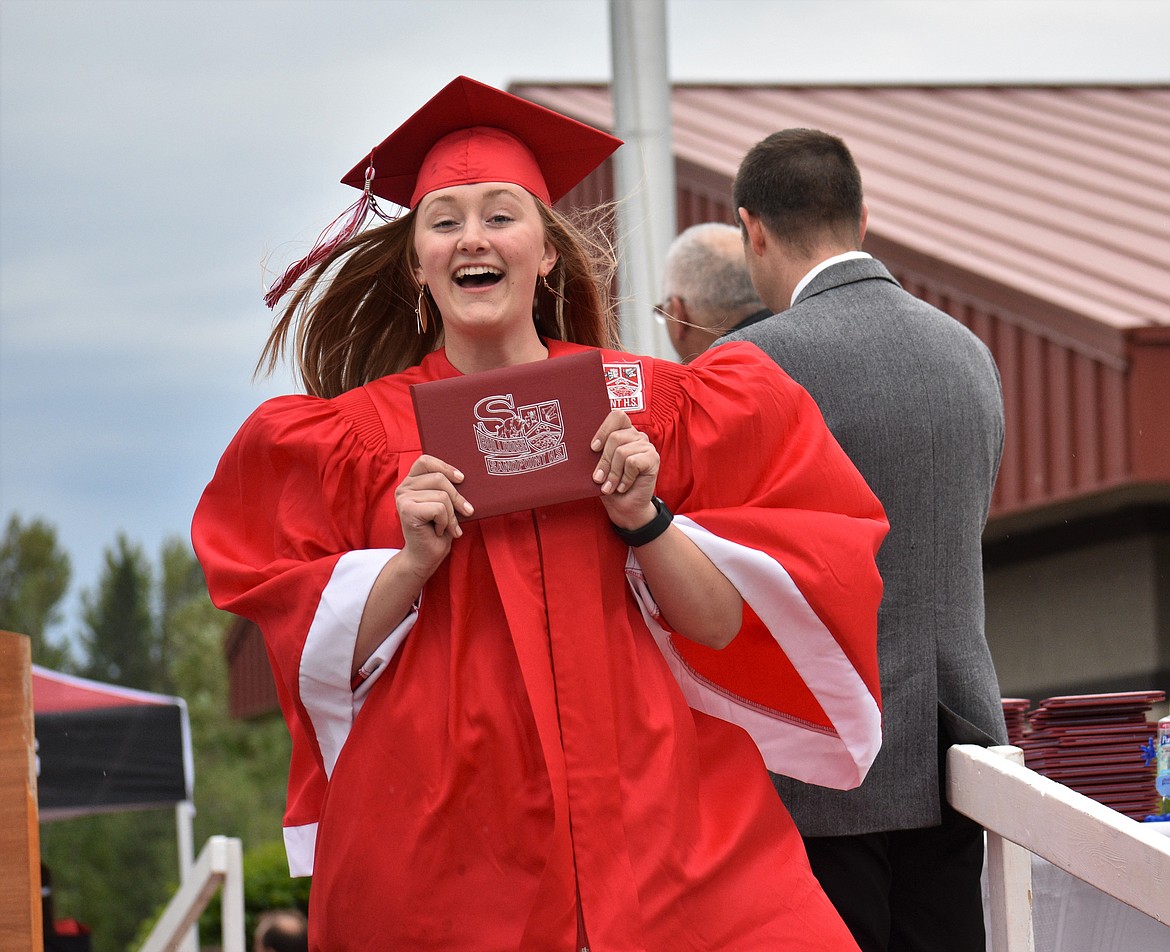 (Photo by DYLAN GREENE) An SHS grad shows off her diploma.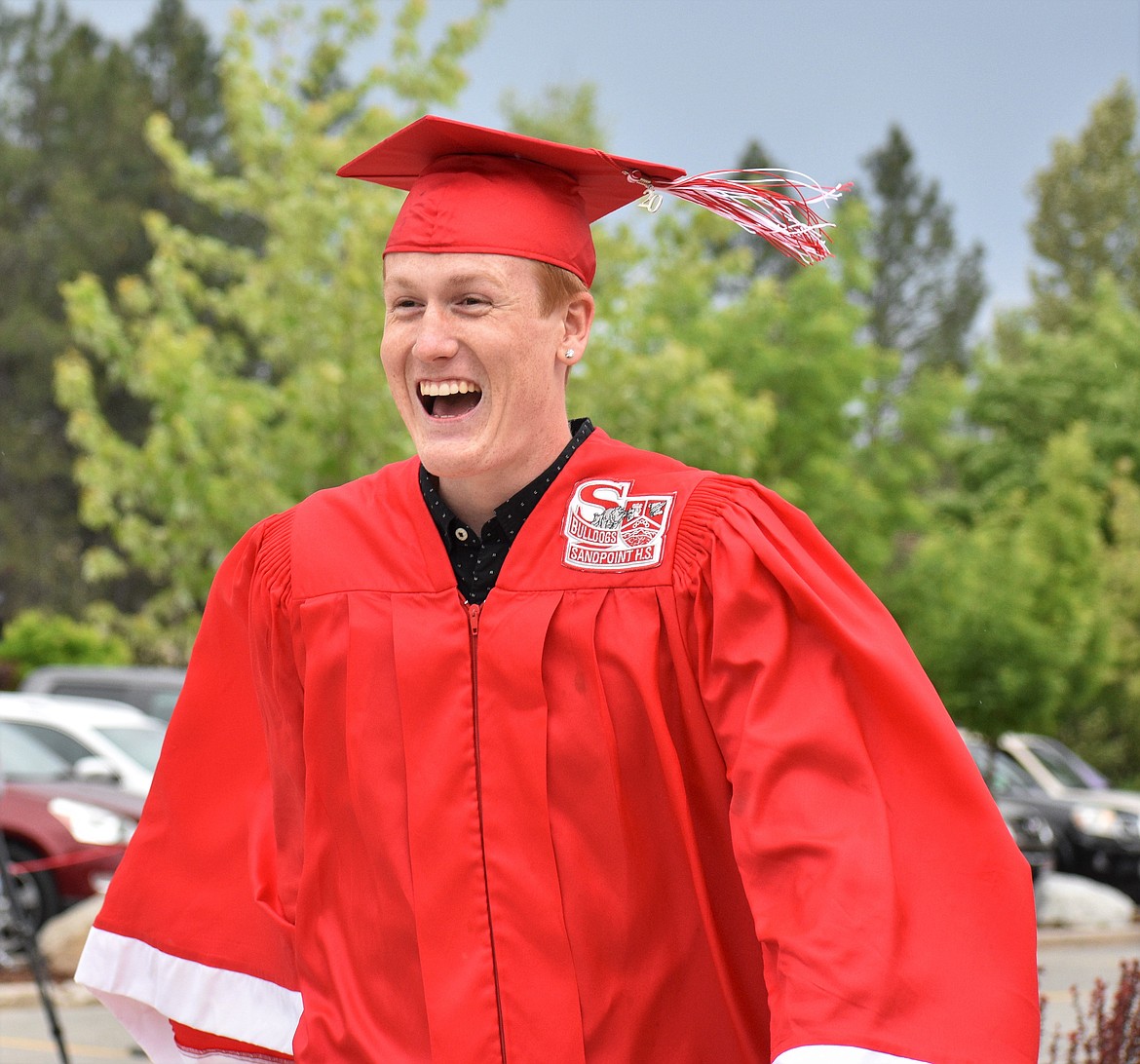 (Photo by DYLAN GREENE) Will Treadaway celebrates after crossing the stage.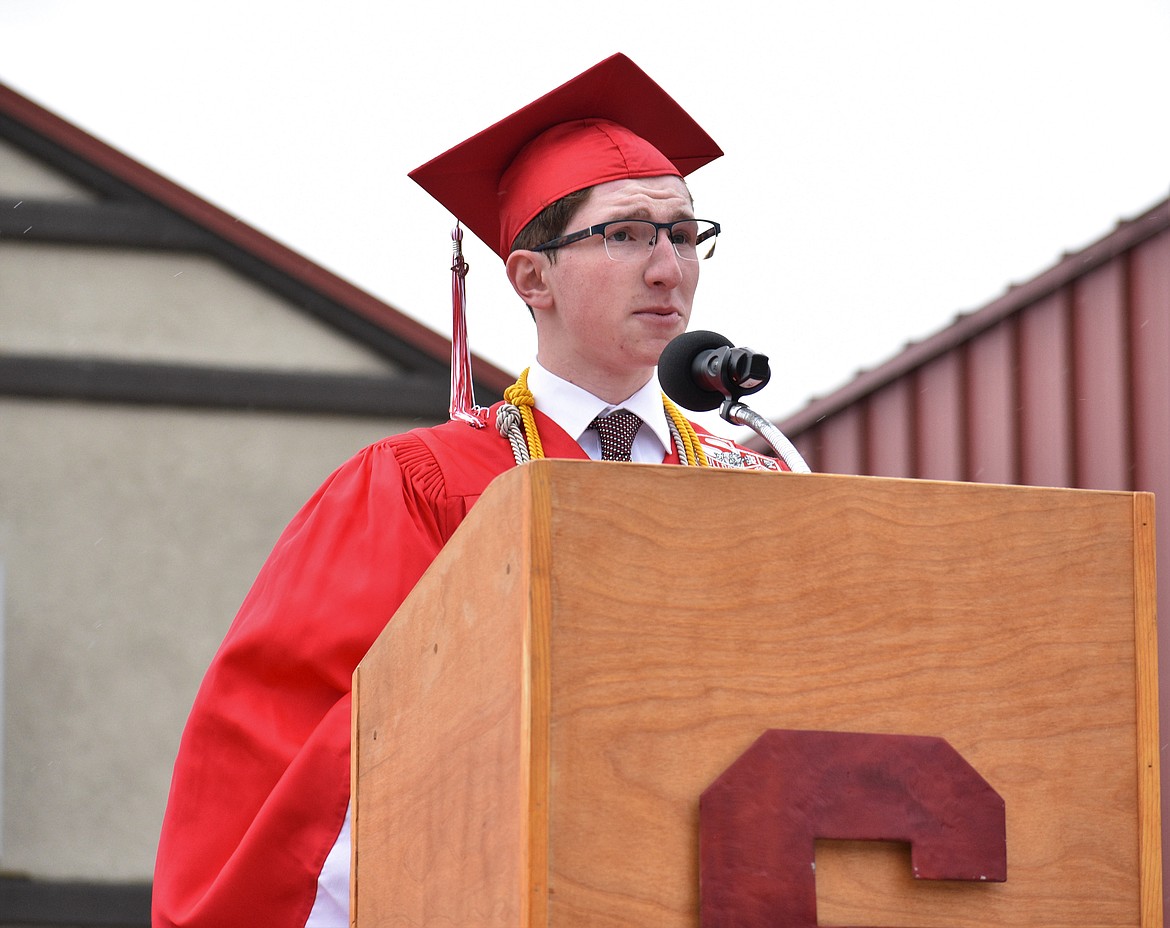 (Photo by DYLAN GREENE) Co-valedictorian Nate Couch delivers his commencement speech.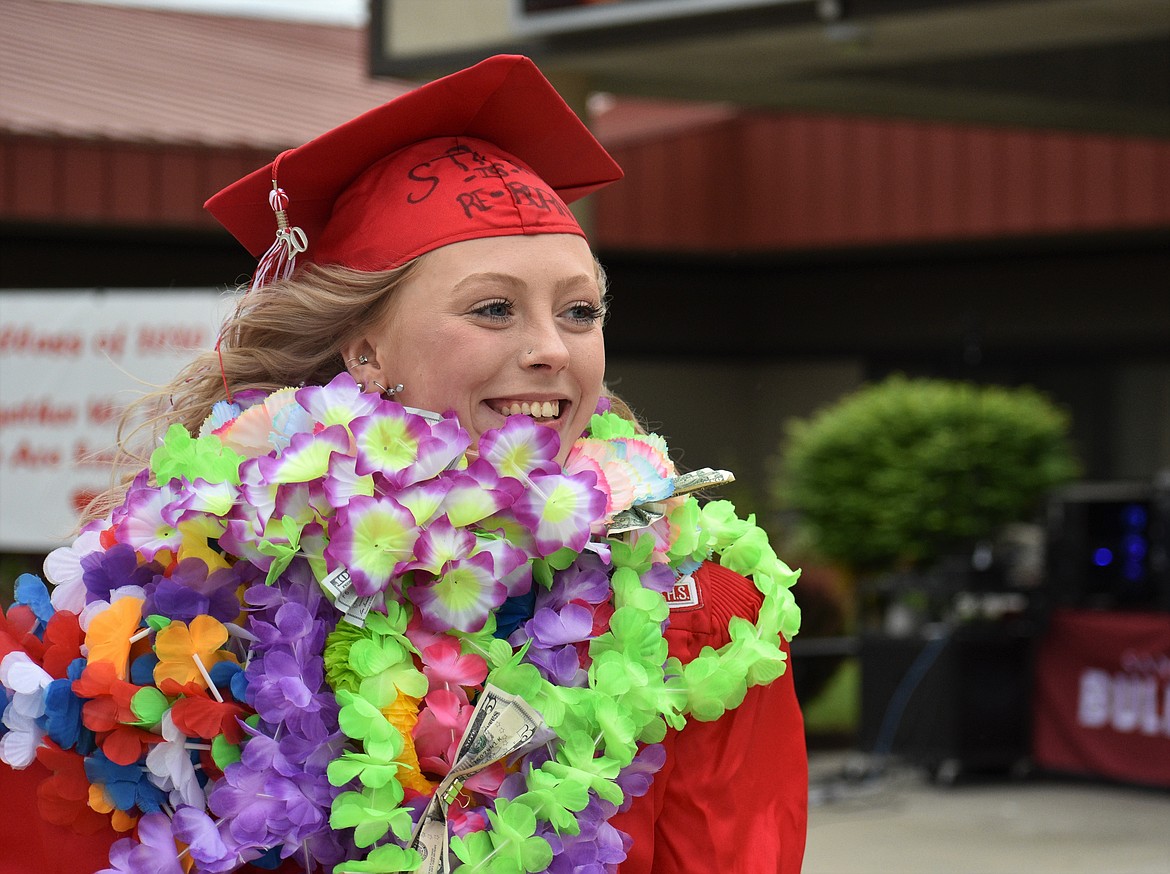 (Photo by DYLAN GREENE) An SHS grad with a colorful lei smiles after receiving her diploma.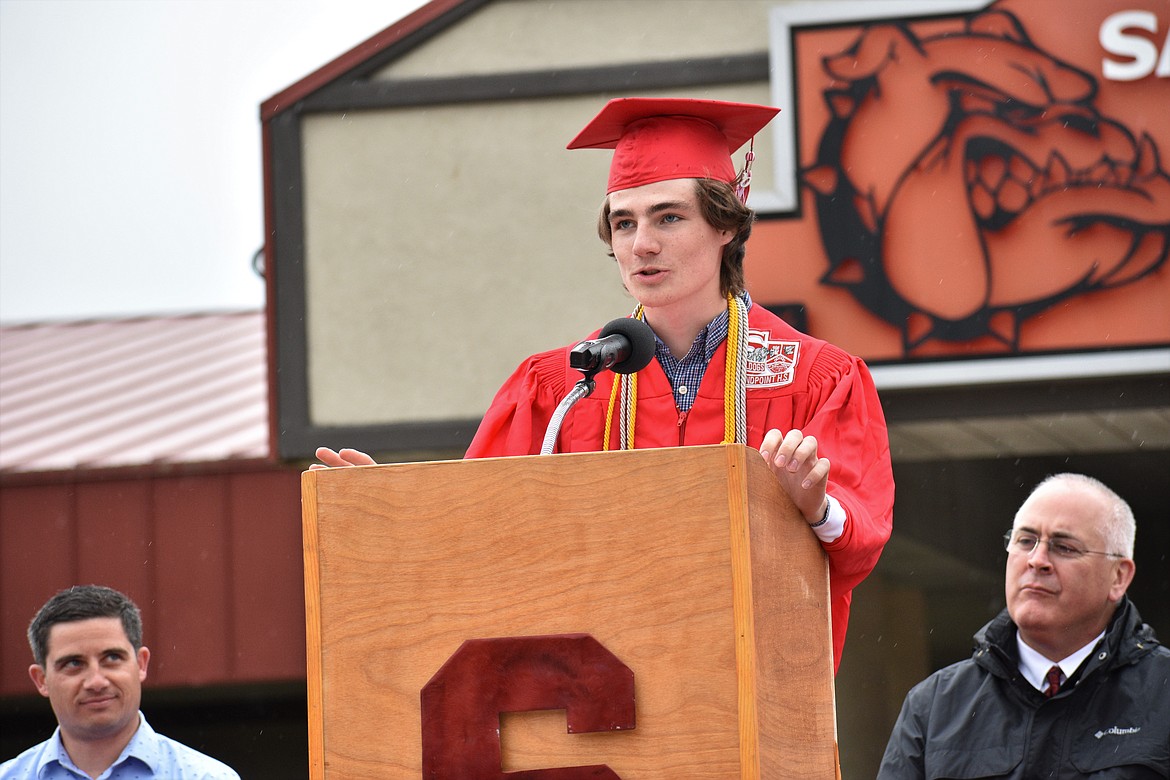 (Photo by DYLAN GREENE) Teigen Edmundson delivers his co-valedictorian speech.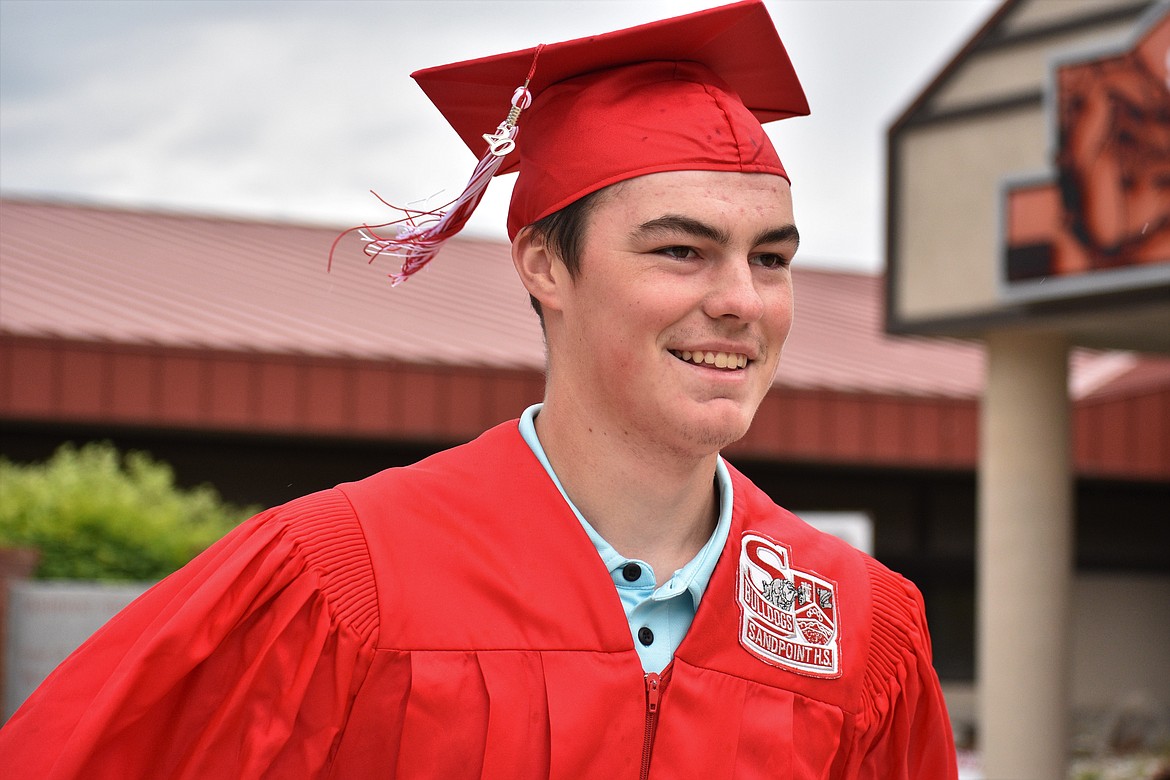 (Photo by DYLAN GREENE) Wilson VanDenBerg smiles after receiving his diploma.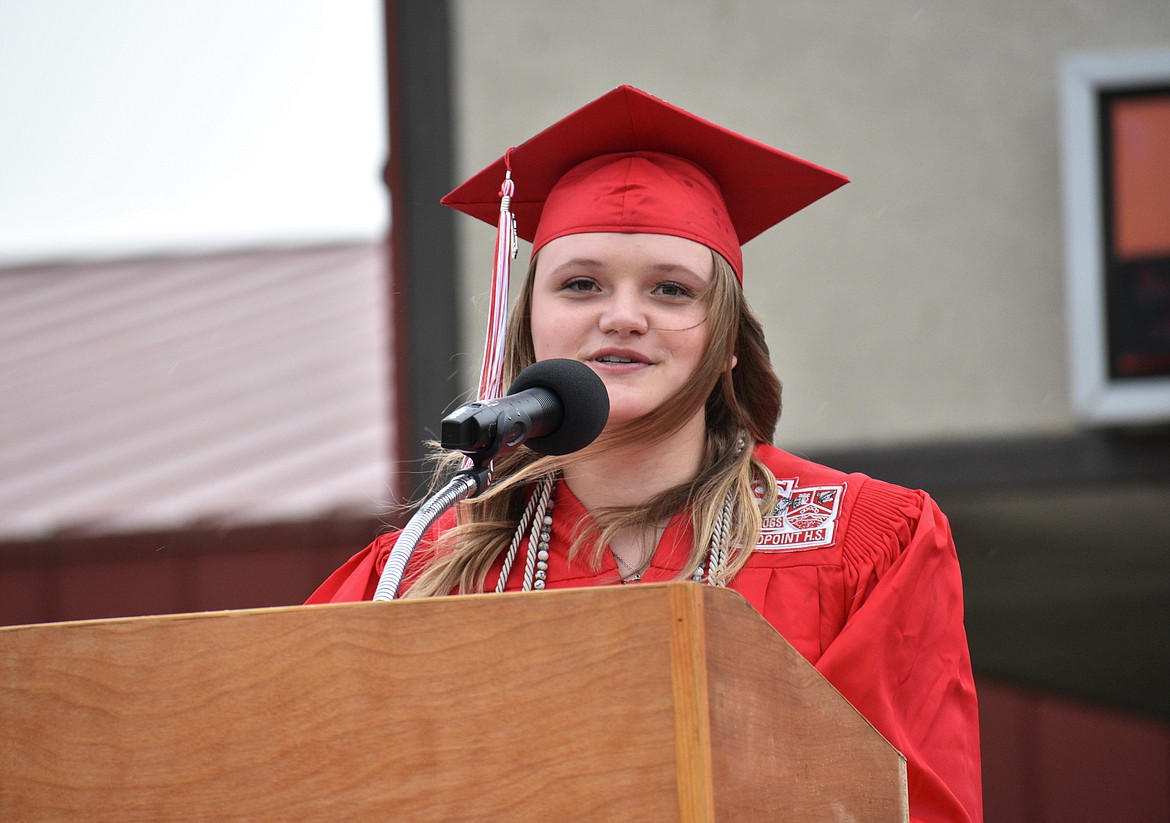 (Photo by DYLAN GREENE) Senior class president Savannah Morgan delivers her graduation speech.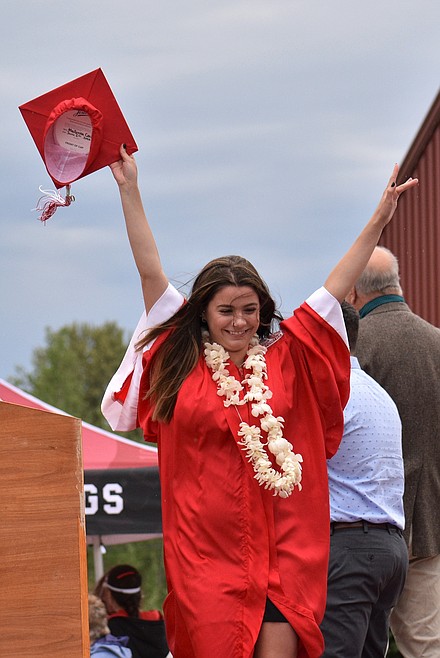 (Photo by DYLAN GREENE) An SHS graduate throws her hands in the air as she crosses the commencement stage.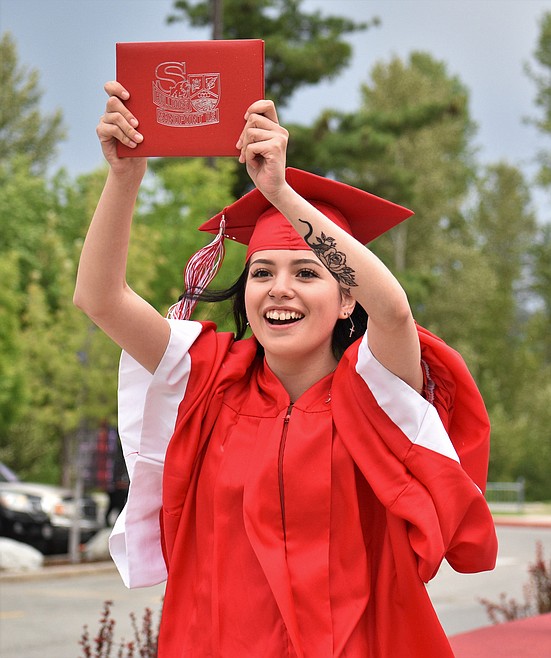 (Photo by DYLAN GREENE) An SHS graduate holds her diploma high in the air after crossing the stage on Friday.
Previous
Next
by
Dylan Greene
Sports Editor
|
June 7, 2020 1:00 AM
SANDPOINT — The Sandpoint High School graduation looked much different Friday night, but it still had that special feeling for the class of 2020.
Due to the coronavirus pandemic, SHS held a "drive-in" graduation to send off their 230 graduates. The parking lot was jammed with rows of cars and camping chairs were set up in the beds of trucks and on the pavement as loved ones and friends watched the SHS graduates walk across the stage and receive their diplomas.
Two Jumbotrons were set up on each side of the parking lot so people confined to the back could see what was happening during the ceremony and a camera man also roamed around the event to capture moments for the big screen.
The event was streamed live on the school's Facebook page due to the limited number of attendees and of course the ceremony was hampered a bit by wind and rain because the SHS Class of 2020 hadn't faced enough adversity already. But the wet weather steered clear of the school when diplomas were handed out.
After a short introduction from first year principal David Miles and a special rendition of the national anthem sung by the SHS choir, senior class president Savannah Morgan took the podium and reflected on what the class was like when they first entered high school.
"We were just young, timid freshmen with a newfound obsession of bottle flipping and a tremendous amount to learn," she said.
They didn't know the parking lot turned into an L.A. traffic jam after school, they didn't know lunch would consist of a trip to Joel's and they didn't know they would claim victory in the powderpuff game four years in a row, she said. But most of all, they had no idea their senior year would be cut short.
"The class of 2020 are not strangers to change and unpredictability," she said. "We were born in the shadow of 9/11 and have never known a world before such a tragedy."
Morgan and her classmates also survived the era of the duck face and despite all the challenges they faced along the way, they thrived. Morgan said she is confident the SHS Class of 2020 can overcome any obstacles they face.
Morgan admitted she scoured the internet for an inspirational quote to use in her speech but she couldn't find one among the millions of results that fit this class because they were all intended for graduates that had conventional senior years.
Eventually though, she stumbled across this quote from Cory Booker: "Real courage is holding on to a still voice in your head that says, 'I must keep going.' It's that voice that says nothing is a failure if it is not final. That voice that says to you, 'Get out of bed. Keep going. I will not quit.'"
Morgan said this quote embodies this class's persistence and determination to not let anything stop them for reaching their goals.
"We accepted the hand we were dealt and finished what we always intended to do — graduate high school," she said.
Salutatorian Paige Davidson took the mic next and spoke about the incredible progression everyone has undergone throughout the course of high school.
"I, for one, am a completely different person from when I walked through these doors for the first time," she said.
Davidson said progression is active not stagnant and she came to realize over her time at SHS how important it is to surround yourself with people who support you. She said her teammates on the track and cross county teams and Matt and Angie Brass helped her grow and she challenged every member of the class to think about who has helped them move forward in life.
Davidson said heading out on your own path and leaving your comfort can be scary, but you have to do it to figure out who you are and what you want to be. And you can't make excuses.
"We have to be willing to make the sacrifices of comfort and have the courage to grow and progress," she said.
Co-valedictorian Nate Couch started by waving to his grandma watching over Facebook Live and saying that he wasn't going to rely on Google for his graduation speech.
"This is kind of a talk-about-whatever-you-want-to type of speech and I kind of want to talk about something that is way more important," he said.
That something was the challenges members of the class of 2020 faced throughout high school. From losing loved ones to battling addiction, they all battled some obstacle in life and Couch said the perseverance everyone has shown has inspired him.
"What I really saw this year was people in this class who have transformed darkness into blinding light," he said. "What they are doing is the epitome of greatness."
Couch, who is single — a joke from his speech, said labels and stereotypes such as jock, hick, gamer, popular and nerd have prevented all the members of the class of 2020 from connecting on a deeper love, but he said it's not too late to change that.
"The point I'm trying to get at is, don't let superficial labels prevent you from seeing the greatness in yourself and in others," Couch said.
Teigen Edmundson, the other co-valedictorian, said graduating college is no small feat and he had no advice for his fellow classmates as they head out into an unpredictable world, but he realized over the course of quarantine.
"The importance of everyone here in the past four years of my life didn't really become fully apparent for me until school moved to distance learning back in March," he said.
Edmundson said the thought of doing schoolwork at their own pace from home sounded great at the time if they didn't think about events around the world that put them in that position. He said "calculus went from difficult to downright unintelligible," but teaching assistant periods and early releases felt about the same.
When Edmundson turned in his final assignment, he didn't feel that sense of elation that comes with finishing high school because he wasn't around his classmates and he's sure everyone else felt the same way.
"In the end, the reason this moment right now is special is not because you graduated ... this moment is special as it is probably the last moment we will all be together in a group even though we may be separated by windows and parking spaces," he said.
Twenty-nine students of the SHS Class of 2020 graduated with high honors and 26 received honors.
Edmundson wants his classmates to always remember the moments they had together.
"You made this all worth it," he said.
Dylan Greene can be reached by email at dgreene@bonnercountydailybee.com and follow him on Twitter @DylanDailyBee.
---