Sandpoint Open provides closure for SHS athletes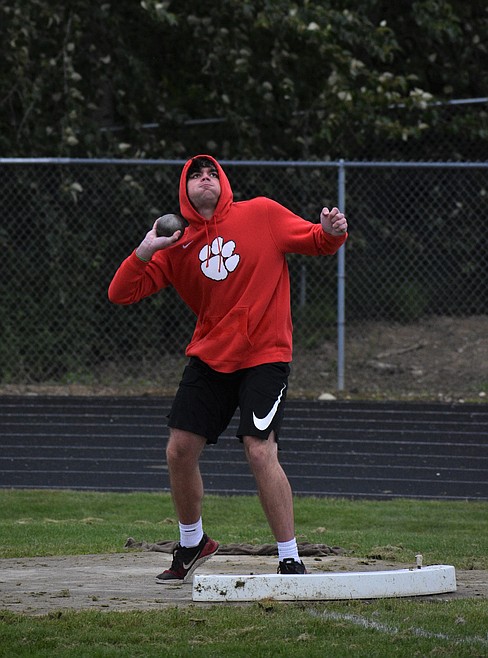 (Photo by DYLAN GREENE) Senior Anthony Carlone competes in the shot put Saturday.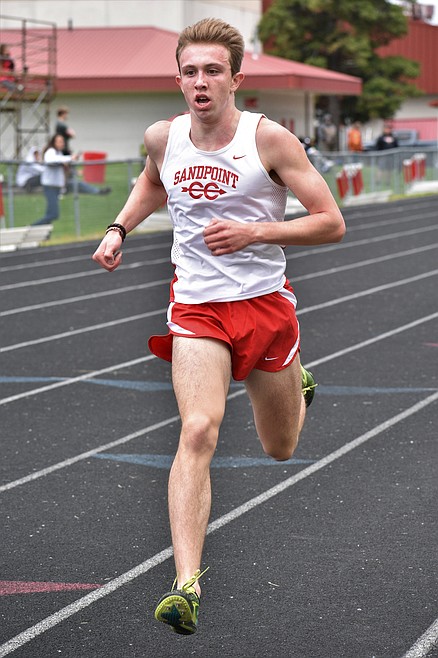 Senior Gabe Christman competes in the boys 3,200 meter during the Sandpoint Open on Saturday. He ran a PR of 10:42.32 in the event.
(Photo by DYLAN GREENE)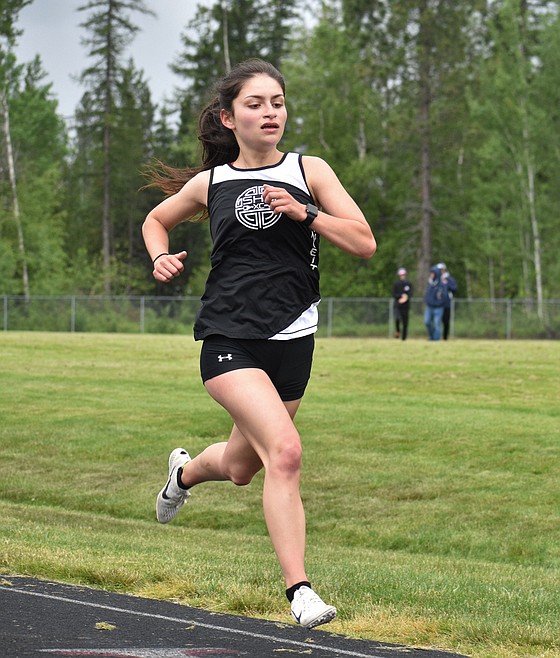 (Photo by DYLAN GREENE) Senior Bionce Vincent captures first in the girls 1,600 meter during Saturday's Sandpoint Open. It was Vincent's final meet in a Bulldog uniform.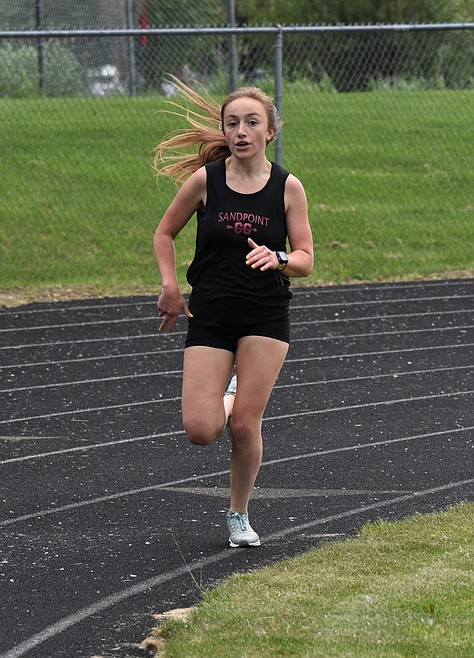 (Photo by DYLAN GREENE) Junior Camille Neuder rounds the track in the girls 800.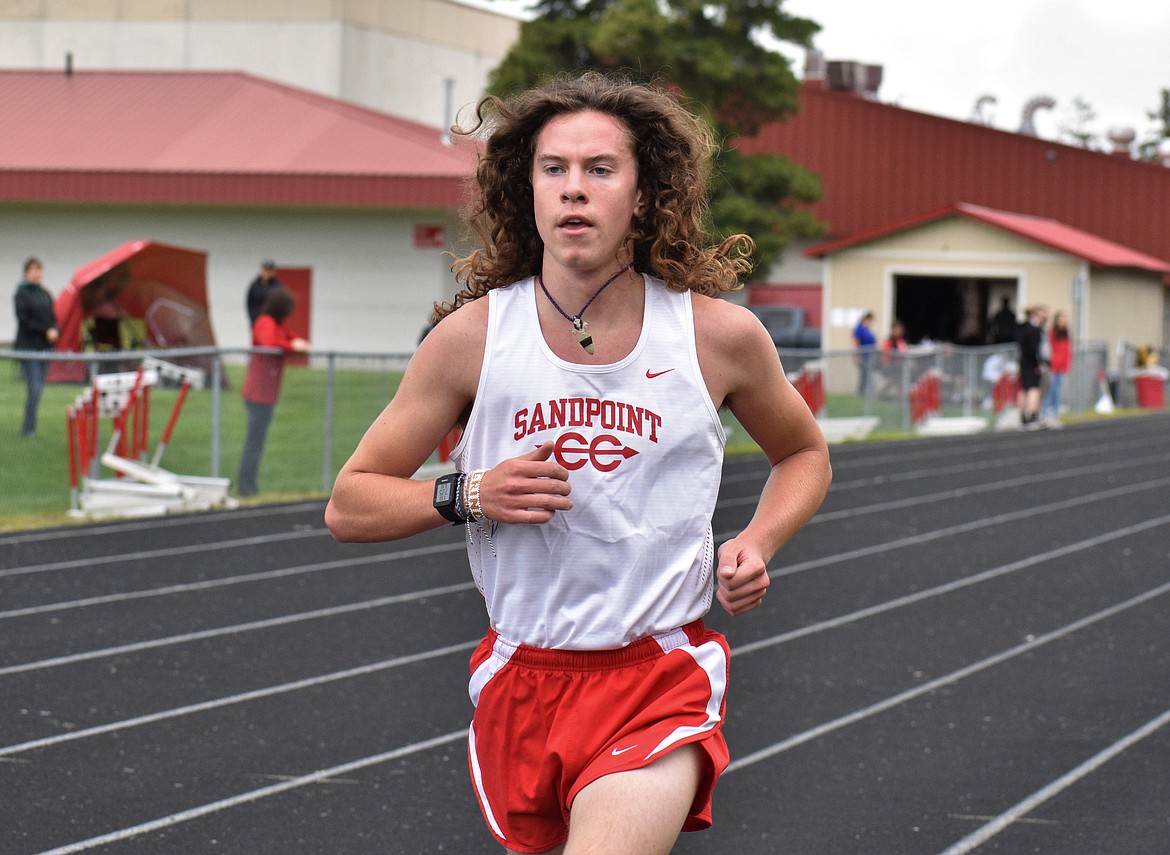 (Photo by DYLAN GREENE) Junior Jett Lucas ran a PR in the boys 3,200 meter Saturday.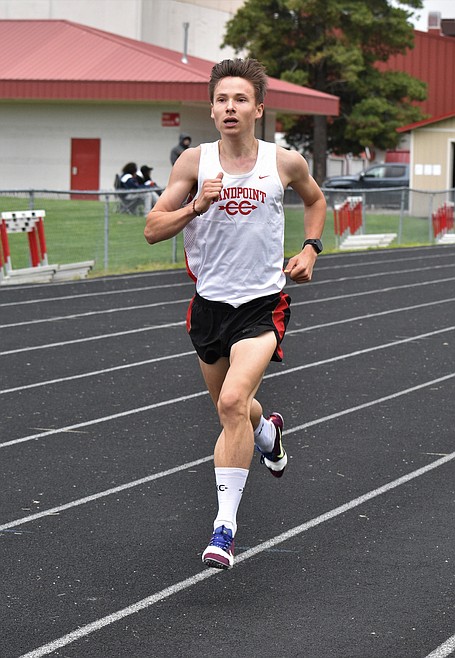 (Photo by DYLAN GREENE) Junior Nikolai Braedt nears the finish line in the 3,200 Saturday.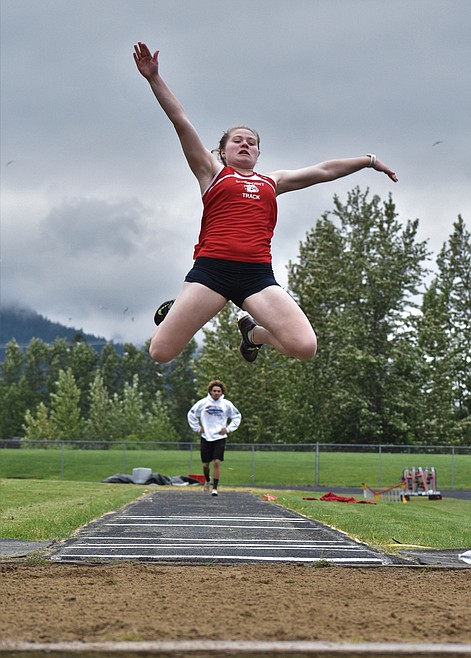 (Photo by DYLAN GREENE) Senior Maddie Morgan leaps into the pit while competing in the long jump Saturday.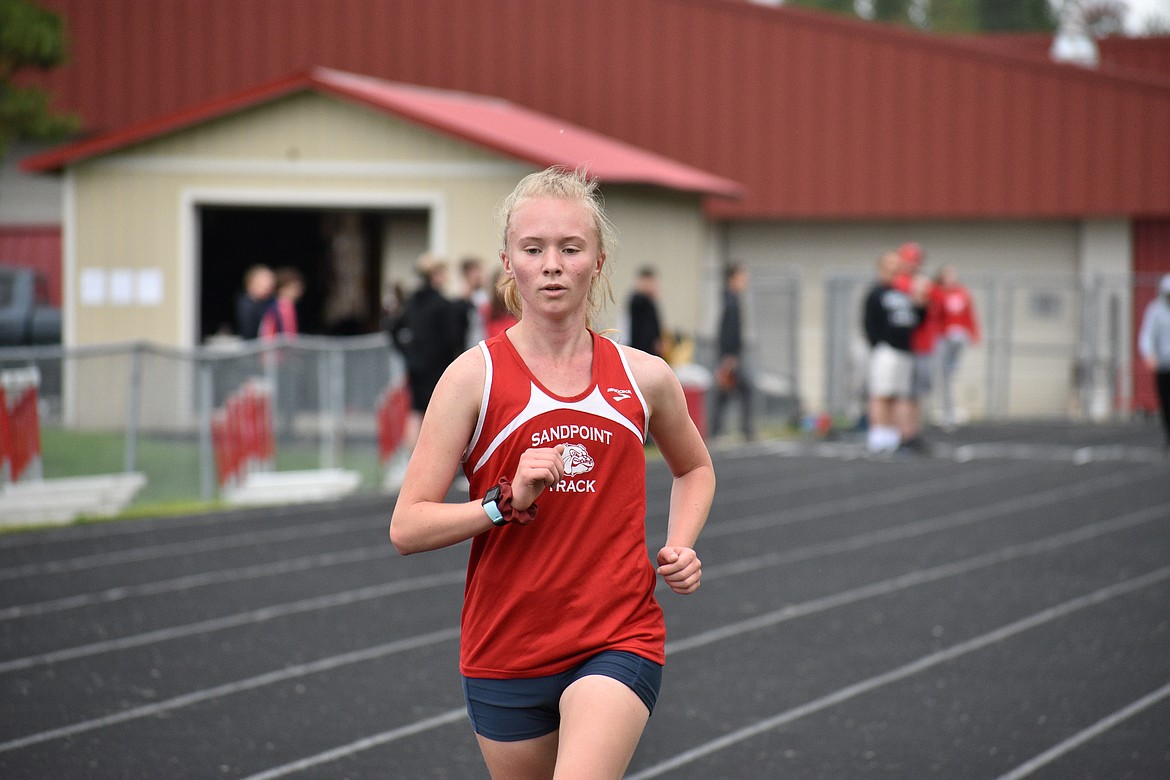 (Photo by DYLAN GREENE) Sophomore Mackenzie Suhy-Gregoire captures first in the girls 3,200 meter Saturday.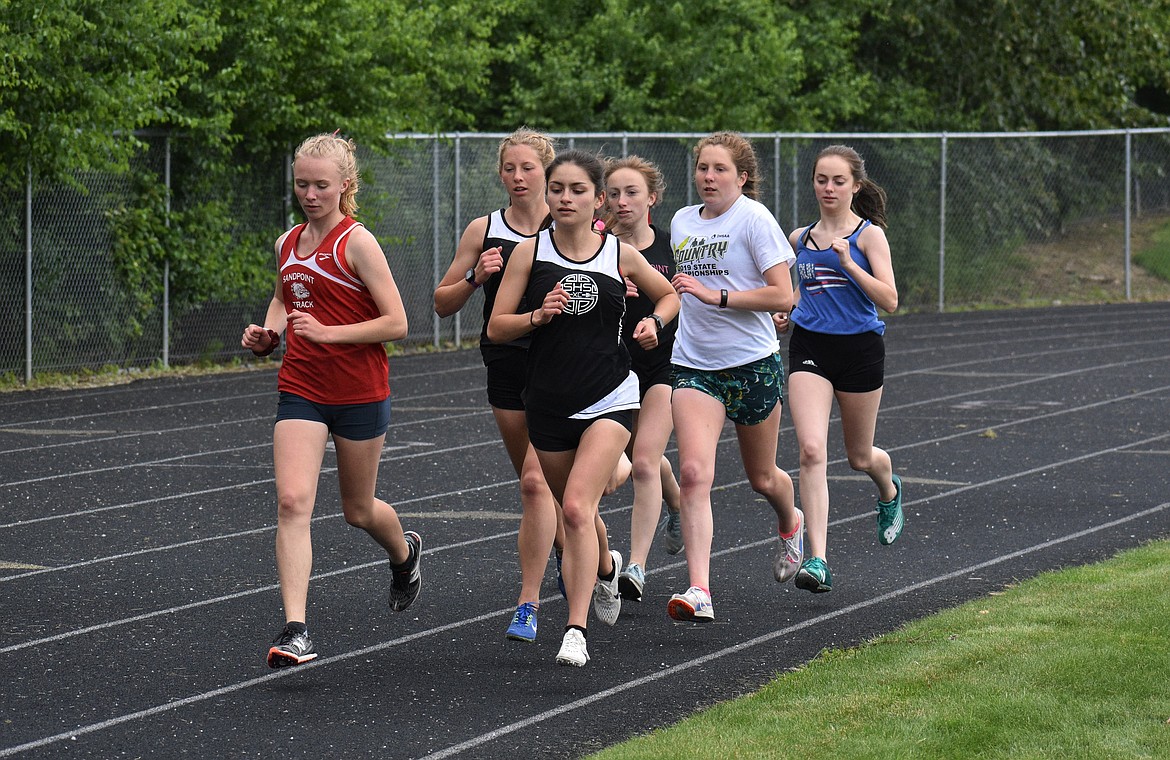 (Photo by DYLAN GREENE) A pack of runners compete in the girls 1,600 Saturday.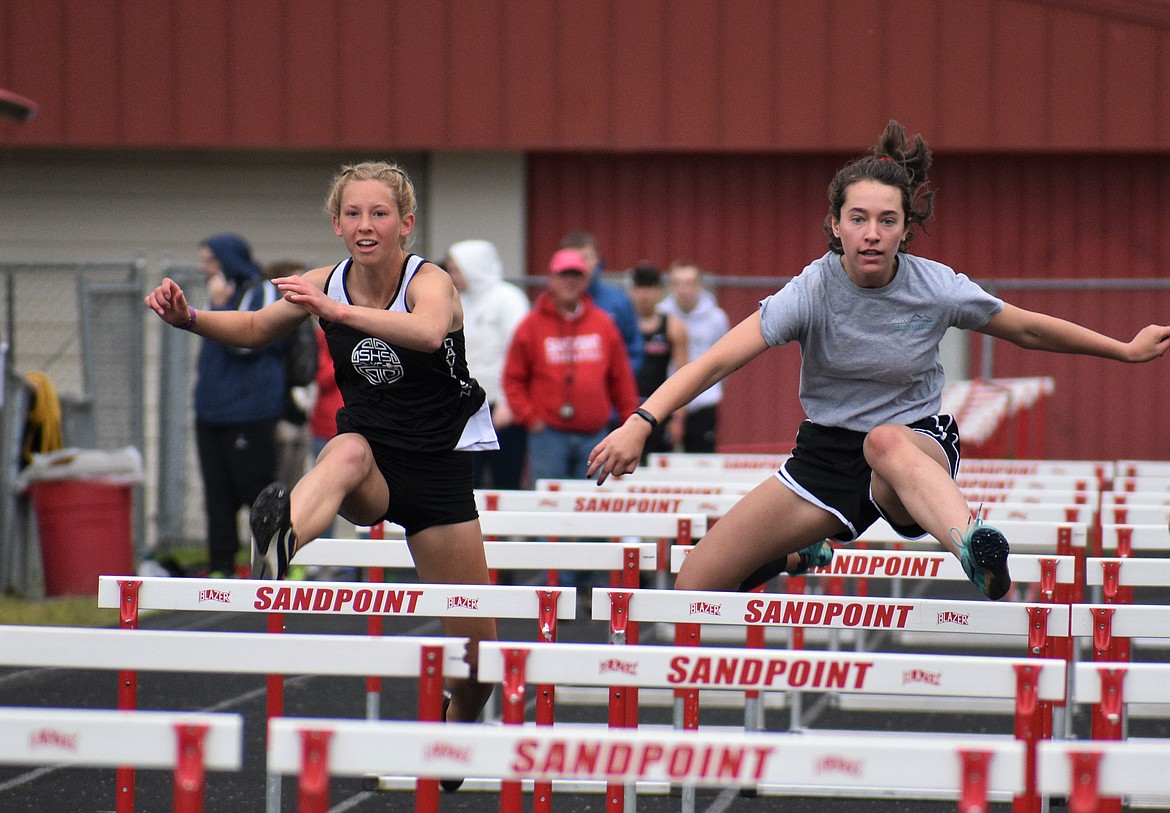 (Photo by DYLAN GREENE) Paige Davidson (left) and Sara Hathaway compete in the girls 100 meter hurdles Saturday.
Previous
Next
by
DYLAN GREENE
Sports Editor
|
June 16, 2020 1:00 AM
SANDPOINT — It's hard to describe what took place Saturday at Sandpoint High School.
The Sandpoint Open was something that was needed to bring local track athletes some closure after they lost their spring season due to the coronavirus pandemic. But it was strange because while it was the first track meet in the state of Idaho in roughly three months, it was also the last for a group of seniors who graduated from high school just a few weeks ago.
Sandpoint head track coach Matt Brass, who organized the meet, said the event was really about honoring the seniors who have committed the last four years of their lives to track.
"There was a lot of kids that stuck it out," Matt said, "and I think it provided some amount of structure, some amount of normalcy and also some amount of hope that maybe they would be able to get something out of [this season]."
Twenty-four Bulldogs competed in the meet, including nine seniors, and athletes from about 10 different local schools including Coeur d'Alene, Post Falls, Lake City, Lakeland and Bonners Ferry participated as well. Even an athlete from Davenport, Washington, made the trip.
Matt controlled the amount of entries for each event and made sure to add extra time between each event to ensure large groups of people didn't form on the track.
The Panhandle Health District gave the thumbs up for the meet as long as social distancing was followed and large groups of people didn't form. The event also landed on the day when the state of Idaho moved to stage 4 of Gov. Brad Little's Idaho Rebounds plan, which allows gatherings of more than 50 people "where appropriate physical distancing and precautionary measures are observed," according to the plan.
Angie Brass, the SHS distance coach, loved seeing her crew on the track but she admitted there is nothing that can replace a lost season.
"They're happy to have some semblance of normal," Angie said. "I think that's really important, just to see them smile and be together, that's huge."
And the results were impressive given that most of the athletes have only been on the track a handful of times over the past few months.
Junior Braden Kappen had a standout performance, tying the school record of 21 feet 6 inches in the long jump and notching personal records in the 100 meter and 200. Kappen edged out Priest River's Teagun Holycross in the 100 and finished runner up to him in the 200. He also finished second in the long jump behind Cole Omlin, a junior at Ferris High School in Spokane who is already committed to Texas Tech University.
Senior Braedon Dressel had a strong showing in the 100 and 200 as well. He finished third in both and set a new PR of 11.53 in the 100, besting his previous record by nearly two tenths of a second.
Dressel just got back to 100 percent health during quarantine and really hadn't trained much so he was surprised how well he did.
"I wish I had the chance to see what I could do if I had a full season of training," he said, "and could go to state because [Kappen] and I were thinking that we would be contenders for the 100 and 200."
Dressel said he enjoyed seeing his friends on the track team again and he felt a sense of accomplishment when he wrapped up his two events.
"It's kind of like a send off meet," he said. "Being able to finish strong felt really cool."
Fellow sprinter Peyton Ennis also set new PR's in the 100 and 200.
Senior Brandon Casey swept the boys discus and shot put, edging out Timberlake's Jeremy McLemore in both. Casey set a new PR of 140-1.5 in the discus and junior Nate Dotson broke his previous best in pole vault by over a foot.
And it was no surprise when junior distance runners Nikolai Braedt and Jett Lucas left their mark on the meet. Braedt and Lucas finished second and third respectively in the 1,600 and 3.200 and both earned PR's in the 3200. Lucas knocked nearly 20 seconds off his best time in the event.
On the girls side, senior Bionce Vincent stood out, capturing first in the 800 and 1600.
Vincent said she couldn't pass up a chance to compete with her teammates one last time.
"Ending my senior year without finishing would just really kill me so most of this was just do this because you need to and just because I want to," she said. "Running is something I can do forever, but running with this team is not something I can do forever."
Vincent still trained consistently over the past three months and did the workouts Angie sent the team every week, so she said she was happy with her results given the shape she is in.
Vincent said it was nice to be in the meet setting again, and hear the gun go off and get that competitive edge back.
Senior Paige Davidson didn't hold back anything Saturday, she competed in five different events — the pole vault, 400, 1,600, 100 hurdles and 300 hurdles. The Idaho High School Activities Association prohibits athletes from competing in more than four events, but this meet wasn't sanctioned by the IHSAA so Davidson and all the other athletes in attendance could compete in as many events as they wanted. But Davidson was the only one that took advantage of this opportunity.
Angie has always preached that Davidson is a decathlete at heart and nothing is outside her wheelhouse due to her endurance, strength and agility.
"Paige has good range," Angie said. "Really there's not an event that I think would be outside of her capability."
Coming into the meet, Davidson wasn't shooting for any particular times or results, she just wanted to have fun. Despite that, Davidson set PR's in the 400 and 300 hurdles.
Davidson was only scheduled to compete in four events at the meet, but after running the 400 she was feeling good so she decided to run the 1,600 alongside some of her closest teammates.
"Paige, that girl is insane," Vincent said.
Davidson is trying to walk on the Utah State University track next year as a pole vaulter but has also thought about being a heptathlete. Davidson said she is grateful she got to take part in the meet.
"I don't know if I'll ever get the best closure because I'll always be wondering what could have happen if I had a season, but I think it helped," she said.
Sophomore Mackenzie Suhy-Gregoire ran a 12:41.62 in the 3,200 to best Bonners Ferry's Abigail Gorton, who won the 3A state championship in the event last year, and junior Camille Neuder posted a PR in the 800.
Senior Maddie Morgan capped off her high school career by finishing second in the long jump and leaping 30-9 in the triple jump.
Clark Fork senior Sara Hathaway also participated in the meet. She ran the 100 hurdles and 300 hurdles, and didn't get the times she was looking for, but being a part of the meet meant a lot to her.
"I can takeaway pride ... there's a bunch of other athletes that didn't get this opportunity and I'm really proud I was able to be here with some other great athletes," she said.
Last Thursday, the boys 4x800 relay team of Braedt, sophomore Ben Ricks, Lucas and senior Seth Graham broke the school record in the event. Last year, Braedt, Lucas and Graham were a part of the relay team that shattered the 25-year-old SHS record by just five hundredths of a second. The group wanted to leave no doubt this season and they certainly did by running a 8:16.46 to best the 1994 mark by nearly six seconds.
"It was impressive," Matt said. "You could tell they were amped up for it."
Vincent got emotional after crossing the finish line in her final event at SHS and getting together with her distance teammates who she called the "best people at this school, hands down."
"I've spent four years trying to work up to this year and then I didn't have it and that's how a lot of athletes feel," she said. "I had the opportunity so I wanted to take it. When you're on the track and see all your teammates pushing each other and themselves so hard it just makes you really emotional, it's like this is why I'm here ... it reignites that fire."
Sandpoint results
BOYS
100 — 1, Braden Kappen, 11.29. 3, Braedon Dressel, 11.53. 4, Peyton Ennis, 11.67.
200 — 2, Braden Kappen, 23.36. 3, Braedon Dressel, 23.62. 4, Peyton Ennis, 23.82.
800 — 1, Ben Ricks, 2:07.05.
1600 — 2, Nikolai Braedt, 4:30.30. 3, Jett Lucas, 4:36.80. 6, Ben Ricks, Slate Fragoso, 4:58.54.
3200 — 2, Nikolai Braedt, 9:52.18, 3, Jett Lucas, 9:55.61, 6, Gabe Christman, 10:42.32, 7, Brady Nelsen, 10:46.46.
4x800 — 1, (Braedt, Ricks, Lucas, Graham), 8:16.46.
Shot put — 1, Brandon Casey, 44-8. 5, Anthony Carlone, 35-8.
Discus — 1, Brandon Casey, 140-1.5, 4, Anthony Carlone, 95-8. 5, Jake Suhr, 84-0.
Pole vault — 4, Nate Dotson, 11-6.
Long jump — 2, Braden Kappen, 21-6.
GIRLS
100 — 2, Anna Reinink, 13.83.
200 — 3, Anna Reinink, 27.75. 4, Maren Davidson, 28.19.
400 — 2, Jillian Primgaard, 1:03.98. 3, Maren Davidson, 1:04.10. 4, Paige Davidson, 1:04.11.
800 — 1, Bionce Vincent, 2:28.03. 3, Camille Neuder, 2:42.81.
1600 — 1, Bionce Vincent, 2:28.03. 2, Paige Davidson, 5:59.41. 3, Mackenzie Suhy-Gregoire, 6:00.76. 7, Camille Neuder, 6:11.05.
3200 — 1, Mackenzie Suhy-Gregoire, 12:41.62.
100 hurdles — 3, Paige Davidson, 17:36.
300 hurdles — 2, Paige Davidson, 48.66.
Shot put — 3, Kayla Remsen, 29-8.
Discus — 5, Kayla Remsen, 81-0.5.
Pole vault — 1, Paige Davidson, 8-6. 2, Quinn Hooper, 7-0. 2, Tiffany Brown, 7-0.
Long jump — 2, Maddie Morgan, 13-5. 3, Anna Reinink, 13-4.
Triple jump — 1, Maddie Morgan, 30-9.
---